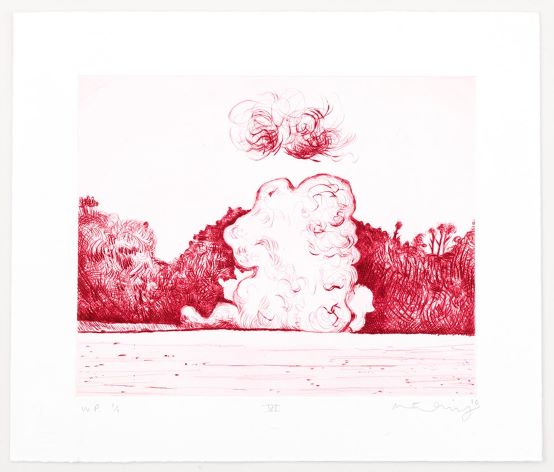 Collaboration History
In 2015, David Krut Projects (DKP) Cape Town exhibited a series of watercolour paintings by Matthew  Hindley, which were produced to illustrate The Five Magic Pebbles & other stories by Don Mattera. This exhibition travelled to DKP Johannesburg in February 2016.
At the same time, Hindley collaborated with David Krut Workshop (DKW), creating a series of drypoints and watercolour monotypes. He returned in June 2016 to make a series of copper plate drypoints. Later that year, Hindley's drypoints featured on a DKP exhibition of small works, Inch x Inch, and prints of his were featured on the DKP stall at the Joburg Art Fair 2016.
In 2018, his second solo exhibition at DKP Johannesburg opened under the name Survey of Risk, including the print series Ruin Lust.
Hindley has also been part of various group exhibitions at DKP.
Biography
Matthew Hindley (born 1974, Cape Town, South Africa) is a South African painter. He graduated from the Michaelis School of Fine Art, Cape Town in 2002, where he was awarded the Michaelis Prize.
As one of the country's most recognized younger painters, Hindley's intense, poetic and delving artworks have featured in various critical and seminal South African exhibitions. Recent solo presentations have included An Everlasting Once at Brundyn + Gonsalves, Cape Town (2011) and Twilight of the Idols at Biksady, Budapest (2013).  Hindley's exhibition of drawings at David Krut Cape Town coincided with the official launch of the book, The Five Magic Pebbles & other stories. His notable solo painting presentation Resurrection (Der Brennende Wald) was held at Everard Read Cape Town gallery, in October 2015.
In addition, he has presented at the world-renowned Eli and Edythe Broad Museum, Michigan (2012) and the Kochi Muziris Biennale, India (2012). In 2014 he worked on a series of paintings inspired by the mythological African tales of South African writer Don Mattera, for a book published by Rhodeworks, in Berlin, Germany. In 2015 his artwork was part of the imago mundi, Benetton Collection at the Venice Biennale, and his major public sculpture Speak Naturally and Continuously was installed above the entrance of the South African National Gallery in Cape Town, South Africa. This artwork was rebuilt in late 2018/early 2019 and reopened to the general public interaction May 2019.
https://www.instagram.com/matthew_hindley/
Scroll down to view works. 
Related blog posts
Cracking the puzzle: Matthew Hindley returns to DKW to make an ambitious etching series
Explosive beauty / Beautiful explosions: Hindley makes watercolour monotypes at DKW
Related articles
Art South Africa on Ruin Lust exhibition – featuring prints made with DKW
Hindley exhibits watercolour illustrations for The Five Magic Pebbles at DKP, 2015
Art Africa on Matthew Hindley – "a born image-maker who accords absolute primacy to sight. He fills his canvases with colour, dazzle, fantasy and wit, and whirls us on a roller-coaster ride through a Disneyland of the afterlife…"