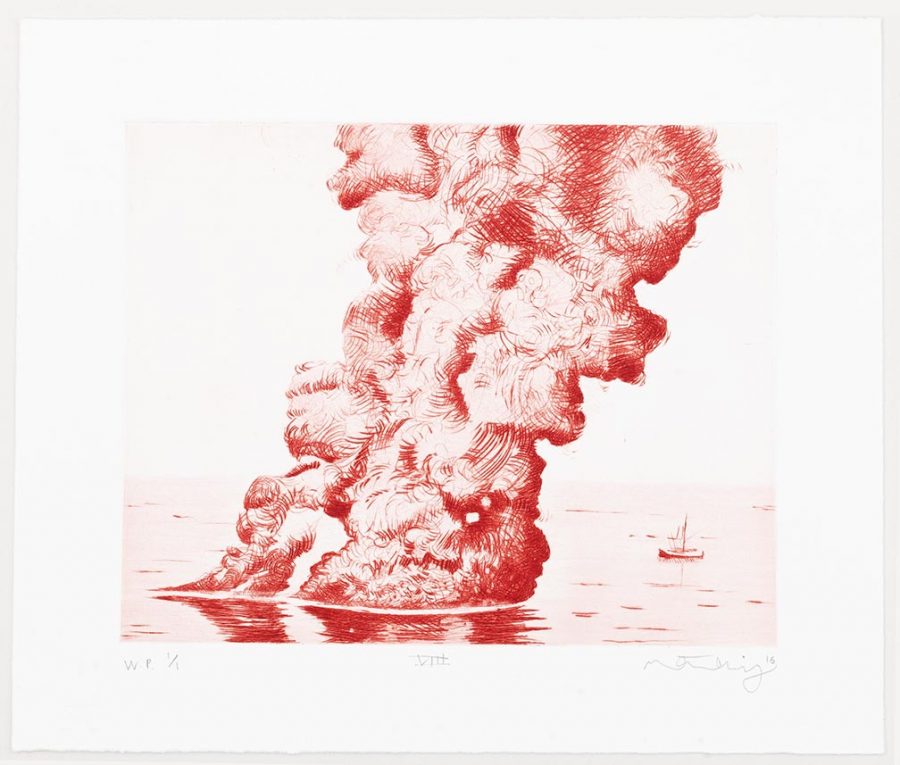 Cape Town-based contemporary artist Matthew Hindley collaborated with David Krut Workshop (DKW) from February 2016, creating a comprehensive series of drypoints and watercolour monotypes. On his first visit to DKW, Hindley produced colour-abounding watercolour monotypes and returned in June 2016 to make a series of copper plate drypoints – a medium that he has found to chime strongly with his painting practice: "By developing mark-making, especially with drypoint, my approach to painting has changed. I am now experimenting with drypoint-style oil paintings. This means incorporating a decisive quality of line for which you need to have conviction, bravery and a looseness to your approach. In a sense, it is a return to drawing, to the original mark", Hindley says. Hindley has worked as a dedicated, professional painter since 2004. He has exhibited in solo and group shows at David Krut Projects (DKP) in Cape Town and Johannesburg from October 2015. In 2015,  DKP Cape Town exhibited a series of watercolour paintings by Hindley, which were produced to illustrate
The Five Magic Pebbles & other stories
by Don Mattera. This exhibition travelled to DKP Parkwood in Johannesburg in February 2016. In 2016, Hindley's drypoints featured on the DKP exhibition of small works,
Inch x Inch, 
and his recent prints will feature on the DKP stall at the Joburg Art Fair 2016. Hindley graduated from the Michaelis School of Fine Art, Cape Town in 2002 where he was awarded the 
Michaelis Prize
.
https://www.instagram.com/matthew_hindley/
Scroll down to view works. 
Related blog posts
Cracking the puzzle: Matthew Hindley returns to DKW to make an ambitious etching series
Explosive beauty / Beautiful explosions: Hindley makes watercolour monotypes at DKW
Related articles
Art South Africa on Ruin Lust exhibition - featuring prints made with DKW
Hindley exhibits watercolour illustrations for The Five Magic Pebbles at DKP, 2015
Art Africa on Matthew Hindley
- "a born image-maker who accords absolute primacy to sight. He fills his canvases with colour, dazzle, fantasy and wit, and whirls us on a roller-coaster ride through a Disneyland of the afterlife..."