THE BLUE HOUSE – David Krut Projects is excited to showcase a selection of works from the archive in an exhibition titled Ensemble Staves: City Bound, curated by David Krut Workshop (DKW) Printer Sbongiseni Khulu.
"In a time of uncertainty universal truths are no more, reality is but a construct formed out of our disillusionment with the old norm. A psychosis desperately clinging to hope as humanity is relegated to nothing more than moving shapes suspended in the liminal space. With that psychosis comes minimalism, a distortion of the old norms and a new found perception of reality towards ones organised infrastructures and designated topography."

– Sbongiseni Khulu
Featuring artworks by David Koloane, Stephen Hobbs, Colbert Mashile, Pebofatso Mokoena, Sam Nhlengethwa, Julian Opie and Mary Wafer.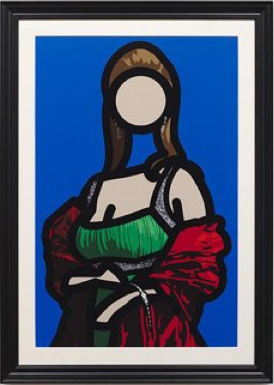 The selection of works in this exhibition conveys a minimalist
view of reality coupled with an air of expressionism, employing a sombre yet misleadingly vibrant duality towards both life and death in the city. In it are depictions of the human form and their unnatural habitat through the artists gaze. Take for instance Julian Opie's Mirjam (2011) and Felicia (2011) two stripped down illustrations depicting moments of opulence and fragility with no visible facial attributes for the viewer to engage with, leaving you with a sense of wonder and longing.
Evidently in Colbert Mashile's Kosa yaba hlolokgadi (2008) which loosely translates to "Songs of the widows" we have four subjects in accompaniment of what appear to be flutes. Though the subjects are in mourning, their unheard melodies inspire feelings of contentment through the colour palette of their regalia as it pierces through the gloom background in which they are transfixed. Another instance of dualism can be made in Sam Nhlengethwa's "Lady with the pianist" in it a live performance in a crowded room by a lady in a polka dot dress with a red waistband and an almost indiscernible pianist wearing a deep blue coat draped in shadow.  Much like Mashile's piece, the mood is dictated by a two toned aesthetic that breathes ambiguity over the location in which the performance is being held, an unfamiliarity that's known all too well in today's quarantined society.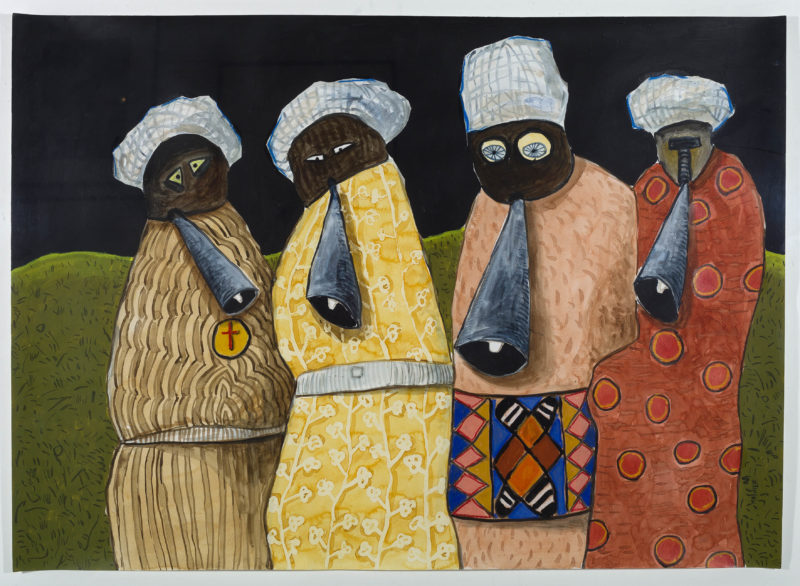 What once was a loud and bustling soliloquy of life is now reduced to a near deafening silence. Both David Kolane's Choreograph I (2008) and Pebofatso Mokoena's A Testimonial Football (2020) are reminders of a time without restrictions.  An understated observation of chaos in humanity's history with mass gatherings, through the artists' gaze bodies are interpreted as active data; coloured renderings of the human figure and dots representative of different heat signatures subject but not limited to occupying space and time.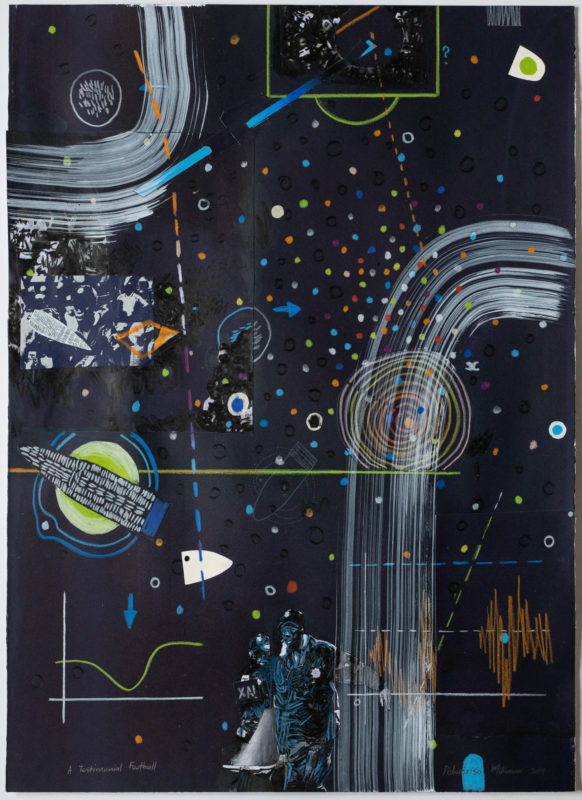 In yet another instance of duplicitous events within the city staves we have Stephen Hobb's "Study for the replication of the earth's surface – Broken white" and Mary Wafer's "Reflex blue" which not only signify the manufactured terrain in which we've grown accustomed to but also the vast tales of woe that have come from them throughout history.