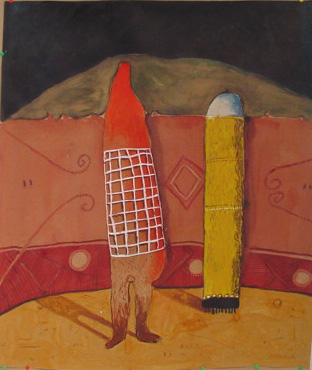 Collaboration History
Colbert Mashile began creating editions at the David Krut Workshop (DKW) in 2003, where he has produced etchings, linocuts and monotypes in collaboration with the DKW printers.
Mashile's last body of work with DKW, including cat, horse and mopane worm imagery, was printed with master printer Jillian Ross in 2011. The imagery encompasses the theme of ritual with a hint or humour and a bolder use of colour.
Mashile's work for his first solo painting exhibition at David Krut Projects (DKP) New York in 2007 suggested a new-found optimism.
Mashile's works have also been featured at numerous group exhibitions at DKP.
Biograhpy
In 2000 Colbert Mashile, who was born in 1972 in Limpopo, completed his BA Fine Arts at University of the Witwatersrand. Thereafter, he experimented with printmaking and by 2003 was collaborating frequently with the printers at the David Krut Workshop. After spending time in Johannesburg, he left the city, disliking the townships, to set up a home and studio in a village in Bushbuckridge.
Coming from a Sotho family, Mashile went through the traditional initiation ritual at age ten. Like many boys of his age from the Mapulana clan, Mashile found the experience traumatic. As an adult he realised that expressing his emotions through art was a powerful way of healing his past trauma. Images of phallic towers, cowrie shells, zoomorphic and anthropomorphic forms, huddled crowds, whispers and ominous secrecy resonate through the work. Mashile's use of colour and his particular style of abstract representation can be seen as a form of contemporary surrealism that is local in its nuances.
His subject matter has moved away from dark shrouded, hooded forms and his use of bright colour shows a dramatic shift from his earlier ominous works. He has continued to create portraits, which he does not see as bearing any resemblance to specific individuals, but rather as forms that assume an appearance of local characters. He makes use of symbols in the flat patterned background to contextualise his portraits and make reference to West African textiles.