Colbert Mashile's art-making process is what he describes as randomly capturing what comes to him first, without thinking too much about where the inspiration comes from. The image of the caterpillar fascinates him because of the notion that it will turn into something else. The idea of moving from one state to another resonates with the artist who sees himself in a perpetual state of transformation, moving physically and consciously from one space to another. This reflects on Mashile's own feelings of being removed from society for so long, cocooned in his culture and experiences posed by his environment. It also represents his moving away physically in place and in concepts from the rituals and his hometown, in Hazyview in Mpumalanga.
In addition to the theme of transformation, Mashile is also attracted the fleeting and temporary nature of life. Some moths, for example, only live for a few hours to reproduce, lay eggs and die. They live longer in the caterpillar form. This exploration of the caterpillar started when Mashile found a moth while working in his studio one day. He became fascinated by the creature and decided to Google it online to find out more. He was entranced by the idea that some species are only born with the ability to reproduce and that they have no mouth. For Mashile the caterpillar becomes almost a waiting station. That tiny, seemingly insignificant creature is so profound to the artist. They come in a myriad of colours and patterns that reflect so strongly on Mashile's own way of working and choice of colour and shape.
A lot of his work is based on the oral tradition. However, he also loves reading about and studying the natural world. These two opposites are what inform his work. Mopane worms, where Mashile comes from, are an important part of the culture as well as diet. During the harvest only the women are involved. They must abstain from certain things and many of the cultural practices allude to not disturbing the nature before the tiny eggs have hatched. Old people still observe certain customs to this day in order to understand the reasons why, for example, storms upset the eggs before they hatch, and other such things happen. This is a major driving force in Mashile's common themes of culture and customs.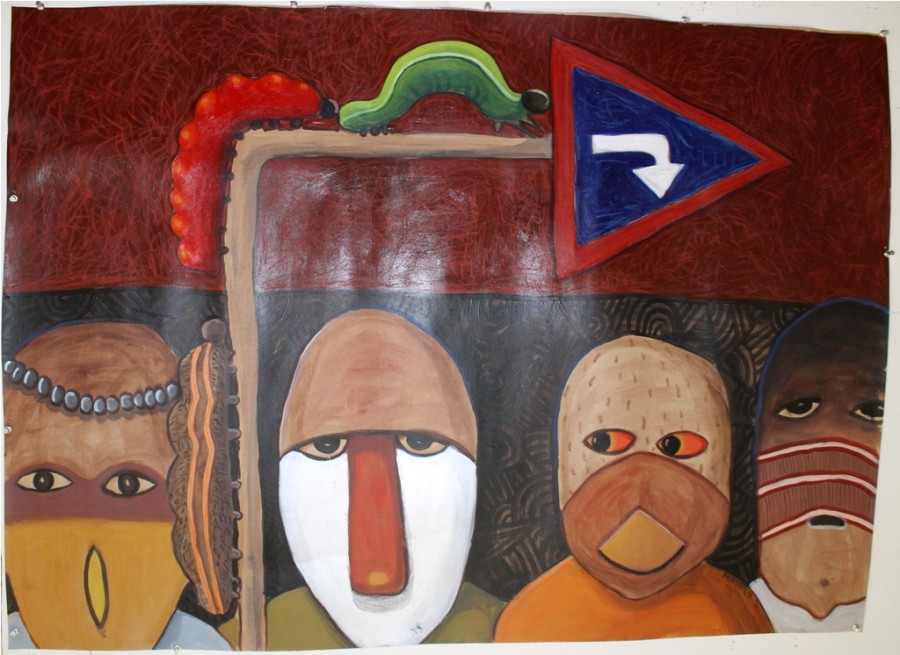 Bophelo – Ke – Semphego (2011), Acrylic paint, ink and pastel on paper, 87.6 x 126 cm
"Life is a Wheel of Fortune"
Mashile often works with the split background. The two planes in his work symbolise states of being and ways of thinking. The work is about transmutation and progression. In this work it shows the lower / underground which represents a dark space or state of mind. For Mashile, it is a space where one is unable to move forward or where we waiting in anticipation of something.
The road signage is used to indicate a mode of movement or need to get moving once again; to find direction. For Mashile, this represents his movement back to the city from his rural home in Hazyview, Mpumalanga. For him, relocating permanently to Johannesburg involves a lot of personal expectations and needs. The Sepedi title is an expression often used in tumultuous and difficult times, directly translated as "life is a wheel of fortune". The worms come to show change, emerging and moving out of a dark space, only to be redirected back. This on many levels speaks of cycles, of life, of repeating mistakes, of coming back to the same place. Perhaps coming back to Johannesburg is part of this, only this there is a need to see it differently and to emerge, as the caterpillar does, in a new state of being.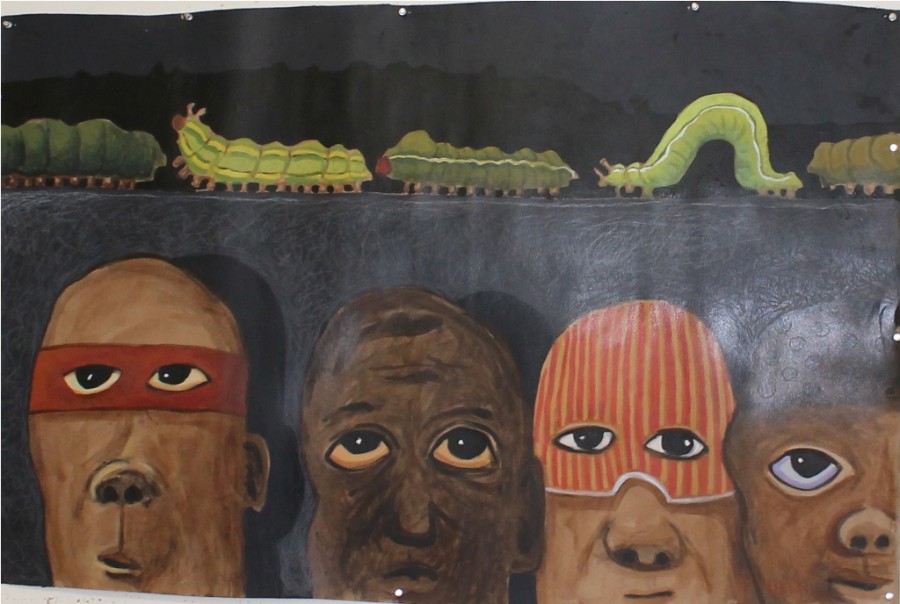 Nako – ke – Seboko (2011), Acrylic paint, ink and pastel on paper, 87.6 x 126 cm
"Life is a Worm"
Again, on the theme of coming back to the city, Mashile is aware of how many eyes now surround him in the streets and the eyes that look at his works. There is a certain anxiety he feels being aware of being stared at by these eyes, knowing that he can't see beyond them or through them. He says, "The worms serve to remind me of the steady pace of life. It is slow but time moves quickly and abruptly." The title translates to "time is a worm". The act of eating a leaf takes time, the way a caterpillar moves is slow but the life span of that being is brief.