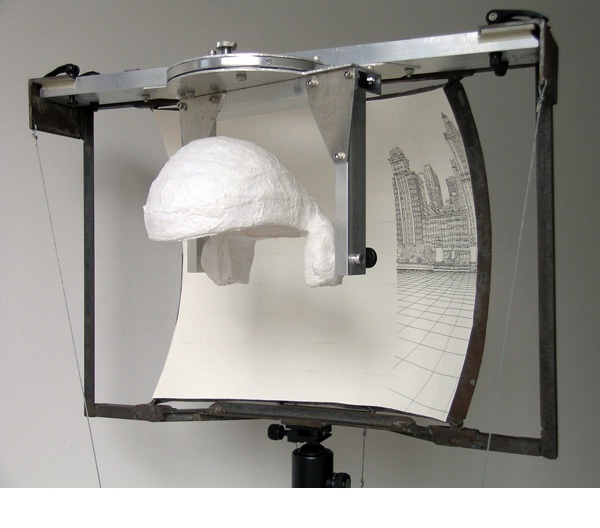 Visual artists and twin brothers Ryan and Trevor Oakes will visit the Getty Center December 6–December 24, where they will employ their novel drawing approach in capturing the Getty. Jointly, they will execute a drawing of the Getty's Central Garden over the course of three weeks, and offer visitors an up-close view of the unique spectacle of their unusual artistic technique.
The Oakes accomplish a difficult task—drawing a picture of a scene as the human eye views it—with a set of self-designed tools. Using a spherical metal easel and paper, as well as a plaster head cap to steady their vantage point, the brothers draw images that are incredibly accurate in proportion and perspective.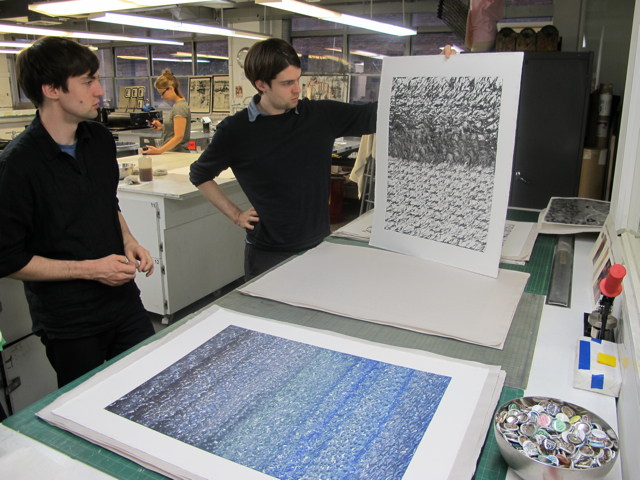 Ryan and Trevor recently completed a series of monotypes in collaboration with master printer Phil Sanders at Robert Blackburn Printmaking Workshop in October, 2011 (above). Published by David Krut Publishing, New York, these prints are now available through David Krut Projects in New York.  The Oakes Twins are identical twins and collaborating artists, living and working in New York City. For this series of works they continue their lifelong investigation into vision with works that explore ways of representing perception on a two dimensional surface.
The Oakes Twins' most rigorous and recognizable works to date are their Spherical Drawings, an idea that was eventualized after many long discussions about how one could recreate a scene true to how one sees it. Ryan and Trevor came up with the idea to design a spherical easel, which enabled them to use their binocular vision to 'trace' the scene before them on to the paper.
The Oakes Twins' work is held in many important collections including The Field Museum and Spertus Museum in Chicago. In the summer of 2009 they did a large-scale spherical drawing in Chicago's Millenium Park, looking toward Anish Kapoor's Cloud Gate, which is now on permanent display at the O'Hare International Airport.