Colbert Mashile has been creating editions at David Krut Print Workshop (DKW) since 2002, in which time he has produced etchings, linocuts and monotypes in collaboration with DKW printers. In preparation for the The Horse, a group exhibition of horse-themed art works at the Everard Read Gallery this month, Mashile spent some time experimenting with water colour monotypes at DKW, Arts on Main. He has produced four watercolour monotypes and one etching with DKW printer Mlungisi Kongisa.
Mashile's horse is based on Rosinante, who has his origins in Don Quixote, the 17th Century picaresque novel by Miguel de Cervantes. Don Quixote, a retired country gentleman and obsessive reader of tales of knight-errantry, imagines himself as a famous knight in shining armour. Appearing to have taken leave of his senses entirely, he sets out with a cobbled suit of armour and his trusty steed, previously a work-horse, who he dons Rosinante.
The etymology of the name reveals a pun: rocín in Spanish means work-horse or "nag", but also can refer to a rough or illiterate man. The suffix -ante translates as "before". The narrator of the novel describes in the first chapter the naming of Rosinante as follows: "Four days were spent in thinking what name to give him, because (as he said to himself) it was not right that a horse belonging to a knight so famous, and one with such merits of his own, should be without some distinctive name, and he strove to adapt it so as to indicate what he had been before belonging to a knight-errant, and what he then was."
This play on words is significant in the reading of these new works by Mashile. His re-presentation of the 17th Century Spanish work-horse turned handsome stallion in a South African context post-democracy offers an interesting commentary on the current political and economic landscape.
The prints are now available at David Krut Projects at Arts on Main. For more information please contact Ellen or Tiffany, T: 011 334 1208/ E: [email protected] or [email protected]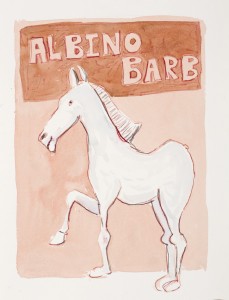 Albino Barb (2011) Edition: I/I, Size: 60 x 46 cm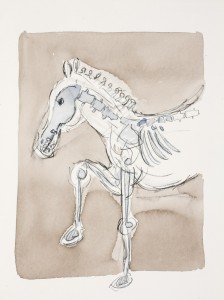 Robo-horse (2011) Edition: I/I, Size: 60 x 46 cm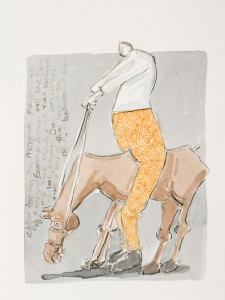 Sancho on Rosinante (2011) Edition: I/I, Size: 60 x 45, 8 cm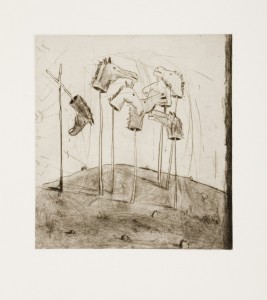 Mementos (2011) Drypoint, Edition: 20, Size: 48,6 x 41,7 cm