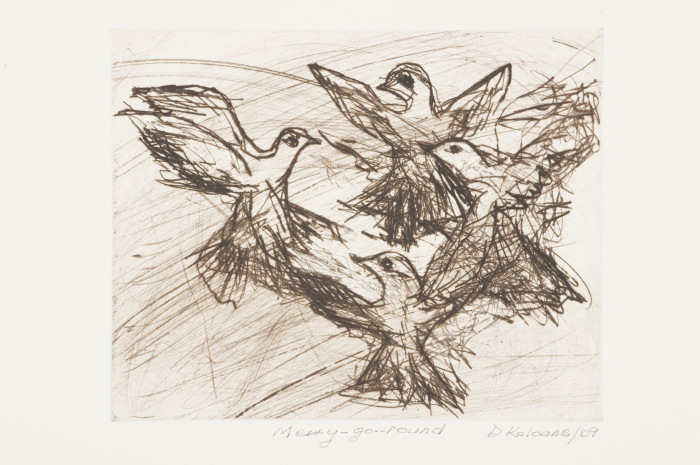 Collaboration History
David Koloane was the subject of TAXI-006 David Koloane from the TAXI Art Book series published by David Krut Publishing. In 2008, David Krut Projects (DKP) Cape Town displayed a number of monotypes and other prints by Koloane in a solo exhibition. In 2009, Koloane collaborated with the David Krut Workshop (DKW) to produce the body of work Wings of Freedom.
In 2014, Koloane was commissioned to produce a work for the group exhibition The Benediction of Shade II in November 2014, Fantasy III.
Biography
Artist, writer, arts administrator and curator David Koloane was born in 1938 in Alexandra township, Johannesburg. He studied art at the Bill Ainslie Studios in Johannesburg and later completed a Diploma in Museum Studies at the University of London. Koloane established a reputation, both locally and internationally, as a pioneer black artist in apartheid South Africa and was a founder member of institutions promoting and supporting black talent in South Africa from the mid-1970's.
He was the co-founder and director of the Fordsburg Artists' Studios (The Bag Factory) and in 1997 was appointed a member of the National Arts Council of South Africa. He was the curator of a number of international group shows and his works have featured in major exhibitions including the Venice Biennale. In 1998, he was the recipient of the prestigious Prince Claus Fund Award.
David Koloane's work reflects the socio-political landscape of South Africa, both past and present. The conditions created by the apartheid system have to a large extent transfixed the human condition as the axis around which his work revolves. Koloane's work has been shown in South Africa, Botswana, France, the United States, the United Kingdom and Zimbabwe. His work is part of some of the greatest collections in the world, including the Saatchi Collection. A reflective and well-published writer, Koloane wrote on issues pertaining to Black South African art and the racism in the South African art world. He was also outspoken about the difficulty in obtaining an art education in South Africa.
David Koloane looked with a lively and perceptive eye at the bustling urban environment that had shaped his works, with a particular focus on the complexities of the South African urban landscape. His work is often recurring and commonly depicts township scenes, dogs, cityscapes and jazz music. His work has been described as "a curious blend of sombre epiphanies and mesmerising celebrations of our collectivity as human beings." (O'Toole, S., Artbio, July 2003).
Koloane passed away in 2019.