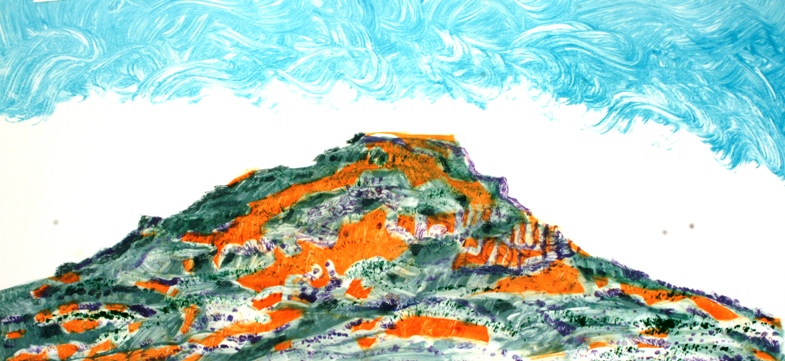 Backhouse is a full-time artist based in Johannesburg. He studied Fine Art at Rhodes University under Brian Bradshaw, from 1970 – 1971. He later worked as an art director and creative director at various advertising agencies in South Africa, for a period of 25 years. He was primarily involved in illustrating ad campaigns, magazine covers and newspaper articles. He was the managing director of Image Bank South Africa from 1997 – 2004 and became a full-time artist in 2004. In 2006 he continued his studies at the National Portrait Gallery in London.
After 25 years in the industry, sensibilities of advertising become apparent in Backhouse's work, particularly in his playful use of zesty colour and satirical figures. In his more recent works, which were exhibited at David Krut Projects in 2007 and 2009, he employed the technique of watercolour monotype. Backhouse says he has been particularly delighted with the scope of vivid and finely textured colour made available to him by this medium.
Although very versatile in figural satires, Backhouse is primarily concerned with the contemporary landscape, falling within the genre of traditional landscape painting. He believes that the average South African landscape has been over exploited to a point where it is no longer visually challenging to either the post-modern artist or the viewer. In trying to review this genre, his aim is to make people question and think differently about landscape in watercolour, it is a journey for both artist and viewer.
His most recent work at DKW deals mainly with landscapes in the form of watercolour monotypes. Backhouse aims to blur the line between realism and abstraction, drawing much of his influence from Rothko. He incorporates abstract colour fields into recognisable South African landscapes. Backhouse feels that fusing the two disciplines is important as it does not challenge one to think in terms of clichés, nor does it allow one to overlook the intention of the artwork.
Mary-Jane Darroll wrote about Backhouse's current work:
When confronted by a new vista, the eye is automatically drawn to that distant place where the earth meets the sky. Depending on conditions, sometimes it's a crisp edge, sometimes they blur into each other, sometimes present and visible sometimes invisible but not absent. Bruce Backhouse has tried to express this moment in time, particularly in South Africa's semi-desert Karoo and Northern Cape, physically quite remote and contemplative, yet invigorated with delicate dabs of colour reflecting the utmost nuance of changing light and form. He has engaged the challenge of relocating the traditional landscape genre into a 21st century context; engaging and merging the representational form with the subtleties of abstract content. Only the horizon separating land and sky define the work as being a landscape. The works become a tribute to past influences: his fine art teacher Brian Bradshaw, the late works of Monet, Jentsch and Rothko. Backhouse visits the Karoo frequently, painting en plein air. Often these initial representations are captured in watercolours. He then likes to work in his Johannesburg studio from memory, never from photographs.