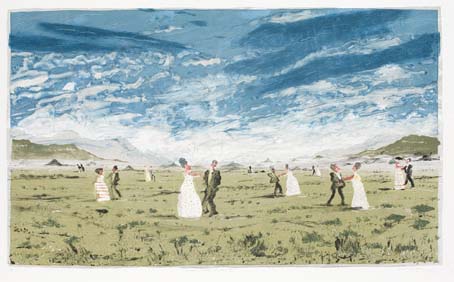 OPENING: Saturday 17 March 2007 @ 12.30
Exhibition concludes 21 April
Bruce Backhouse began his art career many years ago at Rhodes University where he studied Fine Art for two years before deciding that the world of advertising suited him better. He remained in advertising for the next twenty-five years until, four years ago, he returned to his earliest aspiration to pursue a career as a painter.
Although Backhouse's style is loose and painterly, he favours a cartoon-like rendition of figures and objects, often with a strong emphasis on the drawn outline. In 2006 Backhouse decided to try his hand at printmaking as a way of achieving a finer, more lyrical outline and he joined printmaker Niall Bingham's Sunday courses at the David Krut Print Workshop (DKW). Backhouse soon found a niche in etching and aquatint techniques, a combination that allowed him to concentrate on his characteristic quick-drawn line, whilst retaining his atmospheric backgrounds. Backhouse was subsequently invited to continue his collaboration with Bingham at DKW and, in addition to the techniques he had already acquired, now started to experiment with monotypes, through which he reintroduced colour into his oeuvre. Backhouse's monotypes have retained the charm of his earlier watercolour paintings but have propelled him into new areas of visual exploration. The intensity of colour achievable with monotypes has been a source of excitement for the artist, as has the ability to combine more than one technique in a print. Fine line can be achieved through etching and dry point, whilst moody, textured greys are the product of spitbite and aquatint. Colours are brighter and can be blended in a way that is simply not possible with watercolours.
Backhouse has continued to explore the genre of landscape in his new body of work but, although his subject matter comes from the rocky outcrops and koppies that dot the vast Karoo landscape, he paints entirely from memory, eschewing geographical accuracy. Backhouse describes his artistic mission as a desire to change the pervasive perception of landscape painting since he believes that this genre has been rehashed to the extent that it can no longer engage artist or viewer on any meaningful level. He prefers to use the landscape as a stage for dynamic social interaction rather than as static topographical record.
In spite of the aforementioned explanations, Backhouse likes to keep his art as uncomplicated as possible. One has the impression, when speaking to the artist, that he feels genuinely privileged to have been granted the opportunity to immerse himself in his art and that his over-riding intention is to uplift his audience rather than deliver overly profound messages.