Posted on by Britt
In April 2020, Artsy launched the #ArtKeepsGoing campaign with the goal of creating content with artists that highlights how they are enduring the unique situation of the global pandemic – COVID-19. This campaign has brought artists' voices directly to the community through a series of questions about inspiration, artistic practice and their art. We posed these questions to artists Judi Harvest.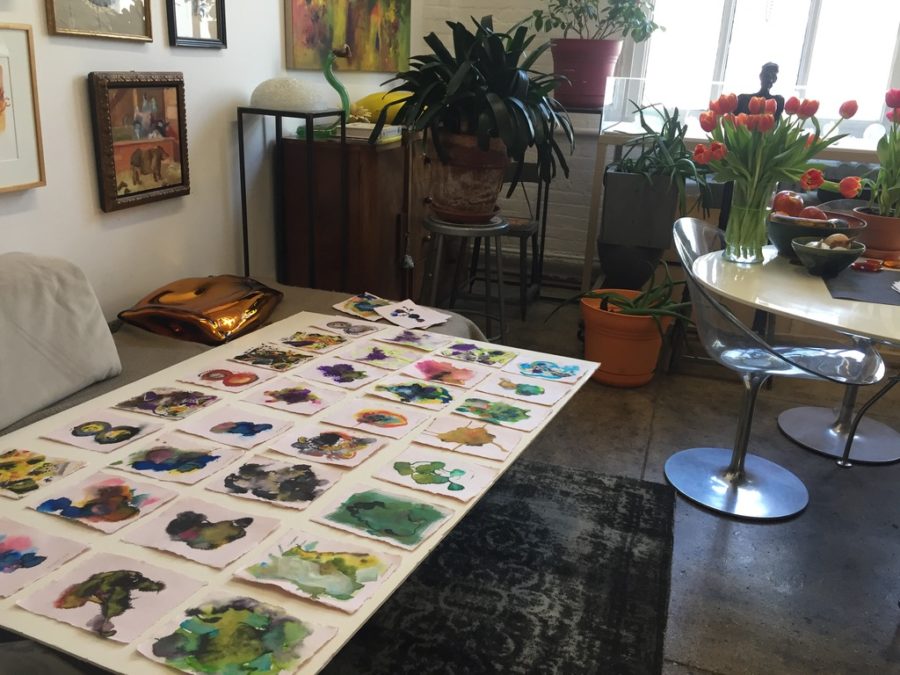 How does art keep you going during difficult times?
Judi Harvest: I believe art heals. Having lived in New York since 1975, I have experienced many difficult times and disasters: natural, unnatural and surreal, ranging from garbage strikes to hurricanes, blackouts to terrorist attacks, and now a pandemic. I was profoundly affected by 9/11 and created a series of work titled STILLED LIFE. This COVID-19 crisis requires absolute isolation and quarantine as it is invisible. All of the other disasters were visible. I am a visual artist and to stay calm I am creating several watercolours a day in my studio. I am up to 47 watercolours now; I have titled them ART IN THE TIME OF QUARANTINE.
How has your art practice been affected by self-isolation?
JH: My work has always been concerned with the fragility of life and the search for beauty.
I am currently working on smaller pieces on handmade pink paper with watercolours and inks. I bought this soft pink paper in Venice last Fall during an exhibition I had there and it reminds me of a happy, positive time. I like seeing the results and the story unfold on a daily basis. It is an abstract visual diary of this difficult time.
The paintings are inspired by nature that I observe when I go out with my mask for a walk around Chelsea. As a beekeeper, Spring is my favourite season. I photograph the beautiful tulips and daffodils and cherry blossoms and buy more plants for my studio to smell as I work, like a honeybee. My dream is to live in a greenhouse and now my studio is becoming that.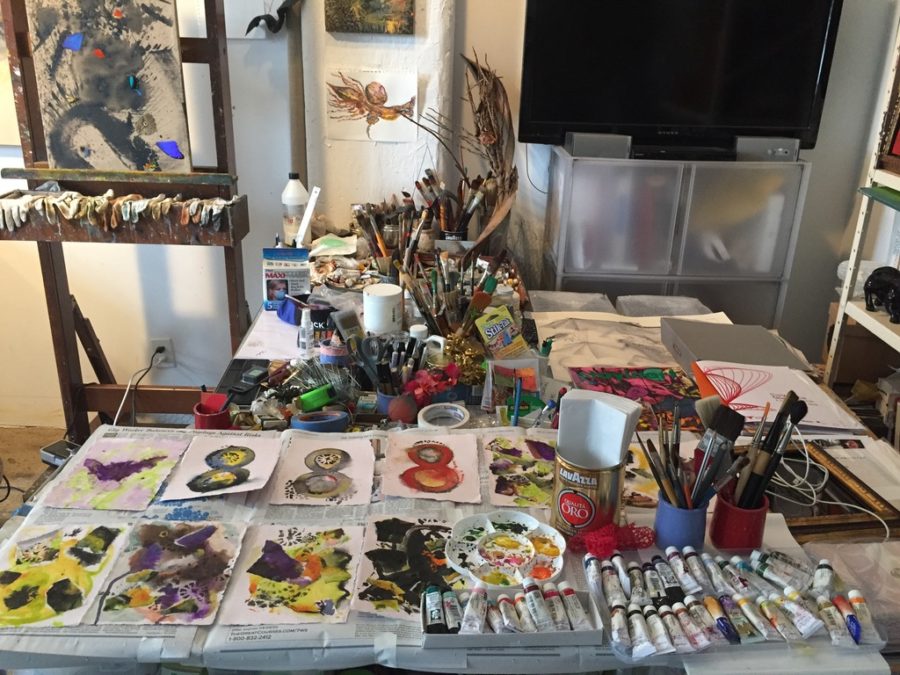 How are you staying creative?
JH: I keep my studio windows open even if it is raining as the fresh air reminds me that life will go on. I keep my watercolour table and art supplies organised and out and ready to go! I work when I feel like it and listen to the news as little as possible. I have WBGO Jazz radio on almost all the time. A short walk daily to check on the progress of Spring and the bursting flowers and singing birds help a lot.
Are you creating new work while social distancing?
JH: Yes, I work alone in my studio all the time. The difference now is I see no one on my studio hallway and I keep my door closed. It was different when the doors of galleries and studios were open and we visited each other. Now that is not possible, but I am creating more intimate works which I am sharing through social media. I am also offering them for sale to support the eight honeybee hives and Honey Garden I created in 2013 and maintain in Murano, Italy.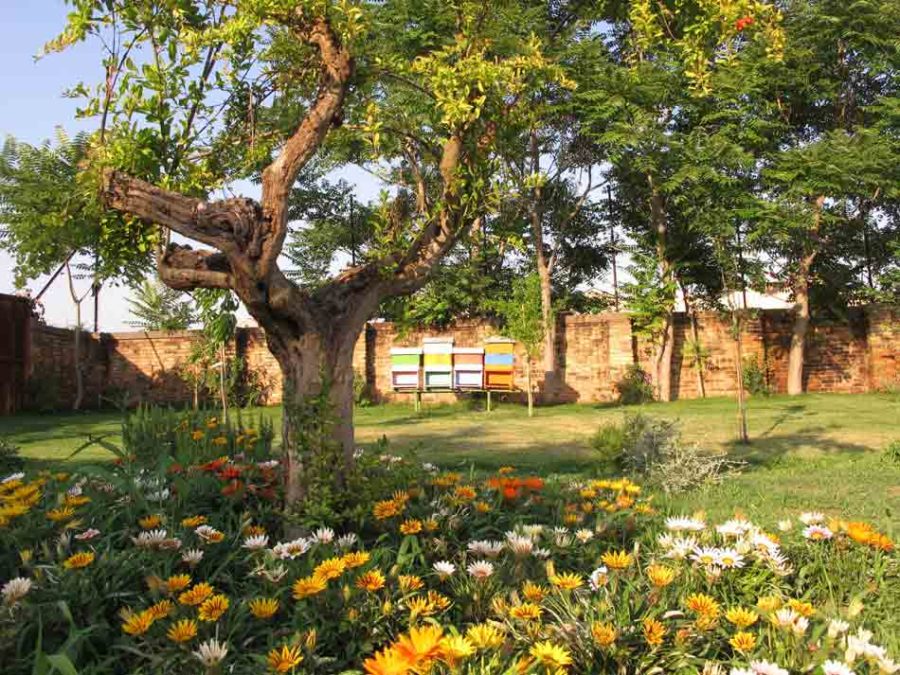 Who are some other artists you are moved by right now?
JH: I think about Matisse in his room alone doing the cutouts by using a stick and pins to move the shapes around.
I think about Monet in his studio alone in Giverny working on the Water Lily paintings and going outside to his gardens. I have a beautiful photo on my studio wall of Monet working for inspiration.
I reflect on Giacometti feeding and talking to the spider in his studio and apologizing to his sculptures when he bumped into them. I also talk to flies who come in my studio and all of my plants. Actually the fly is growing and will not leave and the plants are doing much better since I am here more and talking to them.
How are you staying in touch with your community or supporting other artists?
JH: I am using social media more than ever. Posting almost daily on Instagram and Facebook. I call friends more on the telephone and the conversations are longer than usual. We encourage each other by checking in and making sure we are working and okay. I use Zoom and FaceTime also.
What work of art in your home means the most to you?
JH: I am a beekeeper. On the glassmaking island of Murano in Venice, where I create my Murano glass artworks, I raise honeybees in a garden I built for them in 2013 on a former dumping ground for glass. In 2017, during a hive inspection I noticed my honeybees created a lung-shaped honeycomb on the top of the frames in one hive. I removed it carefully with the help of a beekeeper friend and then mounted it on an antique Venetian mirror and framed it in an antique Venetian frame. I titled this work REFLECTION, as what happens to the honeybees affects all of us. This piece gives me joy as I understood then and there, nature is the best artist and honeybees are natural sculptors.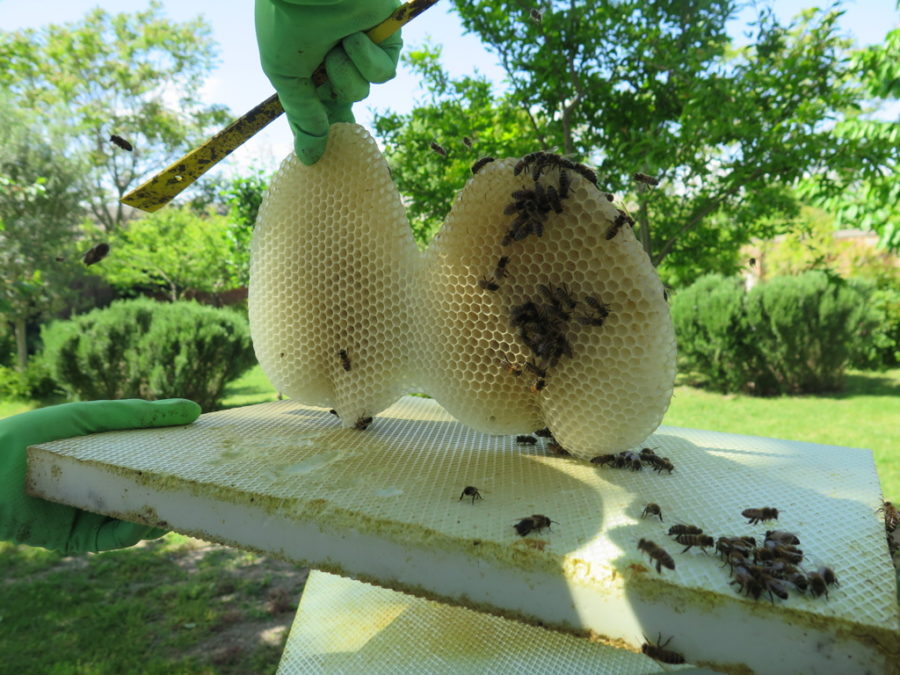 The honeybees have been my inspiration since 2006 when I heard about Colony Collapse Disorder and became a beekeeper. I believe I have a responsibility as an artist to give something back to nature as all of my materials come from nature. Raising the bees and building the Honey Garden is my most satisfying work as it is ongoing and changes daily. It is an Earth Work and although it is not in my home, it is in my heart.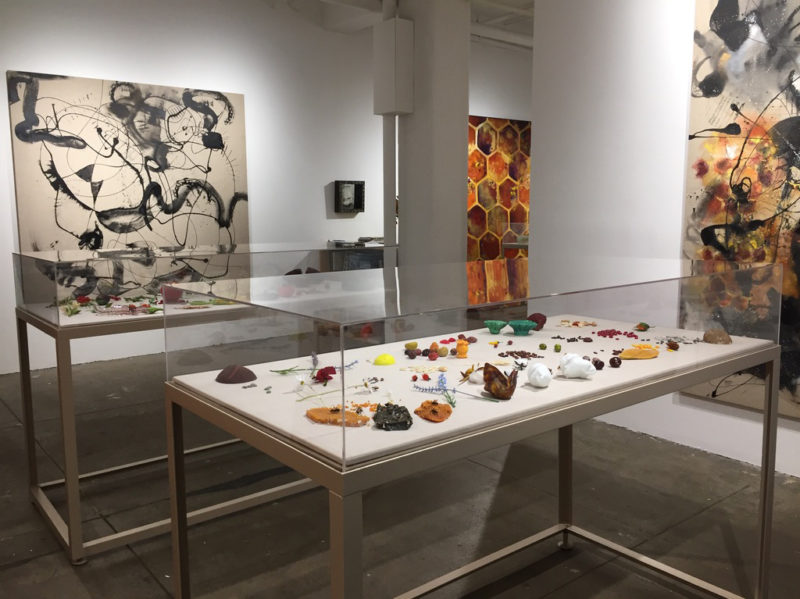 SEED, Judi Harvest's first solo exhibition with David Krut Projects, New York, opened on February 6, 2020 and was set to close on March 20, 2020. The exhibition featured a selection of large-scale oil paintings and sculptures created in collaboration with master Murano glassmakers. SEED closed one week early due to the global COVID-19 pandemic, but can still be viewed on Artsy.
Click here to view the exhibition online.