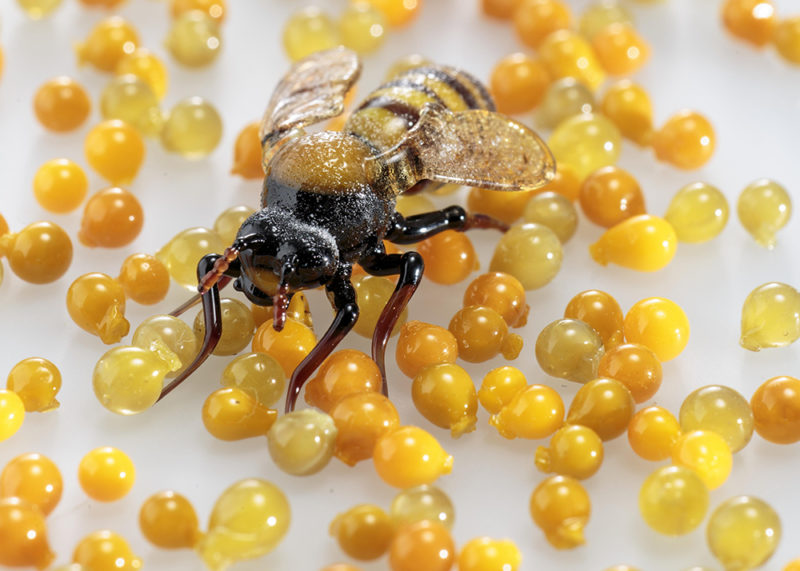 Image: Judi Harvest, detail from Past, Present + Future (Bee + Pollen), 2017
Judi Harvest | SEED
February 6 – March 20, 2020
Opening Reception: February 6, 6pm – 8pm
David Krut Projects, New York is pleased to present SEED, the gallery's first solo exhibition with artist Judi Harvest. Through a selection of large-scale oil paintings and objects created in collaboration with master Murano glassmakers, Harvest interweaves the lives of honeybees, their role in our global food chain, and the work of Murano masters, exploring the strength and fragility of these communities affected by a changing industrial landscape.
Judi Harvest (b. Miami, Florida) is an interdisciplinary artist working primarily in painting, sculpture, and Murano glass. Since 1987, she has had more than twenty solo exhibitions in Venice, Italy. Recent solo exhibitions include The Mysterious Traveling Honeybees of Venice during the 2019 Venice Glass Week and CROSS-POLLINATION: Honeybees and Murano Glass, curated by Eliza Gonzales at The Coral Gables Museum in 2018. Her work has been featured in The New York Times Style Magazine, Miami Herald, Vogue Italia, Bloomberg, and Widewalls, among others. She holds a Masters of Fine Arts from the School of Visual Arts in Urbino, Italy and a Bachelors of Fine Arts from Barry University in Miami, FL. She lives and works between New York, NY and Venice, Italy.
David Krut Projects, New York
526 West 26 Street
Floor 8, Suite 816
New York, NY 10001
T: 212.255.3094
Gallery Hours for this exhibition are Wednesday through Friday 11am-6pm and by appointment
Please contact [email protected] with questions, or to make an appointment.