BY APPOINTMENT ONLY | Visit the 151 Framing Studio at THE BLUE HOUSE – David Krut Projects and Bookstore, 151 Jan Smuts Avenue Parkwood. Or consult with Pauline Meyer via e-mail: [email protected]. Follow Framing.at.151 on instagram.
151 Framing Studio is situated at THE BLUE HOUSE – the David Krut Bookstore, 151 Jan Smuts Avenue, Parkwood. The 151 Framing Studio is run by Pauline Meyer who has over 20 years experience in the framing industry. Her passion, creative dedication and sensitivity not only to the work she is framing, but the needs of her clients, ensures that Pauline's service is truly bespoke.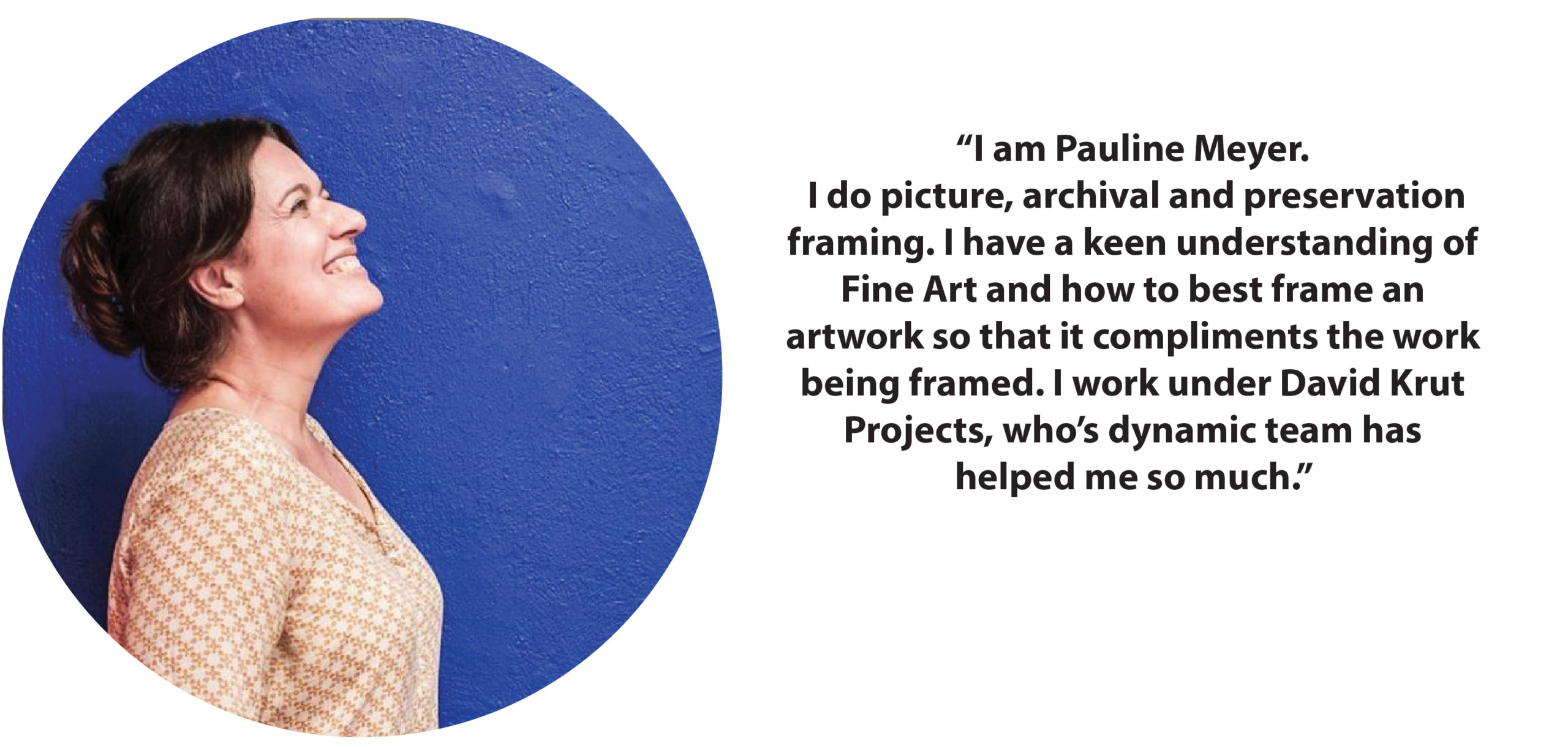 How and why did you get started in this line of work?
In 1994, I returned to South Africa after some international travelling. An old school friend invited me to join him in a new venture that involved framing, so it really was by chance! Once I started working in framing it became fascinating to me. There are so many interesting aspects about framing that captivate me
How would you describe your approach to framing?
In my opinion, framing should always be an extension of the work. At the moment framing is understated and very stylish; I do remember a time when we all used gold and very ornate frames all the time. But I want the frame to compliment the work fully; the artwork must be well-preserved and the client must be happy with the result.
What can a client expect in a consultation with you?
I give my clients different options of frames. I like to ask a lot of questions to get to know them and the kinds of things they would like. I also take them through the different profiles of frames, the styles and types of borders and how conservation can be achieved. I think that the conservation of the artwork is very important. I want them to be sure and happy with the final product.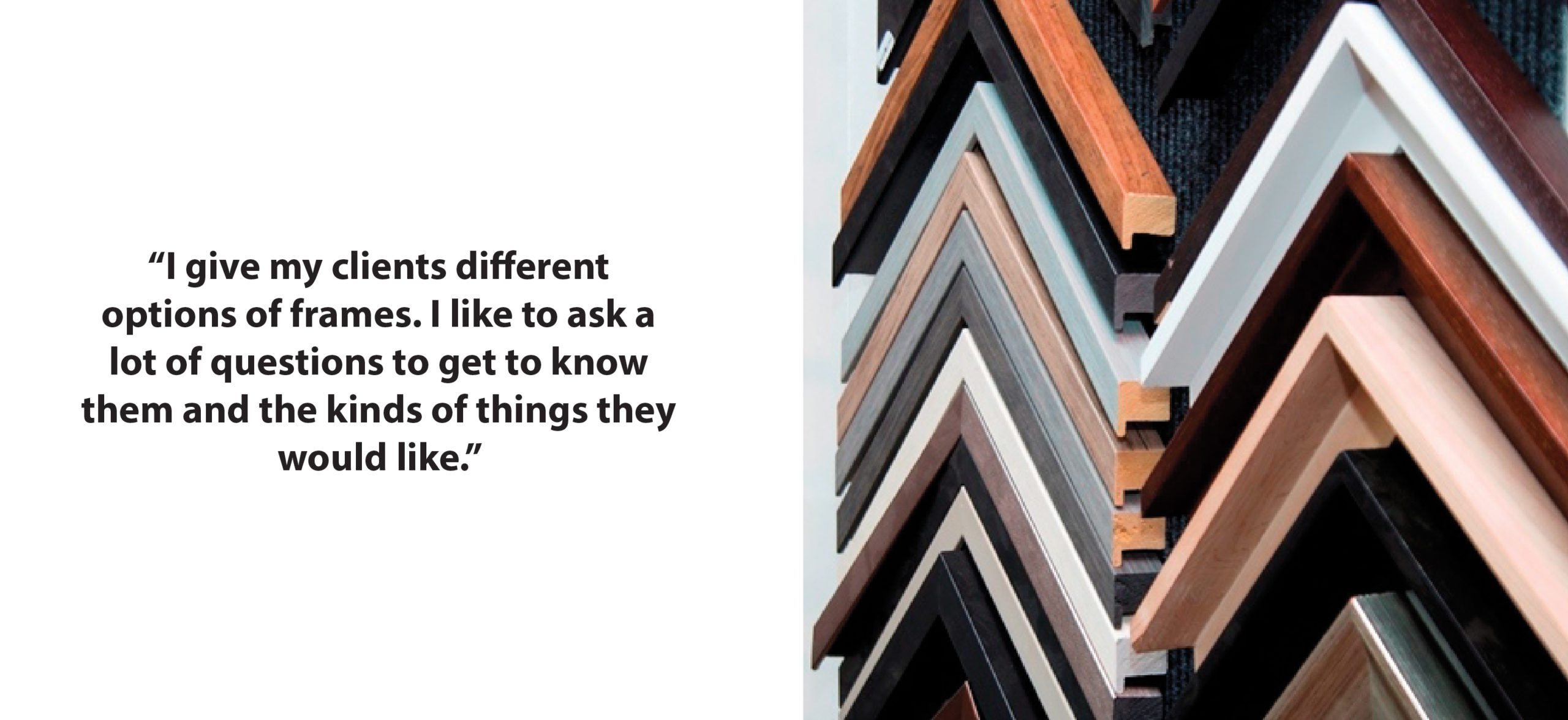 What do you think is the most misunderstood aspect of the framing industry?
I can only speak out of my experience; I would say that some people might think that framing is expensive or a luxury and not a necessity. As someone with a passion for framing, I would argue that it only enhances and preserves your artworks, photographs, paintings, certificates, and gives these things the significance they deserve.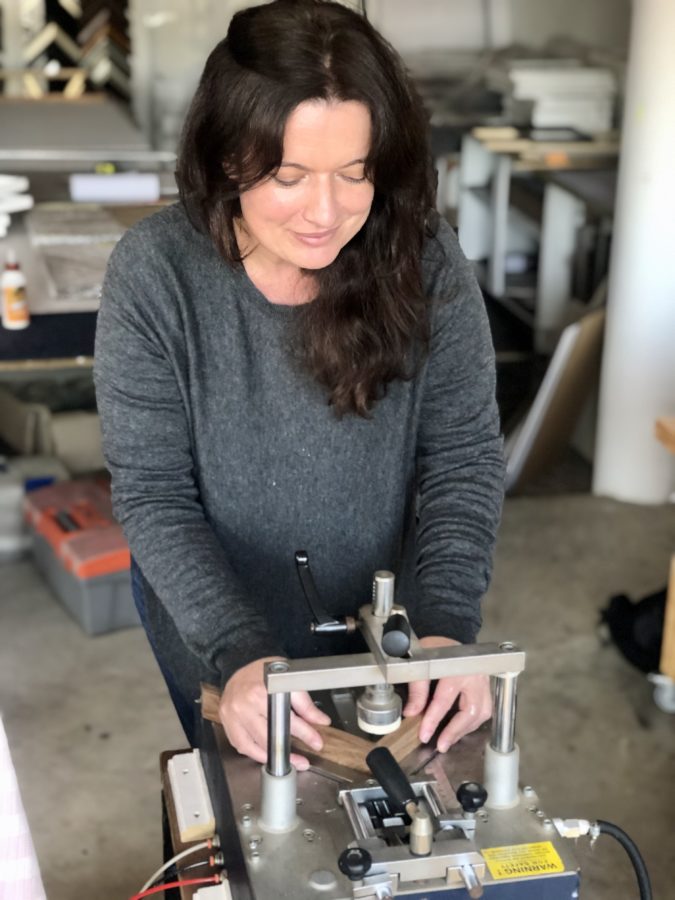 What has been a highlight in your framing career?
David Krut inviting me to open my studio in his space. That was amazing! Everyone involved with David Krut Projects has helped me really get the studio going. From getting my equipment into the space to helping me source my suppliers.
It has always been team work , whether it is putting a bit of pressure on me to complete big framing jobs for exhibitions or assisting me in holding a large frame upright to put in the last screw and hook.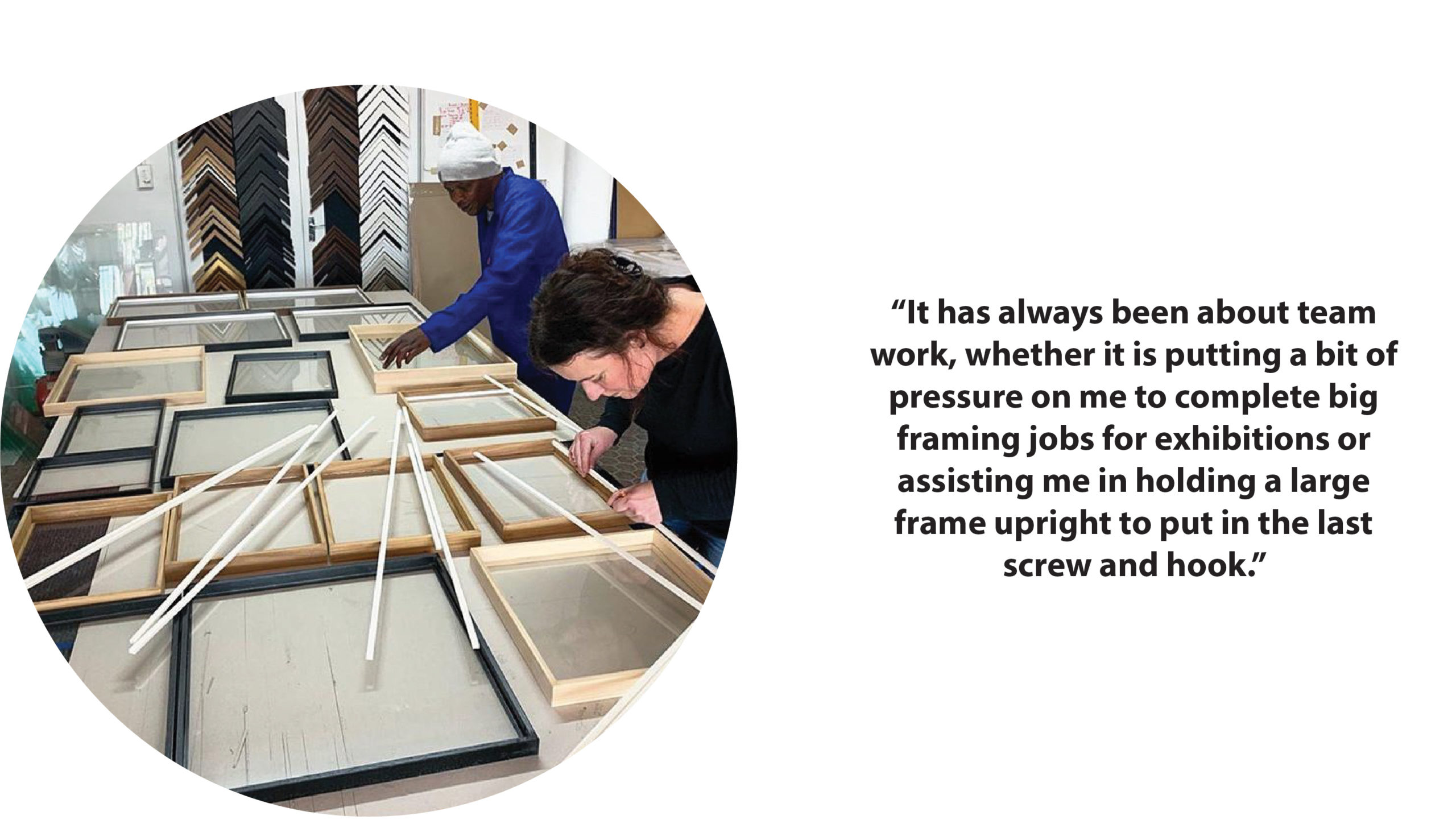 The 151 Framing Studio also allows for short mentorships whereby I can enable an apprentice to learn how to work with their hands and transfer skills in framing craftsmanship. Currently, artist and printmaker Purnaa Debb is learning the skill of framing in the studio. See what Purnaa thinks about framing in the questions and answers below.
What has been the most interesting thing you have learnt about the framing process so far?
Purnaa Deb: What I've experienced so far is that the framing and the art should work together as one. The frame can be a key ingredient in the experience of the artwork for the viewer. Not only does the frame enhance the final look of the painting, it also protects it. A frame that compliments the artwork also reflects the personality of the art collector. It shows their dedication and interest in art and even echoes their sound artistic judgment.
As an artist, do you consider framing an art?
Purnaa Deb: Yes I do, and framers become artists when creating the frame from scratch. I strongly feel that the frame is the final step that completes the artwork.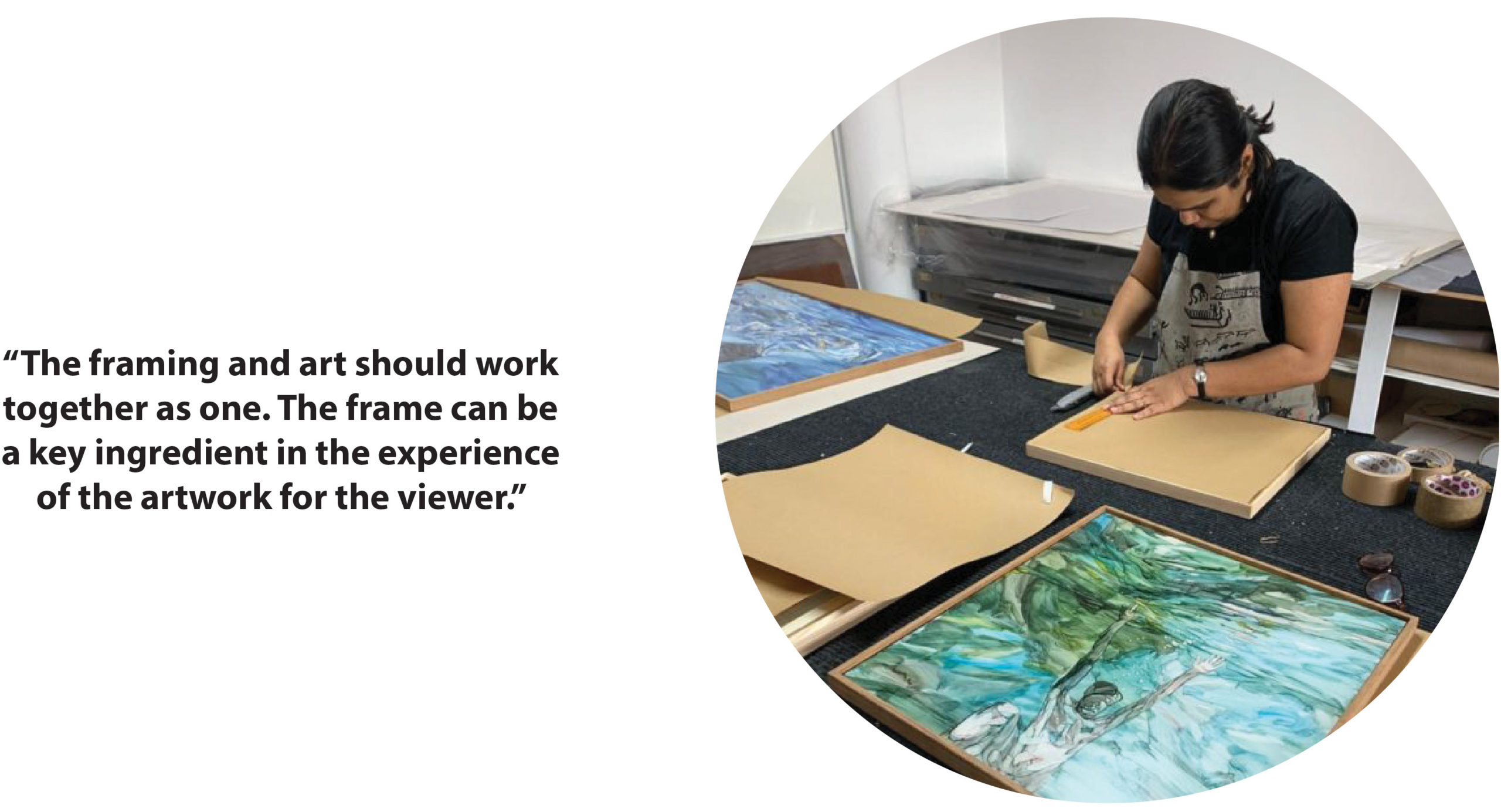 What is your favourite framing profile/ the one you use for your own artworks?
Purnaa Deb: I like natural wooden frames, but when it comes to frame my own I prefer to consult with Pauline, as she knows what will do justice to the art.