After three years and towards the completion of the sixth and last image in the large-scale Triumphs and Laments Woodcuts Series, two of William Kentridge's repeated phrases stood out and were worth taking further. These two text pieces are the highlighted notes. The larger work they refer to, Refugees (a diptych), is an image depicting six figures in procession, each carrying their personal belongings on their backs.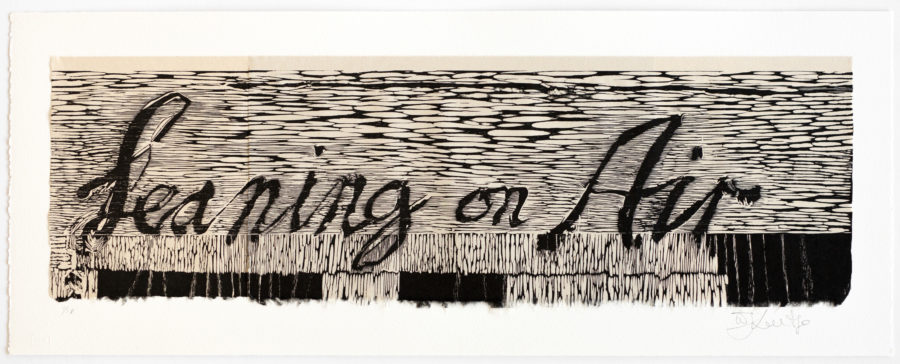 The image Kentridge used as reference (for the large-scale work) was from a 2012 newspaper photograph of migrants from Rwanda, which resembled many other images found then and since that represent migrants from any number of countries.
These two text pieces were made to highlight both the beauty found in the nature of the woodgrains used, and also to draw attention to the phrases found within the larger works. Instead of re-printing them onto the same paper used for the large, collaged works, a series of tests on thinner, more delicate paper was carried out, and a decision made to print this edition on Kitakata. This is a 30-36 gsm Philippine gampi paper with deckle edges (the ragged or feathered edge on a sheet of paper). Referencing works in the Universal Archive series, in which printed dictionary sheets were hinged to their backing sheets only at the top of the page, these works float freely. They dangle, like the phrases or the people they may be talking about.
Paper deckles here are prominent and kept intact allowing the woodcut grain to print over them. Two sheets of paper sit side-by-side and float freely in Leaning on Air, whereas God's Opinion is Unknown is kept on one page. Furthermore, the looseness of the sheet mimics the way the larger works are pinned together, allowing the sheets of paper to lie naturally on top of each other.
Text pieces were created by Kentridge in collaboration with Master Printer Jillian Ross, printed by Sbongiseni Khulu and assisted by Kim-Lee Loggenberg.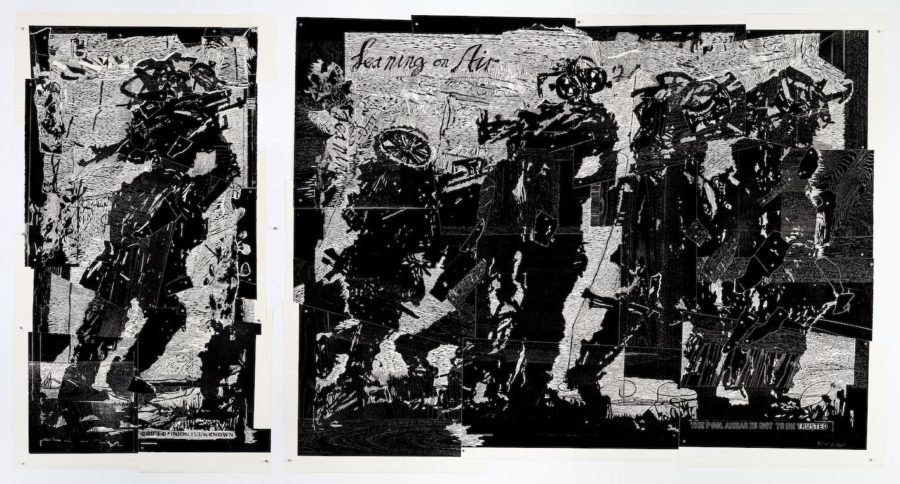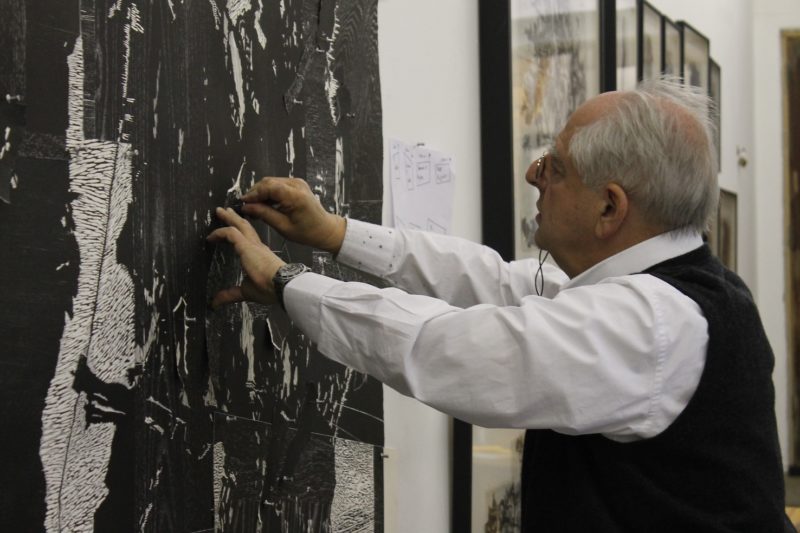 The large work, Refugees (featured above), is made from 26 woodblocks on 77 individual sheets of paper, adhered by 136 aluminium pins.
Background information:
In 2016, William Kentridge began work on a 550m frieze on the banks of the Tiber River in Rome. Spanning from Ponte Sisto to Ponte Mazzini, Triumphs and Laments is a breathtakingly immense, historical and political work by Kentridge, who had been preparing drawings for this project several years prior. In conjunction withe the prieze project, and in collaboration with the David Krut Workshop, Kentridge created the Triumphs and Laments Woodcut Series, which saw the editioning of woodcut prints from these preparatory drawings. Work began on Refugees in October 2018 and marked the first work in the series to be created in two parts, collectively titled, Refugees (1 God's Opinion is Unknown; 2 Leaning on Air). If referring to one part separate from the whole, the woodcut featuring the single figure is titled God's Opinion is Unknown. The woodcut featuring the group of figures is titled Leaning on Air. Both titles derive from the text used within each woodcut.
Refugees (1 God's Opinion is Unknown; 2 Leaning on Air) was printed at David Krut Workshop at Arts on Main, by Master Printer Jillian Ross, Sbongiseni Khulu, Chad Cordeiro and Sarah Hunkin, and assisted by Pebofatso Mokoena, Diego Silands and Lisa Cloete (carving); Alan Epstein (carpentry); Roxy Kaczmarek (post-production).
To inquire, please contact: [email protected]