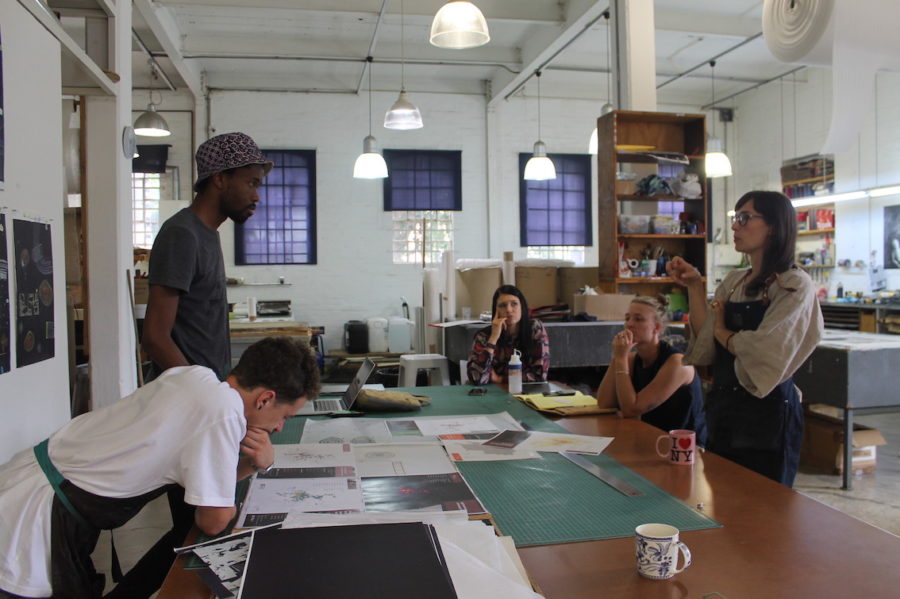 Connections flourish when two or more worlds collide to create. For this latest collaboration Pebofatso Mokoena actively inserted himself into the bustling David Krut Workshop environment this way of working contrasts the privacy of his studio. He settled comfortably into the temporary studio space in the adjoining gallery to work intensively for his solo exhibition at David Krut Projects Internal Probes.
If you have ever been in the Joburg CBD on a Friday afternoon at 5pm, this exhibition will feel familiar to you. At that time of day, every person in the city seems to be on their way somewhere. Within the frenzy of vehicles and bodies, unfettered chaos is the overriding force. Whatever rules may exist to manage the orderly movement of people and vehicles give way to flux. All moving parts are directed by responses – individual and as a group – to the apparent ungovernability of the street-level commotion.

Mokoena is a public transport user and, therefore, is privy to a certain understanding of the movement of people from one locus of activity to the next – from the suburban centres where many people live, focused on a more domestic reality, to the urban hubs where people work, shop, and otherwise play out their civil lives, and all the points in between. In this body of work, Mokoena has drawn on both experience and research to develop a visual language that taps into different aspects of moving between these places.

The body of work consists of unique drawings made with a combination of Stabilo water-soluble wax crayon, pencil, pen and acrylic wash, with silkscreened and drawn collage on Hosho, Magnani Pescia, Mingei black and Kitakata papers, adhered to a single-colour silkscreen on either Magnani Pescia, White or Light Blue, 300gsm.
The development of his works is a layered organic process. Elements are added in stages and each image's complexity grows with time. Mokoena says translation has chasms and with the translation of ideas into art he sometimes feels that he loses the initial concept. But a lot of the changes that shift while he works helps make sense of it. This allows for someone else to find their own meaning in the work. For him it's about translating his ideas through his process in an honest way and making sense of it through representative imagery and processes.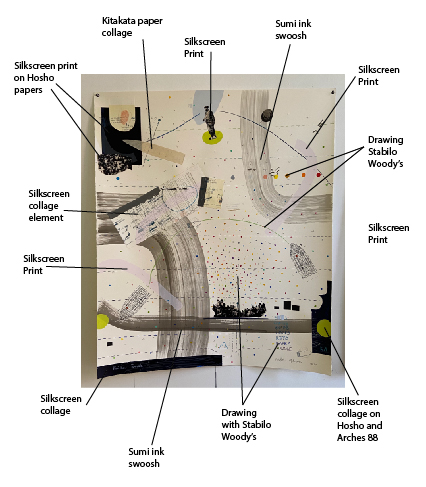 This body of work examples Mokoena's enjoyment in engaging with materiality of the work. Again the layering confronts density (ie. collage) this is shown through the accumulation of images shapes lines on top of each other which conceptually arrange themselves in an organisational pattern that makes sense in a composition.
Density is a key formal feature of this body of work, and is visually achieved by both abstract and figurative elements, as well as technical decisions relating to colour and medium. Many of the works have been created on sheets of paper that were first screen-printed with a deep, dark blue, providing a dense field of colour on which to build. The use of drawing and the collage of both drawn and screen-printed elements allows Mokoena to layer vast amounts of information within each work. Each work within the exhibition presents a complex view of the transportation of people, and the lines along which they travel, are permitted to travel, or have access to.
From the perspective of viewer experience, Mokoena's body of work mimics the mental experience of urban environments and modes of movement that are seemingly unstable, and the associated, unavoidable sense of claustrophobia and confusion.
View Mokoena's exhibition and works on Artsy here.
To receive information regarding the exhibition details, new print releases and upcoming children's workshops in relation to the exhibition, please contact: [email protected]