Text by Annabel Williams, 4 February 2020
Maja Maljević is no stranger to the David Krut collective, initiating the partnership with David Krut Workshop in 2007 and subsequently participating in multiple projects and solo exhibitions in both Johannesburg and New York. Maja's work is inspired and wholly abstract, incorporating graphic blocks, drippings and swirls of colour amongst both free-formed and structural lines. This composition reflects and strengthens what appears to be strong motives behind Maja's work – that is, her intuitive nature, the notion of 'appearing in the moment', and the very physicality of her craft.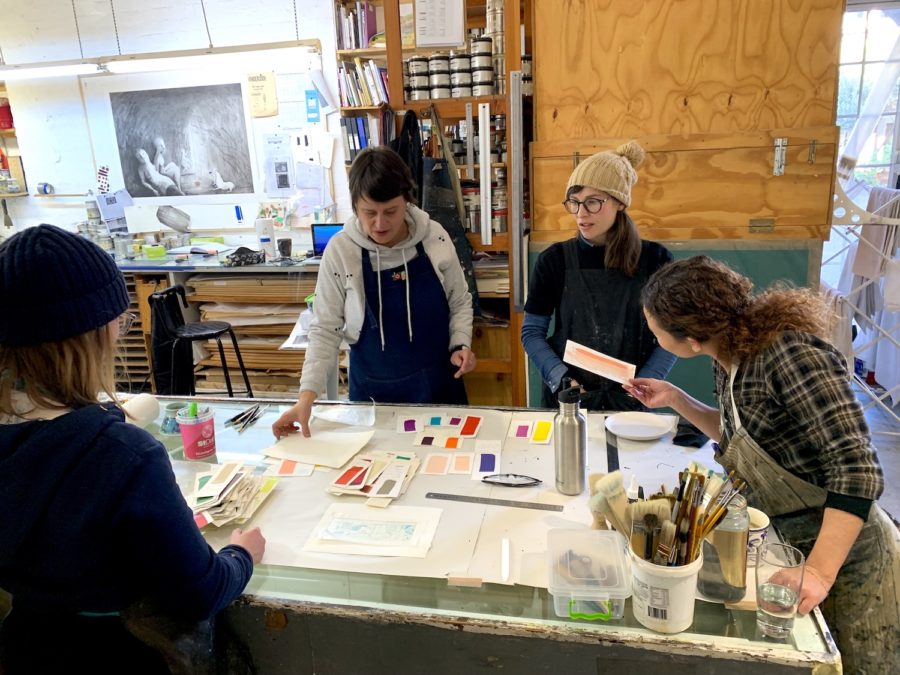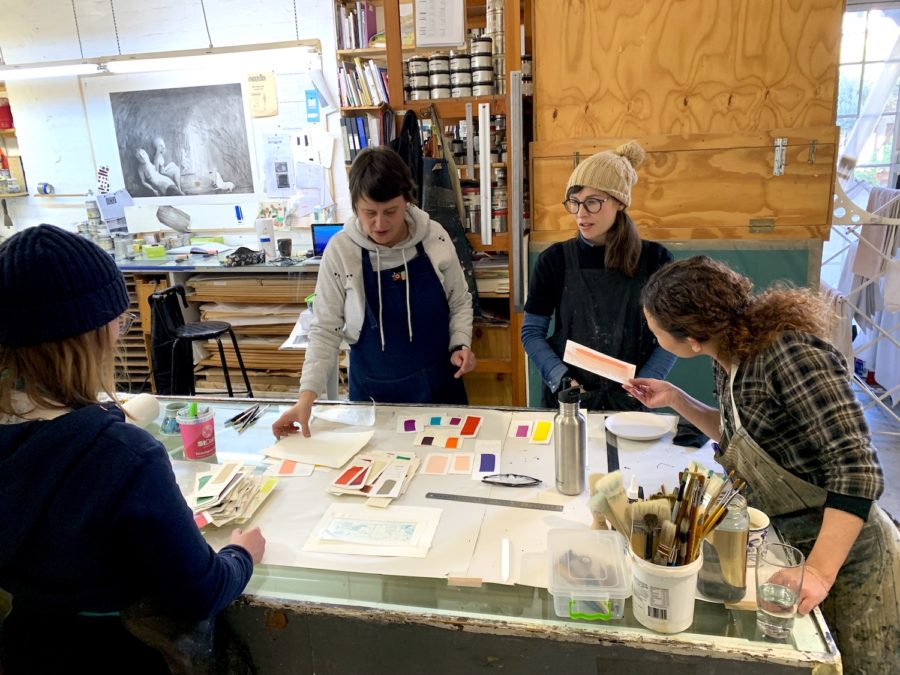 Having joined Gallery Director, Ame Bell, at an introductory meeting at the David Krut Workshop (DKW) regarding the editioning of Maja's work, and her latest project, with master print-maker Jillian Ross and her team, Kim-Lee Loggenberg, Roxy Kaczmerek and Sbongiseni Khulu; I was able to grasp one of the fundamental bases of the art world… collaboration. The conception of Maja Maljević's editions involves the careful choosing of various technical and stylistic elements from a number of the artists' previous works; specifically from Document for the People and Winter Files; to form part of the composition of her new editions.
For Maja's expecting editions, she will design and make the original image for printing, which goes on to be manually recreated by Jillian and her team as a editioned body of work. This development in print-making – allowing the production of more than one copy of an artists' work – functions not only as a market-friendly exchange between artist and buyer, but also facilitates a special relationship between the artist and the print-making technicians. The expertise of the print-makers at DKW, working closely with Maja as the premier, ensure the maintenance of her artistic intention while indulging in their own craft and, in many ways, leaving their own mark on each piece. This emphasises the fanatical trust each actor in this process has with one another that, essentially, defines an artwork, and what defines David Krut Projects. The interconnectedness of the art-making process; the production, reproduction and distribution of it; is a powerful thing to understand, and witnessing the behind-the-scenes of Maja Maljević's editions process epitomized just that.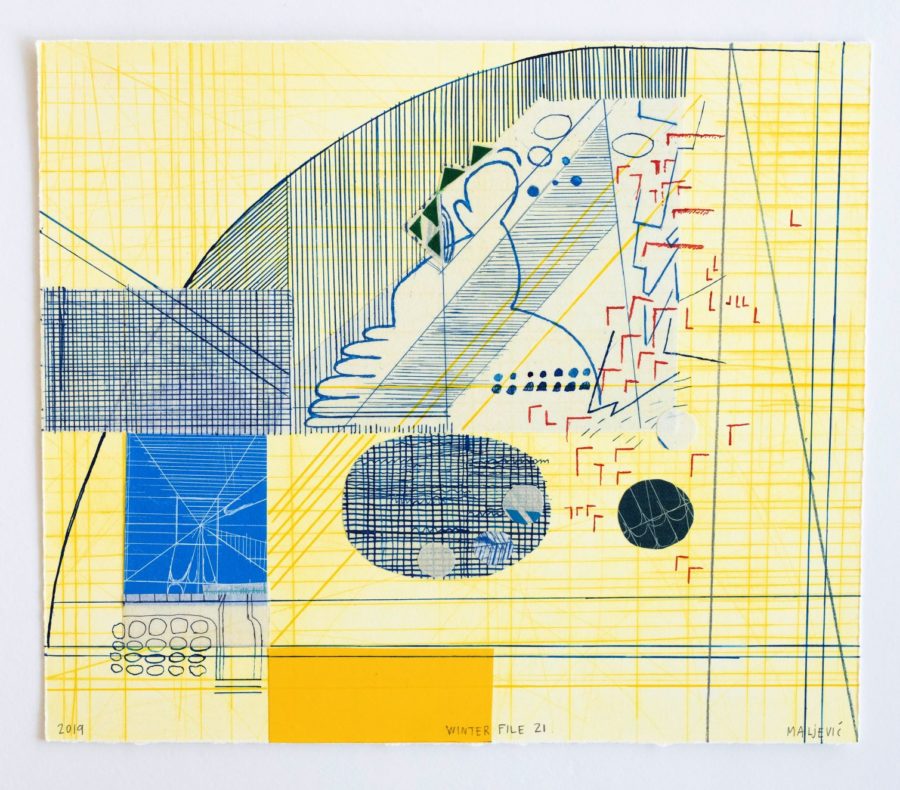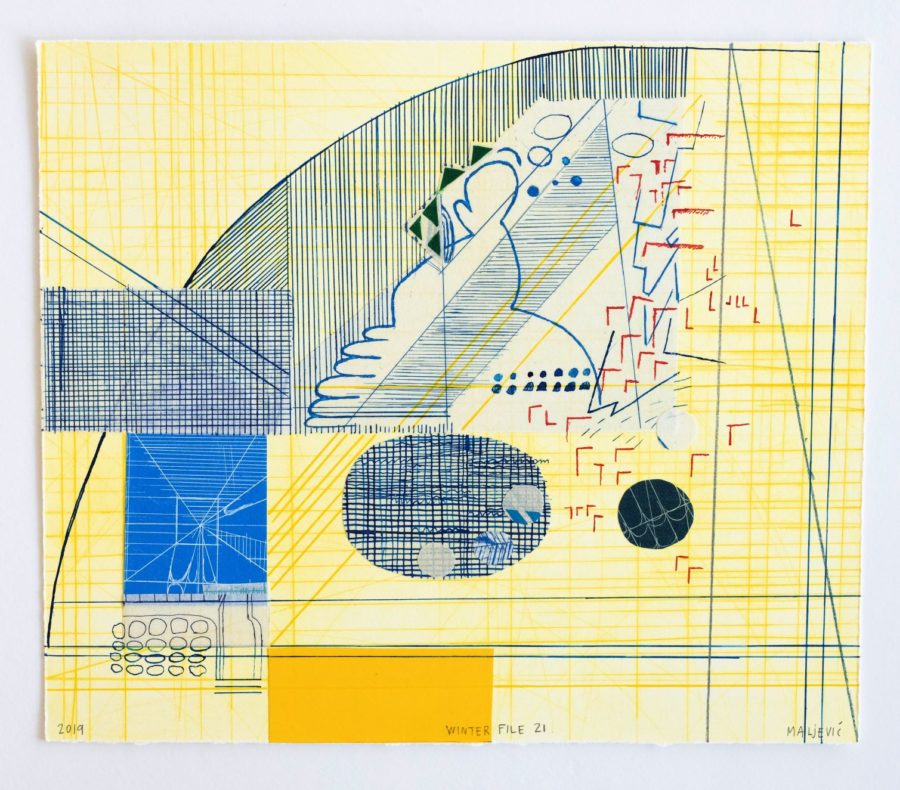 Maja's anticipated editioned work, which will be a collection of prints inspired by her two previous bodies of work, Document for the People and Winter Files, will be showcased at the RMB Turbine Art Fair 2020, which runs from Thursday the 9th, to Sunday the 12th July 2020 and at her subsequent solo exhibition nearing the end of the year.