06/07/16
This First Thursday – 07/07/16 – multimedia artist Mark Rautenbach will do a one-off performance at David Krut Gallery, Parkwood, in which he sits with the displacement of 60,000 people and state of education in SA and challenges gender norms while he's at it.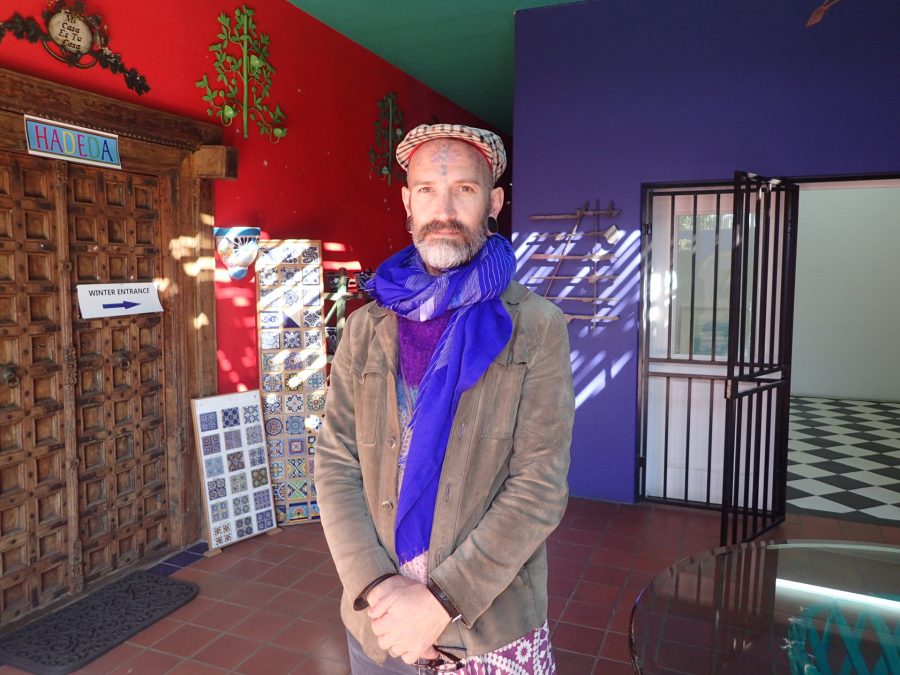 The performance – titled, Eduplation – invites viewers to sit with the matters at hand and asks: does institutionalised education continue to displace people?
Eduplation is in connection with Rautenbach's commission from District Six Museum in Cape Town for 50 years since 60,000 people who were displaced in District Six during the apartheid years. He is one of the artists selected to make 50 editioned works for the commemoration show, for which he is knitting 200 stitches over 300 rows, equalling 60,000 stitches to metaphorically "embody" the 60,000 people that were displaced.
Rautenbach will be knitting some of these editions at our gallery this Thursday evening as part of our involvement in the First Thursdays initiative.
Rautenbach's methodology is driven by what he describes as "material as matter" as well as the psychological question, "what's the matter?" He is also pushing ideas of what's "male" and what's "female" – "I'm undoing definitions by making them comical".
Earlier this year, Rautenbach performed a similar piece at Priest Espressobar for which he wore a knitted mask, a shirt and tie and knitted yarn made from 'filleted' clothing with dildos.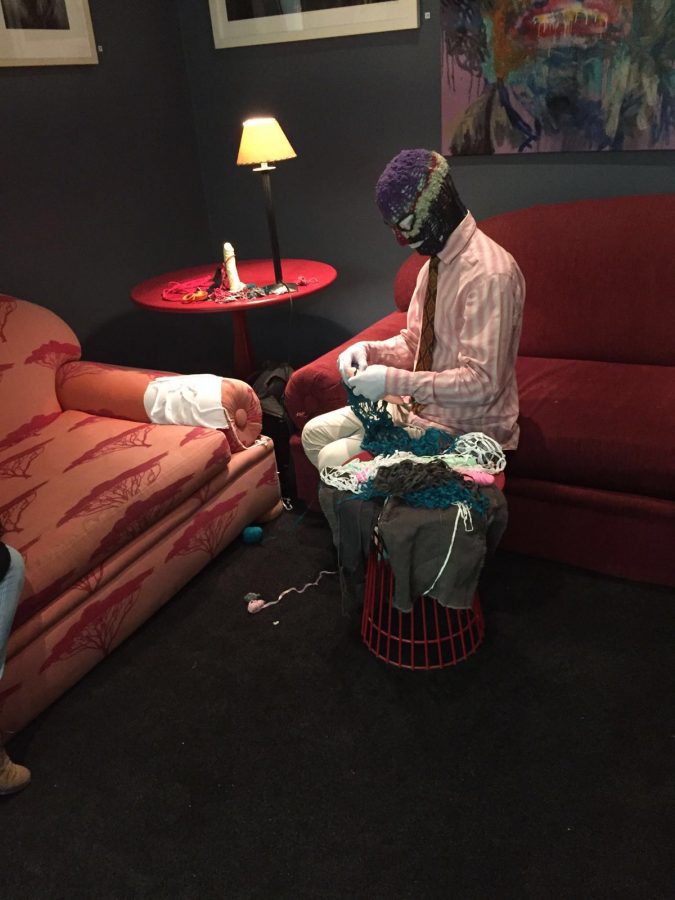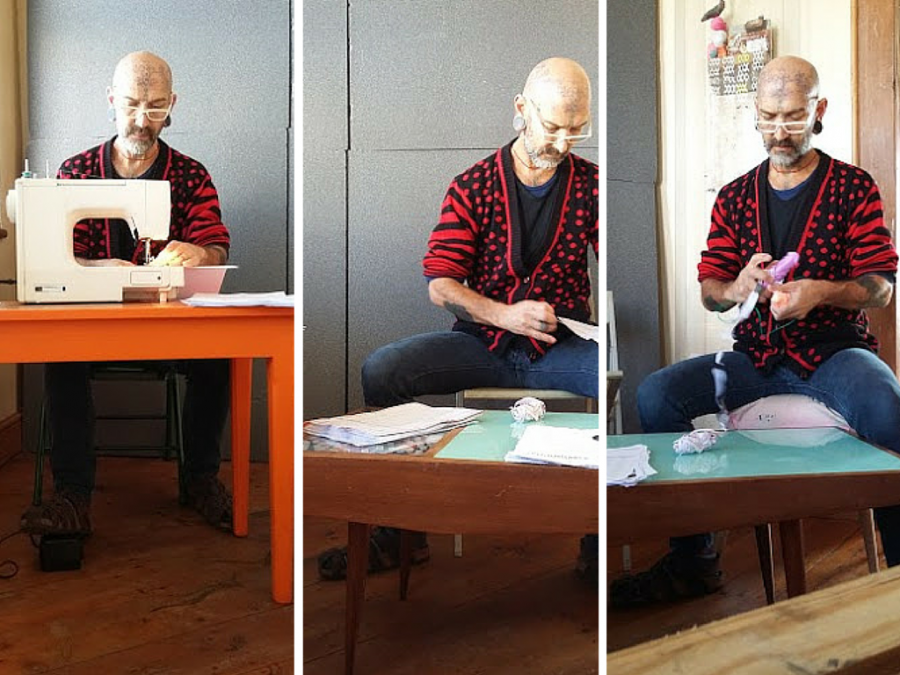 Rautenbach has a background in Education at Cape Peninsula University of Technology (CPUT). He has observed education structures change in SA over decades, which has been frustrating in many ways, he says.
For his public performance work, The Educators New Clothes (2013-2014),  dubbed "menditations" by the artist, Rautenbach comments on the state of education by shredding educational documents and turning them into yarn which he then knits.
These performances are playing with notions of "undoing" and "redoing"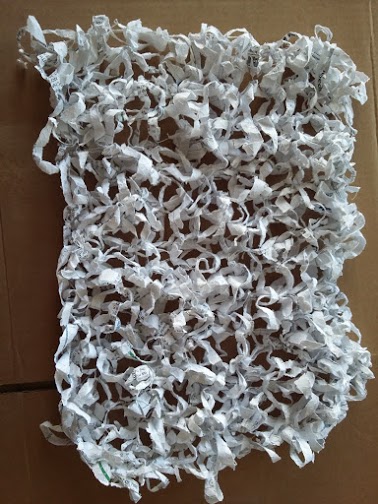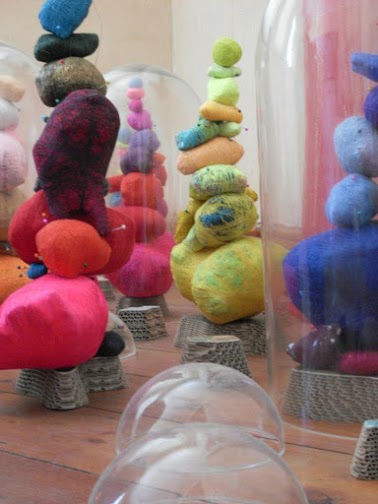 Through his performance work, Rautenbach challenges essentialist notions of gender, "taking a domestic, interior activity and bringing it outside, into a public space as a person in a male body".
Rautenbach says, "I'm not trying to solve anything but am sitting with something, as knitting allows. That's why I call it a menditation – I hope to open up a space to unpack the topic of displacement – an opportunity to engage."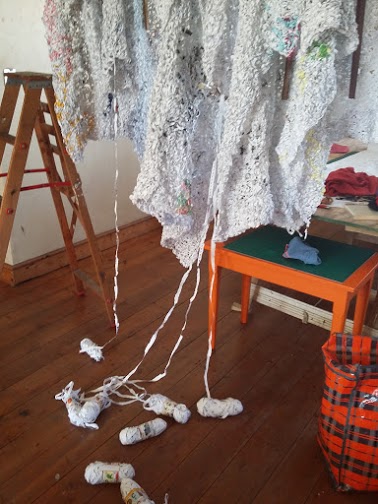 Rautenbach is gripped by the term "unheimlich", a psychological concept meaning "uncanny", which he applies to his performance work where he juxtaposes notions associated with specific spaces in order to shift their meaning: "bringing craft into a gallery makes ripples in terms of meaning as knitting and craft are traditionally associated with women or deemed 'feminine' activities".
Rautenbach: "For me, it's about just sitting in the body and working with the body – with my hands – with material matter, not with 'ideas' about the self. This approach comes from my interest in identity and the narratives that make us. It's an important feature of my work that it is so physical and non-verbal while dealing with subjects like gender identity which have so much language around it."
Rautenbach will be performing Eduplation from 6pm at David Krut gallery: 142 Jan Smuts Avenue, Parkwood. 
Link to the Facebook event.
Link to Rautenbach's blogspot page.
Link to Menditations on the Education System: A travelogue of conversations on education and learning.
The event was a fantastic success!
Check out Rautenbach's performance at DKP: