Blogger: Jessie Cohen
23.06.16
"I'm getting out the house and flinging myself into a crazy swim. If I start drowning, come save me" – Lorenzo Nassimbeni
These are the words of emerging architect-come-artist Lorenzo Nassimbeni, who is creatively transitioning from architecture to fine art. Changing gear means "renegotiating my relationship to line – engaging a looseness and opening myself to a less rigid sense of control" – Nassimbeni.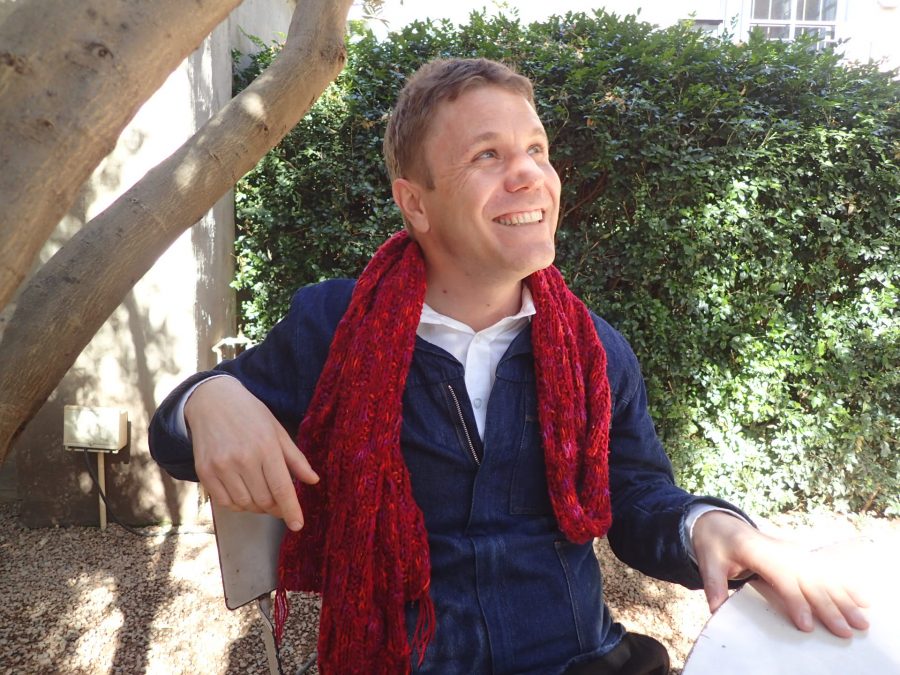 While Nassimbeni is highly focused and serious about his goal, he is quick to see the light side of life. During our interview, he readily cracks into smiles and laughter.
We visited Nassimbeni at his studio in Arts on Main to speak about what he describes as "finding the emotion behind the architecture and getting beyond the rigid facade".
He laid out a series of recent studies that give a sense of his process: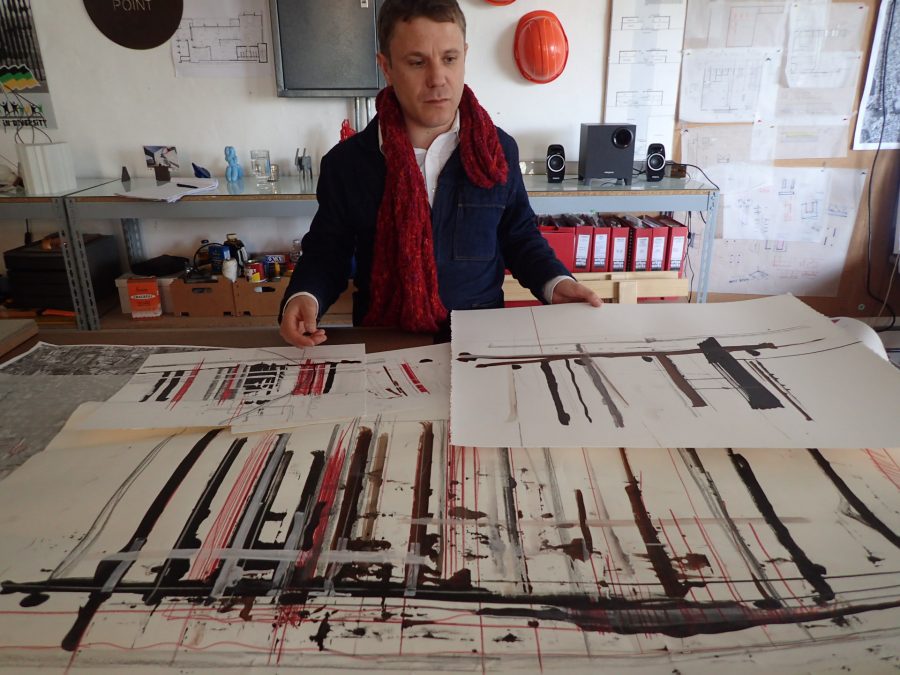 Nassimbeni has collaborated with our specialized team of printers for three years now. He finds the printing process to be of great assistance to his artistic journey: "My work with David Krut Workshop (DKW) is helping me loosen my parameters", Nassimbeni says. He elaborates, explaining that working with master printer Jill Ross has been particularly helpful for honing a fresh energy towards making art, towards " a renewal", as he puts it.
Nassimbeni is currently preparing a portfolio of work for a PHD in Fine Art. His source of inspiration is urban decay in the city of Johannesburg. He explains that his recent drawings are gravitating away from the rational architectural approach to line towards a new mark defined by a less controlled approach to drawing. "Ross's encouragement to relax with line – to work faster with confidence and ease, has allowed me to enter a space of full immersion in fine art", Nassimbeni adds.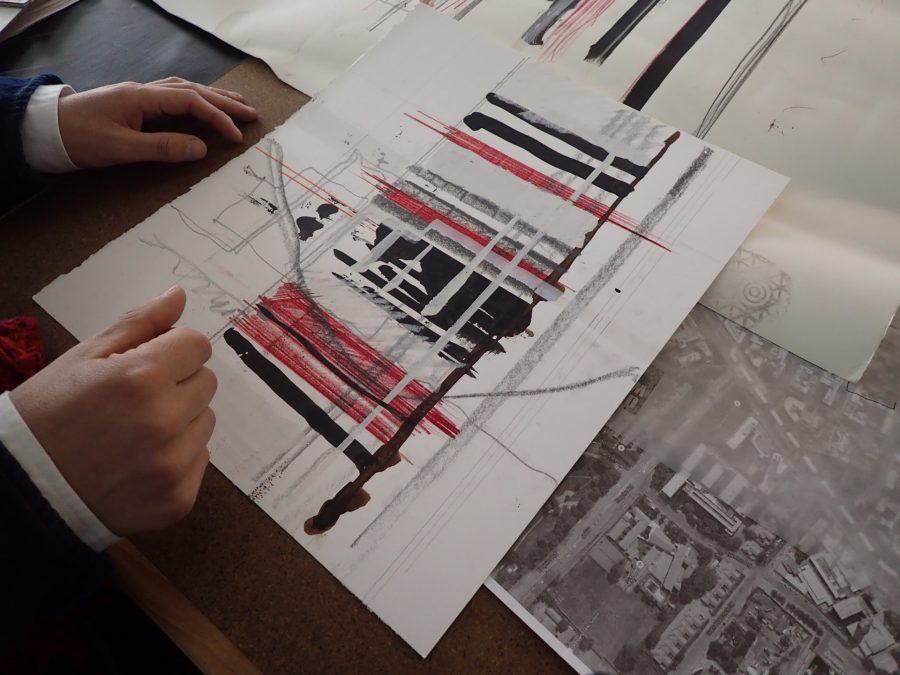 To get in the zone, Nassimbeni mainly works at night. He is currently upping the scale of his prints, paintings and drawings and finds himself discovering new techniques along the way: "I am constantly playing with the notion of re-appropriating the controlled drafted line in the form of a looser form of expression". Taking the image above as an example, Nassimbeni explains that this new approach incorporates using a ruler which he drags down the page after drawing a line to create a less inhibited mark.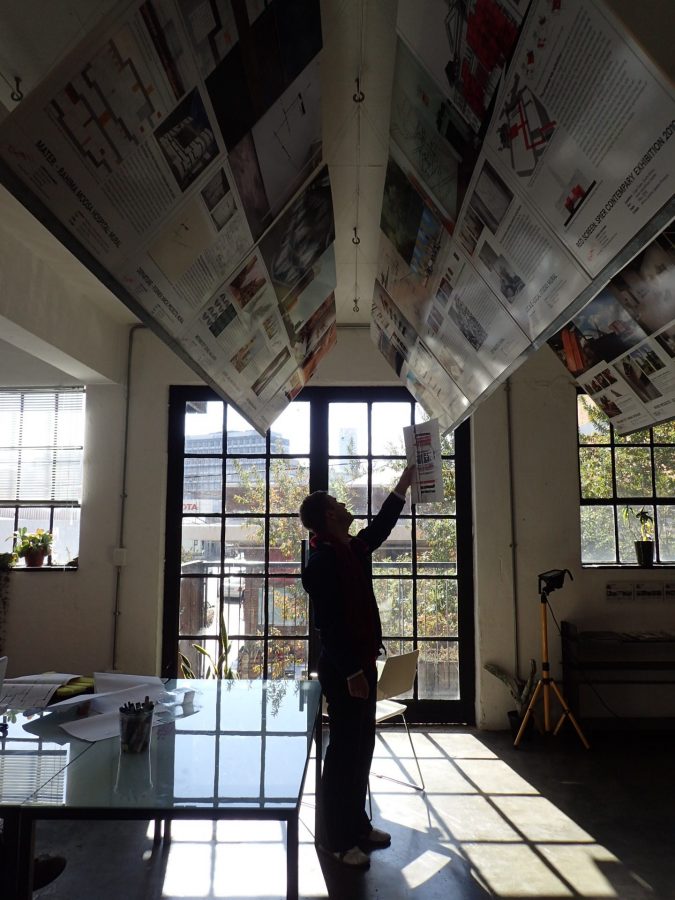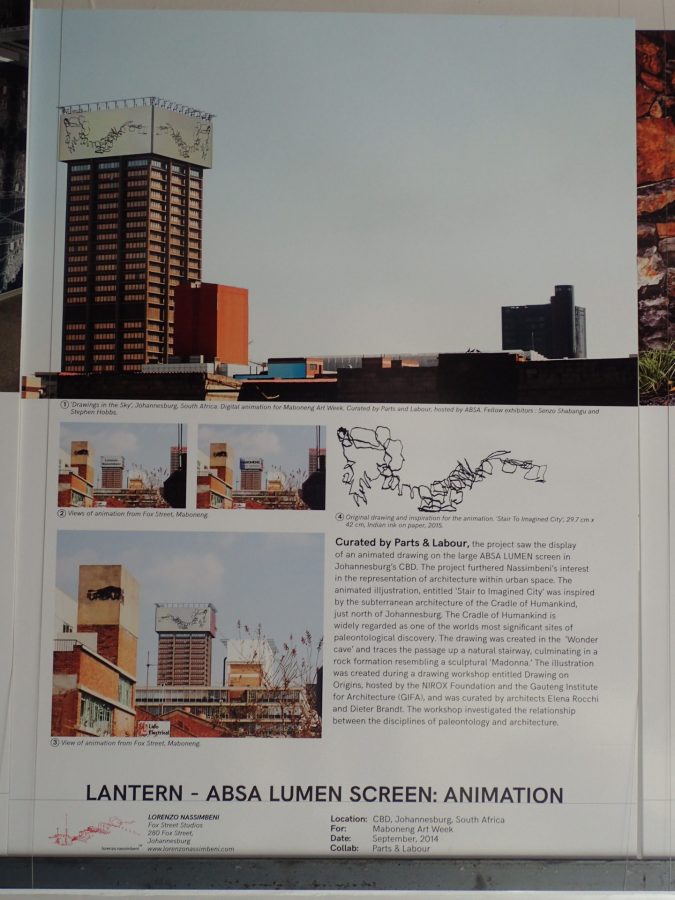 These display boards also detail Nassimbeni's recent artworks, including sculpture and printmaking, as can be seen in the image below: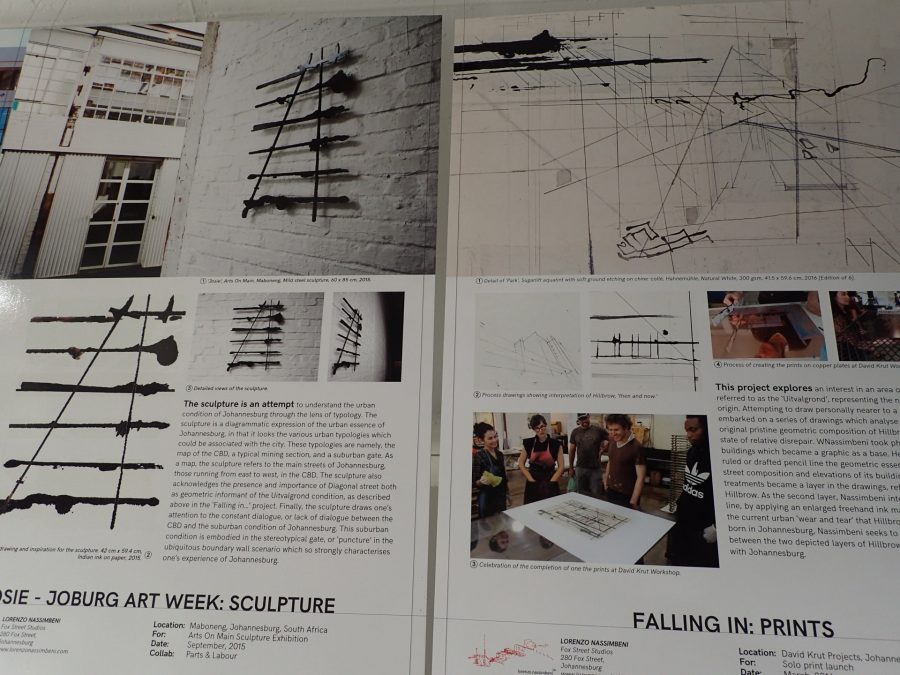 As we near the end of the interview, Nassimbeni points to a few more sketches and studies which show the direction in which his art practice is headed. See images below: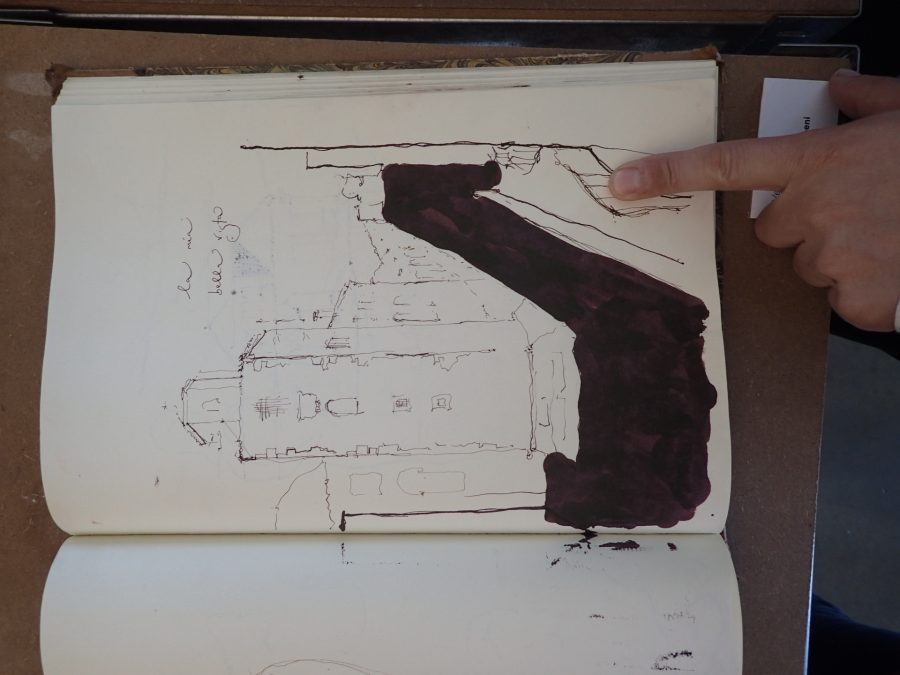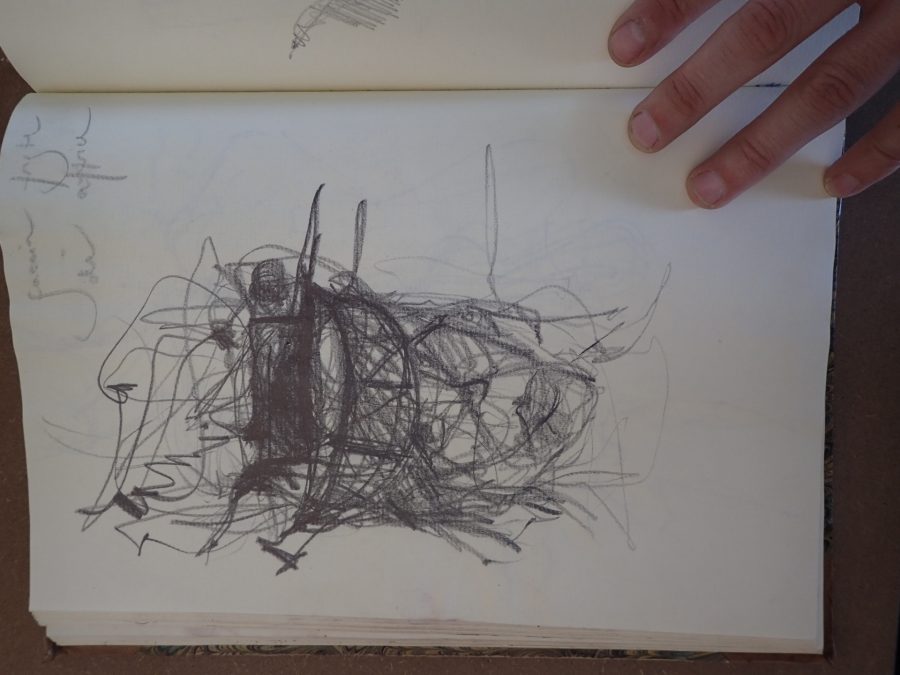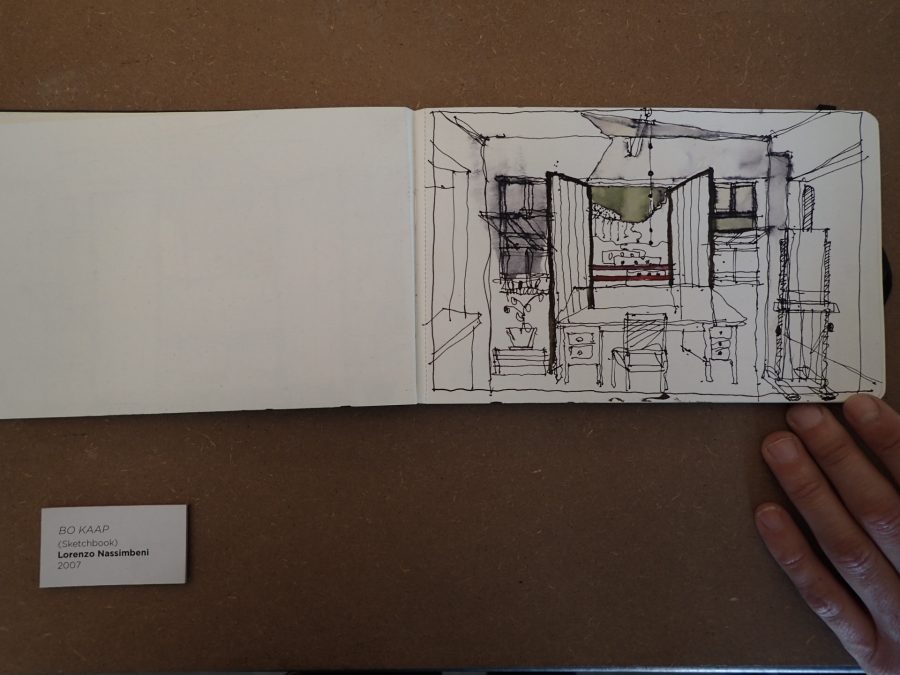 The studio visit was so inspiring that we wrote a poem to sum up Nassimbeni's current journey:
To read the poem, please click: Link to Facebook artist feature