Blogger: Jessie Cohen
19/05/16
Last week, I had the pleasure of visiting Robyn Penn in her painting studio as she prepares for a fascinating multimedia exhibition of prints, painting and sculpture with DKP Johannesburg this June.
The work that surrounds us in her intimate studio is a combination of standard size portraits of white, male scientists and businessmen who operate covertly as climate change denialists and have been termed "climate misinformers" or "merchants of doubt" as well as vast paintings of clouds, largely depicting the same cloud formations but in shifting compositions and with different sensitivities of brush stroke.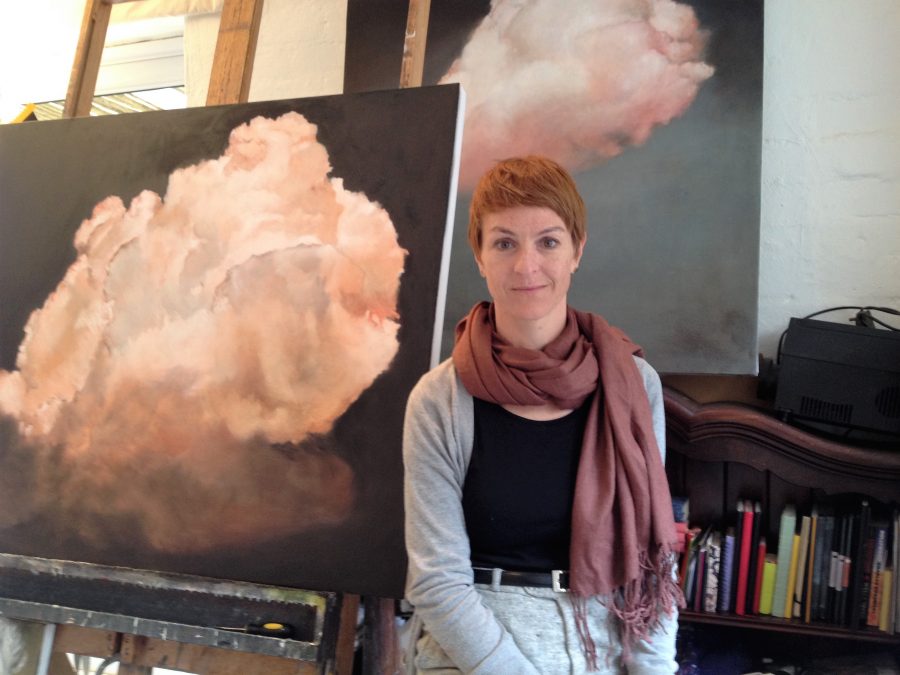 JC: Tell me about the ideas driving this body of work.
RP: "I've recently immersed myself in the uncomfortable subject of climate change. I am particularly struck by Naomi Klein's This Changes Everything: Capitalism vs. The Climate (2014) and the nonfiction book by American historians of science Naomi Oreskes and Erik M. Conway, Merchants of Doubt (2010), which has been made into a fantastic film. The former book raises important points about capitalist structures undermining preventative measures for climate change and the latter exposes the role of influential US conservative-backed scientists who fuel climate change denial to justify a status quo of dangerously high carbon emissions.
And, somewhere down the line, it clicked – the reality of climate change and the unfortunate parallel narrative of climate change denial is underpinned by a truly complex relationship between human beings and this planet – a dynamic that has driven my work for some time. My cloudscapes, together with portraits of these 'merchants of doubt', are intended to inspire thought and discussion on this important topic."
Penn's creative philosophy is inspired by the Romantics who saw nature and man as intertwined with human beings in awe and subservient to the natural world. In this vein, Penn is sceptical of what she sees as "an extension of a colonial attitude" where man thinks he can behave as master of the earth without reaping the consequences of its maltreatment.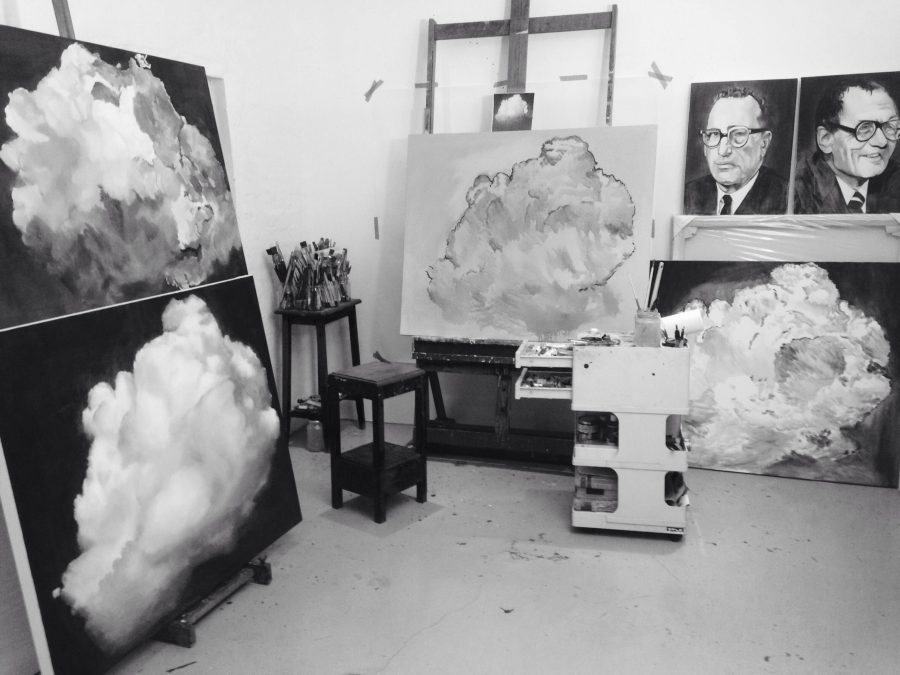 The artist directly challenges climate change denial through these intriguing portraits but  is keen to emphasize the importance of her cloud paintings in this context:
"Clouds actually play quite a significant role in the question of how to tackle climate change",  Penn says. She points to the National Science Foundation website where clouds are discussed as key to the question of how to prevent further global warming, asking: "the big question: will clouds speed or slow global warming?" to which they state the following:
"It is a little-known but significant fact that about 70 percent of the Earth's surface is covered by clouds at any given time. But not all clouds are the same; different types of clouds affect the Earth's climate differently. While some types of clouds help to warm the Earth, others help to cool it.
Currently, all of the Earth's clouds together exert a net cooling effect on our planet. But the large and opposing influences of clouds on the Earth's climate begs the question: What will be the net effect of all of the Earth's clouds on climate as the Earth continues to warm in the future? Will clouds accelerate warming or help offset, or dull, warming? Right now, "The scientific community is uncertain about how the effects of clouds will change in the future," says Hugh Morrison, a scientist at the National Center for Atmospheric Research (NCAR) in Boulder, Colo.
That's why, in 1997, the Intergovernmental Panel on Climate Change (IPCC) described clouds as "the largest source of uncertainty" in predictions of climate change. To reduce this uncertainty and improve predictions of global warming, scientists are now working to better understand the relationships between clouds and climate."
http://www.nsf.gov/news/special_reports/clouds/question.jsp
Penn is drawn to the enigmatic role that clouds play in the climate change conundrum. Invariably, she seeks to convey this sense of uncertainty in her work.
Tune in soon for an update on Penn's progress with her cloud etchings, which she is making in collaboration with David Krut Workshop (DKW), our printmaking workshop in Arts on Main. For this exciting alternative medium, Penn discusses how she experiments with a variety of mark-making to fully embrace the profound energy of her subject matter.
Also watch this space for an update from the foundry where Penn is producing a cloud sculpture for the exhibition.