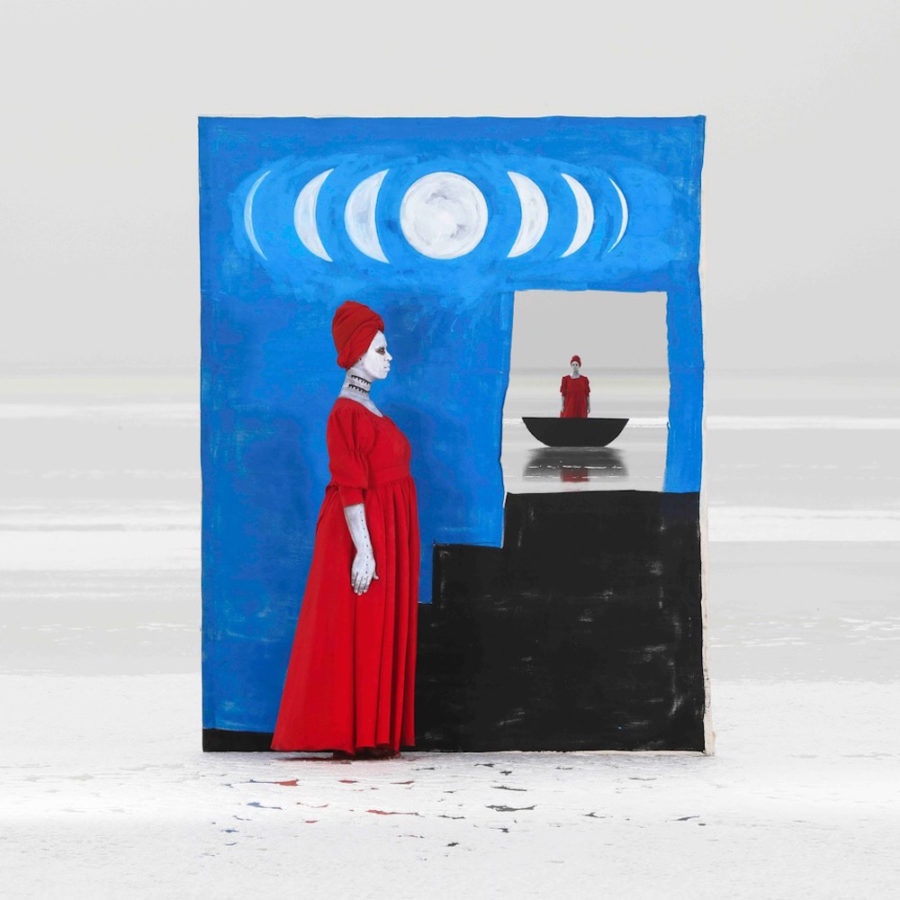 Aida Muluneh, The silence of within, 2019, Archival digital photograph, 80 x 80 cm, Edition of 7.
Aida Muluneh: Wings that Soar
September 01 – October 15, 2021 (EXTENDED UNTIL JANUARY 28, 2022)
Hours: Fridays between 11am – 6pm, or by appointment*
Special Exhibition Hours: Saturday, September 11th from 12pm – 6pm in conjunction with Highline Open Studios 2021*
David Krut Projects, New York
526 West 26th Street
Floor 8, Suite 816
New York, NY 10001
T. 212.255.3094
—
PRESS RELEASE

David Krut Projects is pleased to present Wings That Soar, the gallery's third solo exhibition with Aida Muluneh in New York. The exhibition features the seven photographs that comprise her 2019 series of the same name. In place of an artist statement for the series, Muluneh provides one of Emily Dickinson's most well-known poems titled "Hope" is the thing with feathers. The poem, which likens hope to a sweet, unyielding songbird, suggests that hope has the power to keep humanity moving forward despite adversity. Muluneh, who often approaches her studio practice through her background in photojournalism, continues to use figuration in this series to comment on cultural identity, global politics, and history.
About the Artist
Born in Ethiopia in 1974, Aida Muluneh left the country at a young age and spent an itinerant childhood between Yemen and England. After several years in a boarding school in Cyprus, she finally settled in Canada in 1985. In 2000, she graduated with a degree from the Communication Department with a major in Film from Howard University in Washington D.C. After graduation, she worked as a photojournalist at the Washington Post.
Muluneh is an award-winning photographer whose work has been exhibited extensively with exhibitions in Africa, Asia, Europe, and North America. David Krut Projects has been working with Muluneh since 2015, and debuted her World is 9 series in a solo exhibition of the same name in New York in 2016. Her work is included in the permanent collections of the Museum of Modern Art, New York; Smithsonian's National Museum of African Art, Washington, DC; the Museum of Contemporary Photography, Chicago, and other public institutions. Muluneh was the recipient of the 2020 Royal Photographic Society Curatorship award, a 2018 CatchLight Fellowship in San Francisco, and became the first black woman to co-curate the Nobel Peace Prize Exhibition (2020) while serving as a Canon Europe Ambassador in 2019.
As one of the leading experts on photography from Africa, she has been a juror on several photography competitions, most notably the Sony World Photography Awards 2017 and the World Press Photo Contest 2017. Muluneh is the founder and director of the Addis Foto Fest, the first international photography festival in East Africa, which was founded in 2010 and continues as a major festival in Africa today. She also curates and develops cultural projects with local and international institutions through her company DESTA (Developing and Educating Society Through Art) For Africa Creative Consulting PLC (DFA).
Click here to learn more about Aida Muluneh: Aida Muluneh
Click here to schedule an appointment: David Krut Projects, New York Appointment Scheduler
Please contact [email protected] for more information about Wings that Soar.
—
* Please note that all visitors to David Krut Projects, New York must show proof of vaccination against COVID-19 to enter the gallery as of August 17, 2021. For the comfort of our guests, neighbors and staff, we ask that masks be worn over the nose and mouth for the entire visit. Click here for more information about "Key to NYC".
—