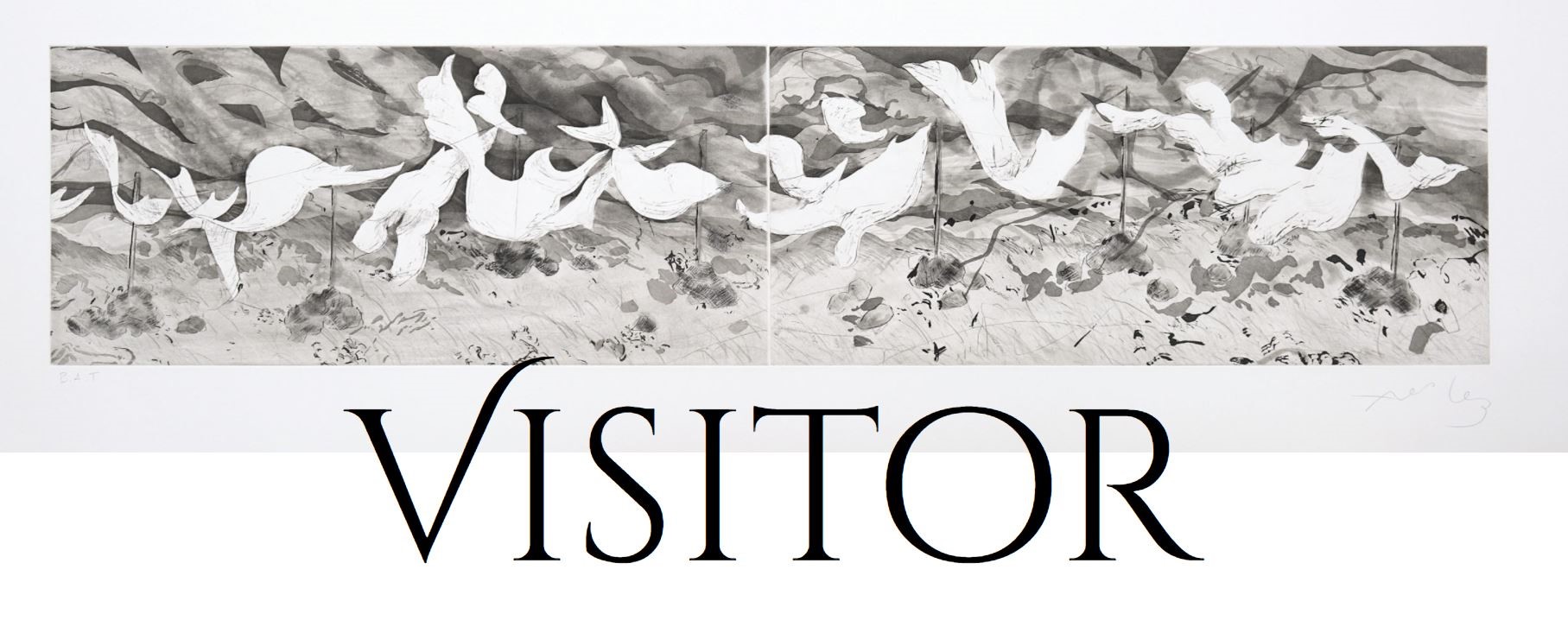 David Krut Projects is pleased to present VISITOR, a selection of work by Cape Town-based painter and printmaker, Anna van der Ploeg, including paintings, carved and painted woodblocks and prints – both unique and editioned – made in collaboration with the David Krut Workshop.
In this exhibition, a selection of work made at different times, comes together to illuminate Van der Ploeg's sensitivity to the myriad personal, subliminal or subverted instances, activities or interactions that influence the public-facing aspects of our lives. Newer works reveal ideas that are recent visitors in Van der Ploeg's creative cosmos, while older works are visiting from a time gone by, or being revisited anew in the context of constantly evolving thought processes.
Van der Ploeg's practice is process-based, allowing for an experimental approach to developing ideas. Reverberating through the exhibition is imagery of white fabric – sometimes a sheet, sometimes a cloth laid on a table, sometimes a tablecloth being whipped from the table, taken away to be laundered and potentially used again. Van der Ploeg speaks of drawing and painting from mental images and creating images from phrases of text, as a way to extrapolate their meaning. Sometimes Van der Ploeg will stage photographs, based on her sense of these ideas. The sheet has commonly shown up as a versatile prop for this kind of staging, able to be many things as well as being itself, as if it can try on many different concepts with ease. In this way, the sheet serves as a metaphor for the mutability of our relationship to ideas, fragments of text and thoughts, which come together to form pensive and wistful tableaus.
The fabric as tablecloth becomes a rich metaphor that ties into the show's fundamental philosophy – the material that sets the scene for a formal engagement, perhaps over a meal, as well as the veil that hides all the unseen engagements under the table. The guests at this table are Van der Ploeg's ideas – and, by extension, the ideas and thought processes of the viewer – which make themselves known to her for a time. Depending on the way these visiting ideas are engaged, different aspects of them are revealed, and the subtle interactions between artist, medium and idea make for a nuanced dynamic, like the swirling conversations of a group of people at a dinner party, the subtlety and complexity of which forms the substance of Van der Ploeg's enquiry.
In the Still point of a turning world and the Overheard from across the saddle series of prints, the fabric of a sheet gives way to the fabric of a landscape and the saddle of a mountain is depicted, with valleys stretching out on either side. Van der Ploeg has recounted her experience of sonic clarity at this particular place in the Cedarberg mountains – a combination of space and pressure allows for sounds that are very far off to reach one's ears with crystal clarity. Here, people that are miles away down below in the valley or further along the escarpment can be clearly overheard. There is a clear sense of pause in these prints, as if what is being depicted, aside from the landscape itself, is the moment before a choice is made about which direction to proceed in, a decision based on small, possibly insignificant signs, like something overheard. The prints provide an elegant metaphorical counterpoint to the to the other works collected in the show, and provide an underpinning of Van der Ploeg's enquiry.
Between all the works that form part of VISITOR is shared a particular sensibility of painterly mark-making, even in the more sculptural carved woodblocks.  Van der Ploeg's deftness with her techniques, in which she is able to create tonal areas as well as thin and delicate trail, indicate a confidence in her media that yields a flow of movement not dissimilar to the flow of thoughts from which the images spring in the first place. Her marks are organic, creating a relaxed movement throughout the body of work. This sense of movement and the multiplicity of subtle interactions and influences present in every moment symbolically reinforces the work that makes up the exhibition.
VISITOR will be on show at David Krut Projects, 142 Jan Smuts Avenue, Parkwood from 26th of June 2021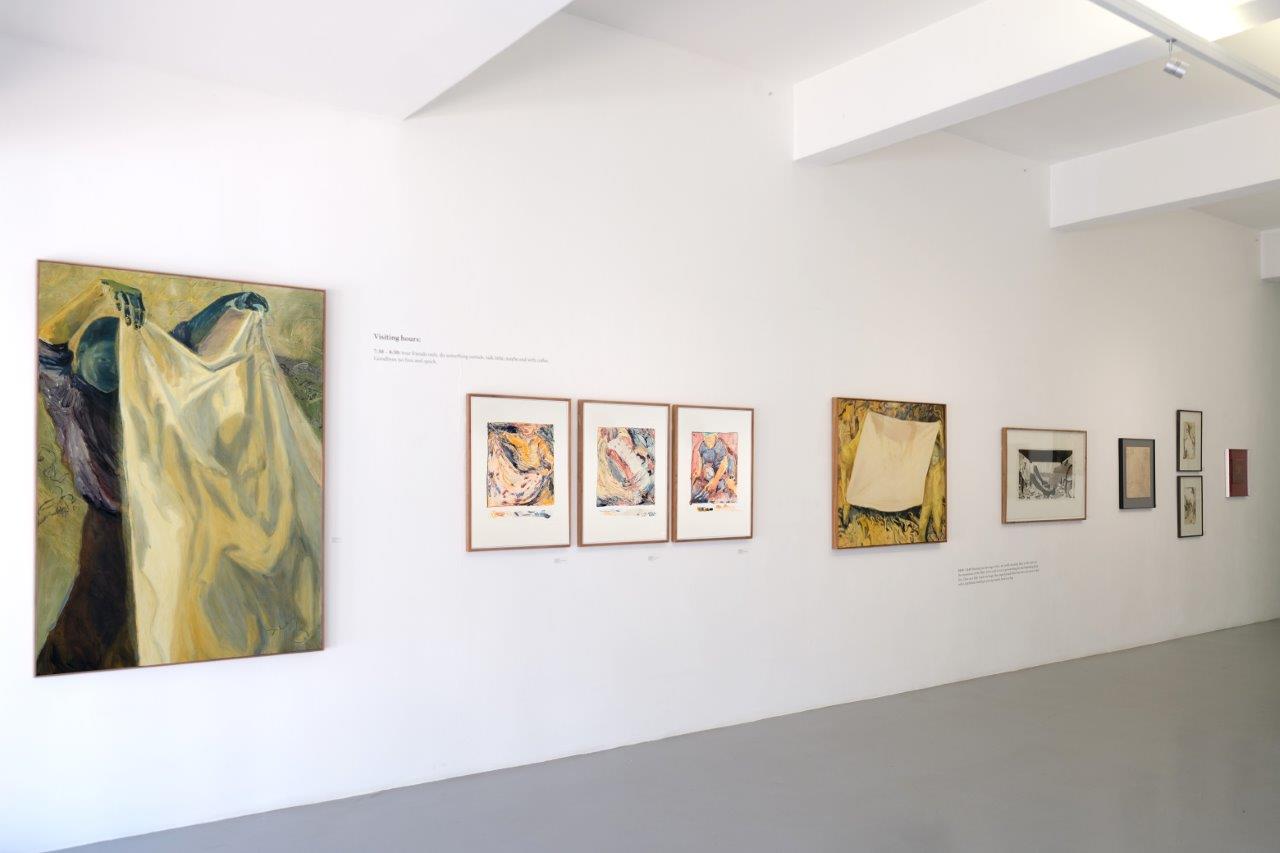 David Krut Podcast: Anna van der Ploeg – Artistic process as a 'dance or a fight' – Listening time 23 minutes
Take a listen to this episode where Anna van der Ploeg chats to Britt Lawton about her artistic process, her experience with artist residencies, the influence of environment and culture, her collaboration with the team at the David Krut Workshop, bee keeping and so much more…
__________________________________
NOTES TOWARDS UNDERSTANDING OUR VISITORS:
A visitor at your own dinner hour, in your own affair.
A visitor who got caught in the cross wind. Who arrived filthy, left with a curdled mind.
A visitor in the out-of-town sense, visiting only because they've left the real destination.
4 and 5. A visitor who invited herself first for dinner, then to stay over, made you cry, then asked to borrow money before leaving. She messages a week later "Hey, want to hang out?"
6 to 9. The visitor who wanted to meet, then talked in evasions. We were ghosts before it was even over.
I'm standing on the visitors mat, in a visiting mood.
Visiting hours:
7:30 – 8:30: true friends only, do something outside, talk little, maybe end with coffee. Goodbyes no fuss and quick.
10:30 – 11:45: Morning tea. Beverage, in fact, not totally necessary then, so the visit is at the convenience of the other. Arrive early to try to get something for this impending deadline. Clean up a little. It goes on longer than expected and when they leave you have to deal with a lunchbreak, looking at you expectantly, loyal as a dog.
13:00: In fact, the ideal visitation hour, an opportunity almost never used. Unless a friend from out of town is visiting and then you leave your little territory and meet somewhere.
15:30: Coffee. Things can go either way after this.
19:30: great as long as you're not the cook.
21:00: well this was spontaneous.
________________________________________
Exhibition related events:

Printing Demonstration of Everywhere there's a wind there's a name for that wind

Visit the gallery to see how Anna van der Ploeg's prints are made with Sarah Judge!
Saturday 7 August between 10am and 11am
COVID regulations apply
** If you stop by the exhibition during August, you can also get a voucher for a sit down meal at Morning Glory, a few doors down from the gallery **