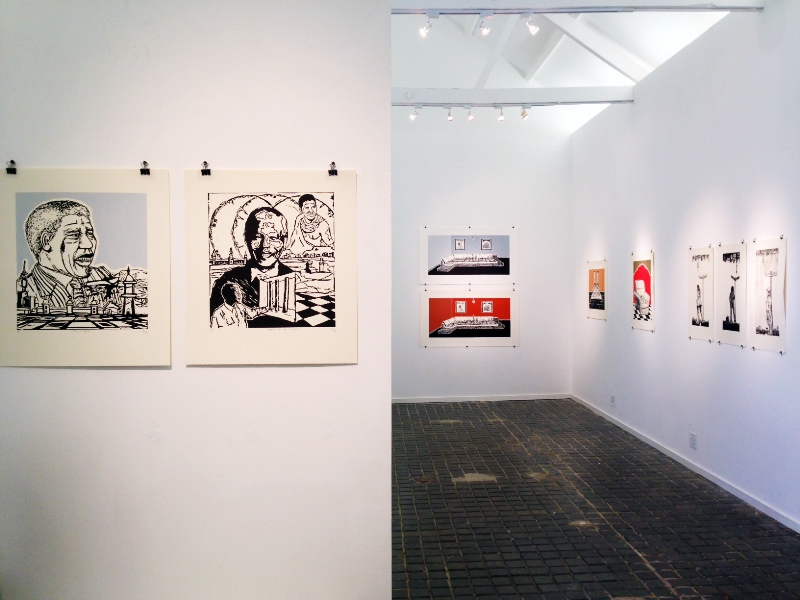 A selection of works on paper, produced in collaboration with the David Krut Print Workshop between 2011 and 2013.
It's been more than 3 years since Senzo Shabangu started printing with the David Krut Print Workshop (DKW) in Johannesburg. Senzo arrived in this African metropolis from Driefontein in Mpumalanga, hoping to become a pilot. However, the route to flying was harder than he expected. The daily reality of people living in Johannesburg also moved him, and he realised that producing art was a means both to making a comment on the situations surrounding him as well as a possible way to support himself. He studied printmaking at Artist's Proof Studio before starting to make monotypes with DKW in 2010. He is now a regular collaborator with DKW and has not forgotten his dream of soaring, as he is currently taking flying lessons too.
Senzo works primarily in the relief linocut method. He has an expressive style of carving that radiates with energy and vitality. This vibrancy is further enhanced by his use of strong and bold sways of colour, that provide the viewer with rich surfaces, thus balancing his expressive mark making. He uses deep scarlets, velvety golds and royal blues. Much of Senzo's work speaks of his journey to Johannesburg and becoming a resident of this bustling urban environment. These vibrant linocuts therefore echo the African energy that is so familiar to those who have experienced this lively city. Take Me Away from the City III depicts the Johannesburg skyline constructed on top of a suitcase, which can be read to refer to the artist moving to the city, his new home, or constantly carrying the city with him, his new urban identity.
Much of this artist's work is inspired by social unrest and issues that affect the average South African on a daily basis. Vusumuzi Mandlakayise represents a man carrying his possessions with him in a 'Jozi bag' in one hand and the burden of three humans wrapped tightly in a towel on his back. The figures being carried on the back refer directly to his mother, his wife and his son. It symbolises the stress and responsibility that he carries by being the breadwinner in his family, as is the case for many men in South Africa.
The struggles and battles of daily life are further investigated in Shabangu's print, Checkmate. The print is dominated by a large, bold scarlet chess piece hovering in mid-air, waiting to be launched in a new direction, on a giant chess board that echoes a Johannesburg landscape. It evokes 'a game of life' in which pieces are moved around by higher powers that are out of the pieces' control. What makes this composition more ominous are four looming figures casting an eye down on this paramount chess match that is underway.
This exhibition marks the first time that Shabangu's work has been shown in Cape Town, and offers an opportunity for a Cape audience to see the growth of this artist, who is now considered an established South African printmaker. It is exciting for Capetonians to see the prints of Shabangu, as Most of the prints on show are heavily based in the urban territories of Johannesburg – this skyline with the ever present Hillbrow tower is somewhat of a magical talisman that persists throughout many of his works – and allows a Cape Town audience a refreshing alternative to their own vista of mountain and sea..
Daniel Hewson
Recollection will run from 12 September 2013 – 2 November 2013.