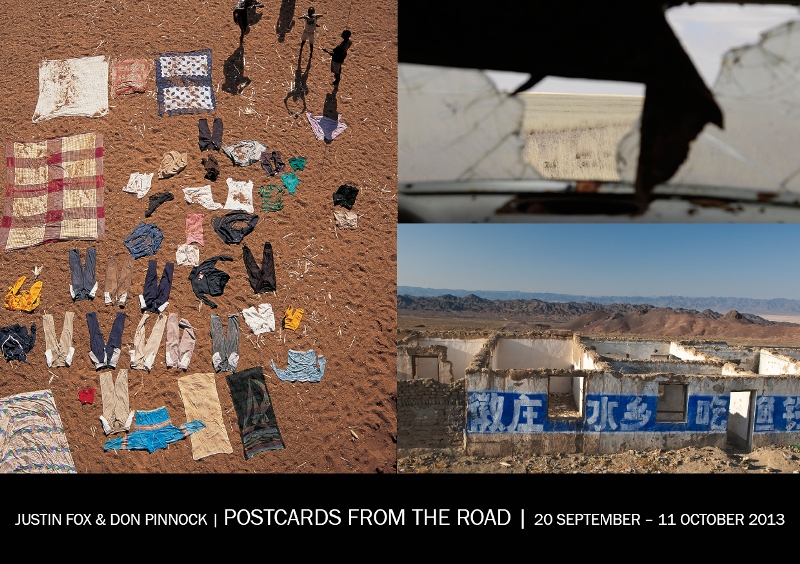 The Night Gallery, in association with David Krut Projects, is pleased to present Postcards from the Road. Originally shown at David Krut Projects Cape Town in 2011, the exhibition comprises works by renowned photo-journalists, Justin Fox and Don Pinnock, re-imagined for presentation in a fine art context. Taking the form of postcards, in which image and text work in juxtaposition, the works form a narrative of the places to which the photo-journalists have travelled and the different ways in which these journeys can be seen.
EXHIBITION OPENS
Friday 20 September 2013, at 6.30pm
The Night Gallery, Harfield Village Centre, 60 Second Avenue, Claremont
THIS EVENT FORMS PART OF CREATIVE WEEK CAPE TOWN
Please join us for a glass of wine to celebrate the second showing of this remarkable and boundary-challenging project.
The Night Gallery strives to provide the visitor with an aesthetic sensory experience. The purpose is to inspire and be inspired, make new friends and strengthen the bonds of existing ones.
David Krut Projects is an alternative arts institution dedicated to encouraging an awareness of and careers in the arts and related literature and media, and to promoting contemporary culture in a dynamic, collaborative environment.
THE NIGHT GALLERY IS OPEN WEDNESDAY – SATURDAY, 6pm – 10pm.
To read more about the project click here
For more info about The Night Gallery click here