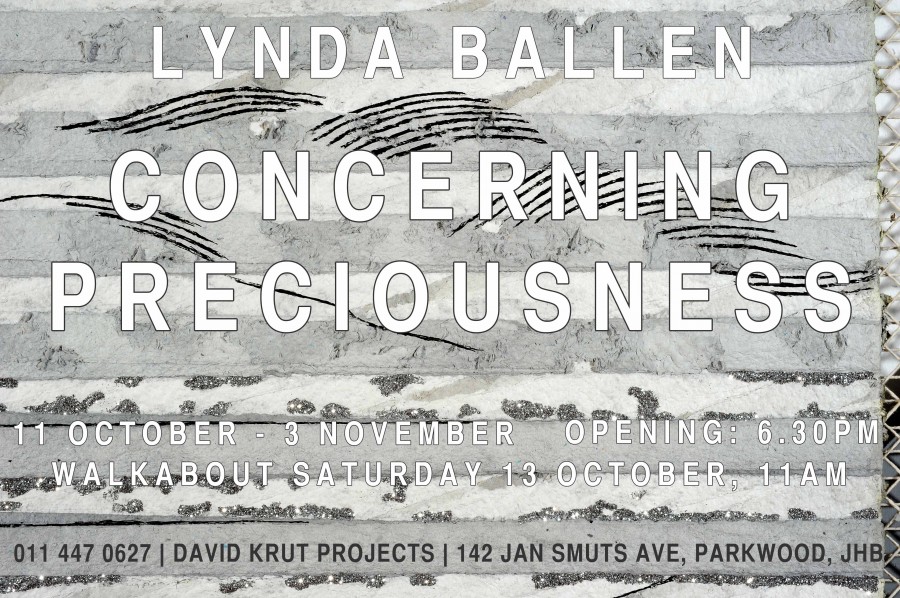 David Krut Projects is pleased to present Concerning Preciousness, a solo exhibition by Lynda Ballen. The exhibition will be opened by Walter Oltmann.
Lynda Ballen's work grapples with centuries old philosophical issues that attend the enterprise of mining. The works in Concerning Preciousness pay homage to the Renaissance geological scientist and theorist Georgius Agricola and appropriate the drawings from his texts to acknowledge traditional European linear techniques and explore the graphic aesthetic as a potential for narrative. Ballen, working in ink and glitter as opposed to the traditional woodcut medium, traces these lines onto intricately constructed handmade paperworks which describe the despoiling of nature for humanity's gain, whilst simultaneously acknowledging the value of these subterranean metals and gems. These paperworks are created from recycled archival paper and metallic substances which seek to draw attention to the nature of workmanship and the crafted object, while the use of threads and plaited fibre allude to the value inherent in traditional African textiles, but, moreover, as a metaphor for the preciousness of the earth's surface.
As contemporary South African visual art statements these objects engage with the apparent polarized concepts of art and craft and the traditional African and historical European aesthetic ideologies. Most significantly, these works confront the contentious current issues and environmental concerns posed by mining.
There will be a walkabouts with the artist at the gallery on:
Saturday 13 October at 11h00
Saturday 20 October at 11hoo
Thursday 25 October at 19h00
Saturday 27 October at 11h00
Thursday 1 November 19h00, Arts on Main
SELECTED WORKS FROM  "CONCERNING PRECIOUSNESS" WILL BE ON SHOW AT ARTS ON MAIN FOR THE REMAINDER OF 2012.