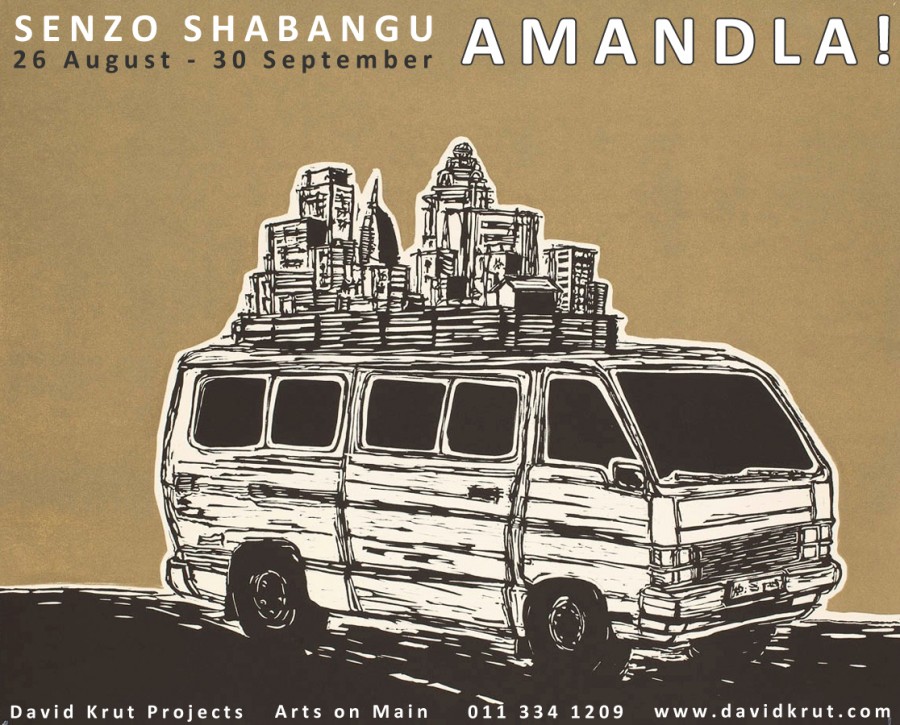 Senzo Shabangu's exhibition Amandla! opens at David Krut Projects, Arts on Main on 26 August, 2012. Amandla! comprises linocuts and monotypes created while the artist was in residence at David Krut Print Workshop (DKW) during June and July 2012.
"My artistic practice reflects on power and it's many forms and facets, particularly in the context of Johannesburg, a city that is growing and expanding in unprecedented ways. It inspires me to see how challenging, and, at the same time, provocative the city/ the world we live in is and how having money and power both enables and drives the city of Johannesburg.
Money, experience, education, politics, law etc. seem to be the sources of this power and those who have gained this autonomy seem to be able to own, control and stand for what they want whilst maintaining a priviledged and comfortable lifestyle. For example having the ability to own space, rent, have credits, whilst yielding power over the disenfranchised, their puppets and followers.
However art is also a source of power and living in Johannesburg has led me to seek this power by exercising art as a source of the strength that God gave me to express what l observe in the environment I live in ( The City of Gold). Through art I have managed to overcome my ups and downs in life and have been given a chance to do what I really love in my life and also to put on my second solo exhibition after the previous one, Naked Pressure. These experiences have made me realize that there is power from the above, which lead me to produce, grow and pass through all these instances of creativity.
This body of work was inspired by social context, the environment I live in, colour, fear, illusion, natural law, political power and pressure. These ideas have led me to explore the imagery of the "puppets masters", where the city becomes the theatre set where the drama unfolds, as the master controls his puppets. I don't know what you think of this, perhaps I got the wrong idea? But I love the idea that the city becomes a theatre, The medium of printmaking linocut and monotypes allows me to explore the pressure of living in Johannesburg, by echoing these ideas around pressure in the medium itself.
I went through my Bible seeking for that power as I was convinced that money does not play such a huge role in what really burns inside me. Unfortunately I didn't get what I was looking for from my bible but only history, skills, hope and solutions to continue making art despite my ups and downs as well understanding that I am not the first one to face challenges. Life is after all just a cycle..
Through my art practice, I discovered that there are so many things that turn us into puppets, programming us into joining the Solid Citizens. I found my own way and realised that I should continue to listen to the voice inside me, without fear, respecting each and every idea that comes into my mind. Through art I have gained that sense of ownership and Power, discovering that the City is also mine No fear… at last I own something, power."
There is a walkabout with the artist on 20 September 2012 at Arts on Main at 18h00.
– Senzo Shabangu, 2012.
The image below are an archive of the exhibition. For available work please click here or contact the gallery on (011) 447 0627 or [email protected].