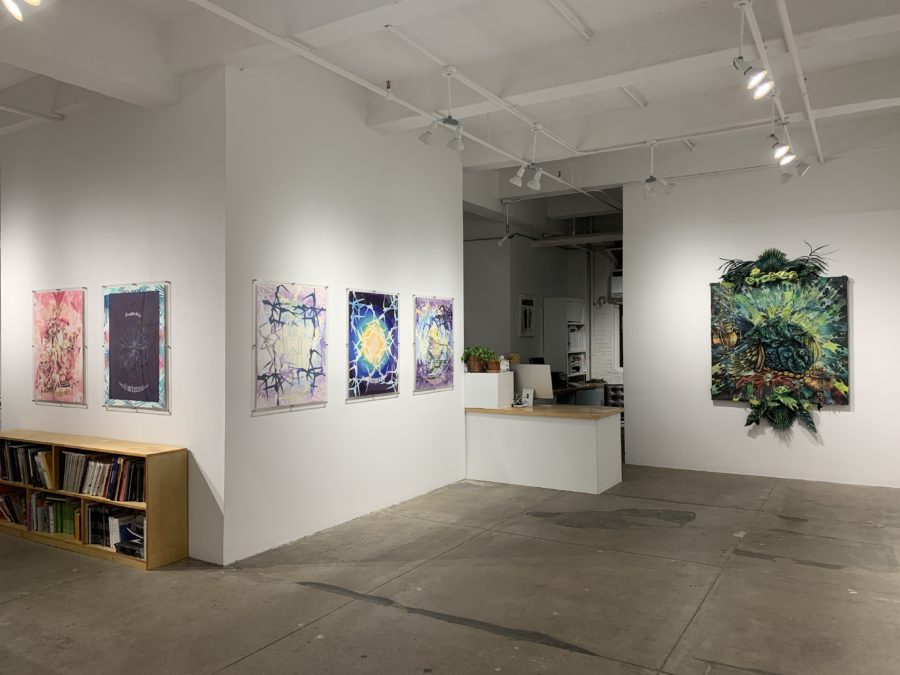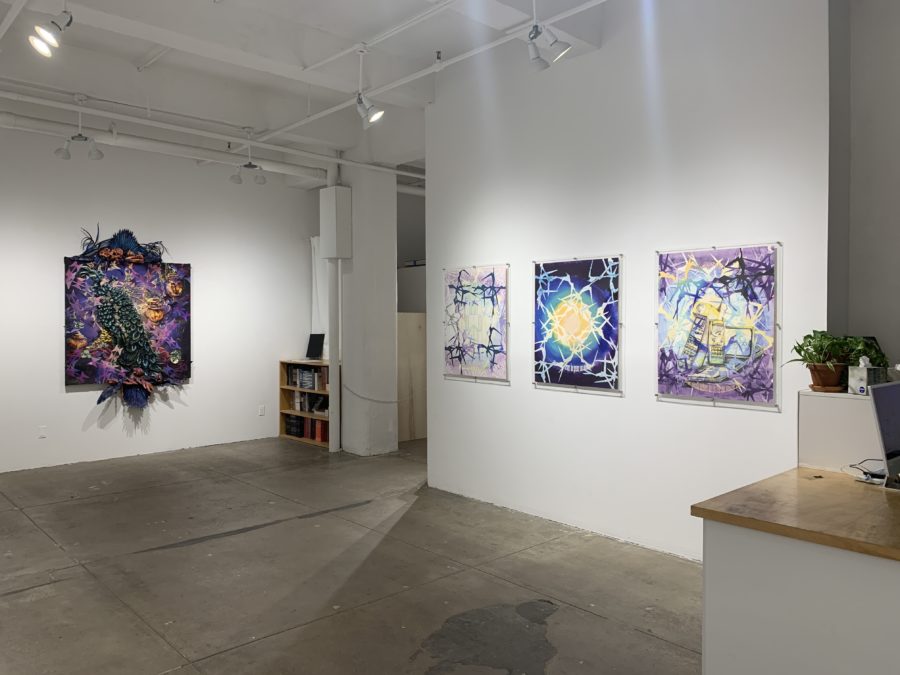 In the bustling art scene of New York City, Raquel van Haver, an artist with a rich and worldly background, presented a new series of monotypes and paintings in a solo exhibition titled 'Rising Phoenix' at David Krut Projects in Chelsea. This exhibition was the result of a collaboration with the David Krut Workshop (DKW) in Johannesburg, South Africa and brought forth an exploration of materialism in contemporary society. 
Born in Bogota, Colombia, in 1989, Raquel van Haver now resides in Amsterdam, Netherlands. Her primary artistic medium is paintings on burlap, a coarse fabric, which she skillfully combines with oil paint, charcoal, plaster, paper, human hair, coal, chalk, and ash. The textured compositions in her paintings, drawings, and installations reflect complications of daily life, offering glimpses into both metropolitan and urban settings. In her work, van Haver gives a voice to individuals living on the margins, discussing topics such as youth, street life, femininity, masculinity, politics, and social status. She delves into the complexities of race, identity, and migration, drawing inspiration from a diverse range of cultures, including African, Western, Caribbean, and Latin American. 
Van Haver was introduced to DKP through Azu Nwagbogu, founder and Director of African Artists' Foundation (AAF) based in Lagos, Nigeria and former director of Zeitz MOCCA in Cape Town, South Africa. In early 2023, van Haver collaborated with the DKW in Johannesburg, where she continued to work with the monotype process, which she first explored at the DKW in 2015. These monotypes focus on the consequences of social shortcomings, insurance, and ownership in the city of Johannesburg. The artist was intrigued by the extreme measures taken by locals to safeguard their belongings – measures that are often unfamiliar to foreigners. Local iconographic elements in the series, such as electric fencing and security fence spikes form halos around central images. The images are marked with text that complements the thematic elements of each work, echoing both the spirit of graffiti in the city and satires the illuminated script reminiscent of the Catholic aesthetic. 
Van Haver's work prompts viewers to consider the role of material possessions in contemporary society, challenging the idea that one's belongings define their self-worth. In this series, she creates an investigative narrative around the question of whether the theft of one's belongings equates to the erasure of their identity. Van Haver's personal history acts as the primary informant in her artistic practice – her travels and nomadic lifestyle lie at the centre of her world view as she finds herself constantly relating back to the life and politics in Colombia as well as her current residence in Amsterdam. The artist also frequently works in Africa on various creative projects. All these factors result in a close personal interest in the feeling of "home" and allow the artist an acute observation of various cultural intricacies around the world.  
This body of work reflects van Haver's one month visit to Johannesburg. In discussions with the DKW team, she pondered over what subject matter would resonate with the people of Johannesburg as well as audiences elsewhere. While strolling around the city, she encountered streets adorned with graffiti featuring a range of activism-related messages; some lighthearted, some not. One particular statement caught her attention – "there could be no peace on stolen land". A reference to musical artist KRS-One's 1993 release "Sound of da police" which originally reads, "There will never be justice on stolen land".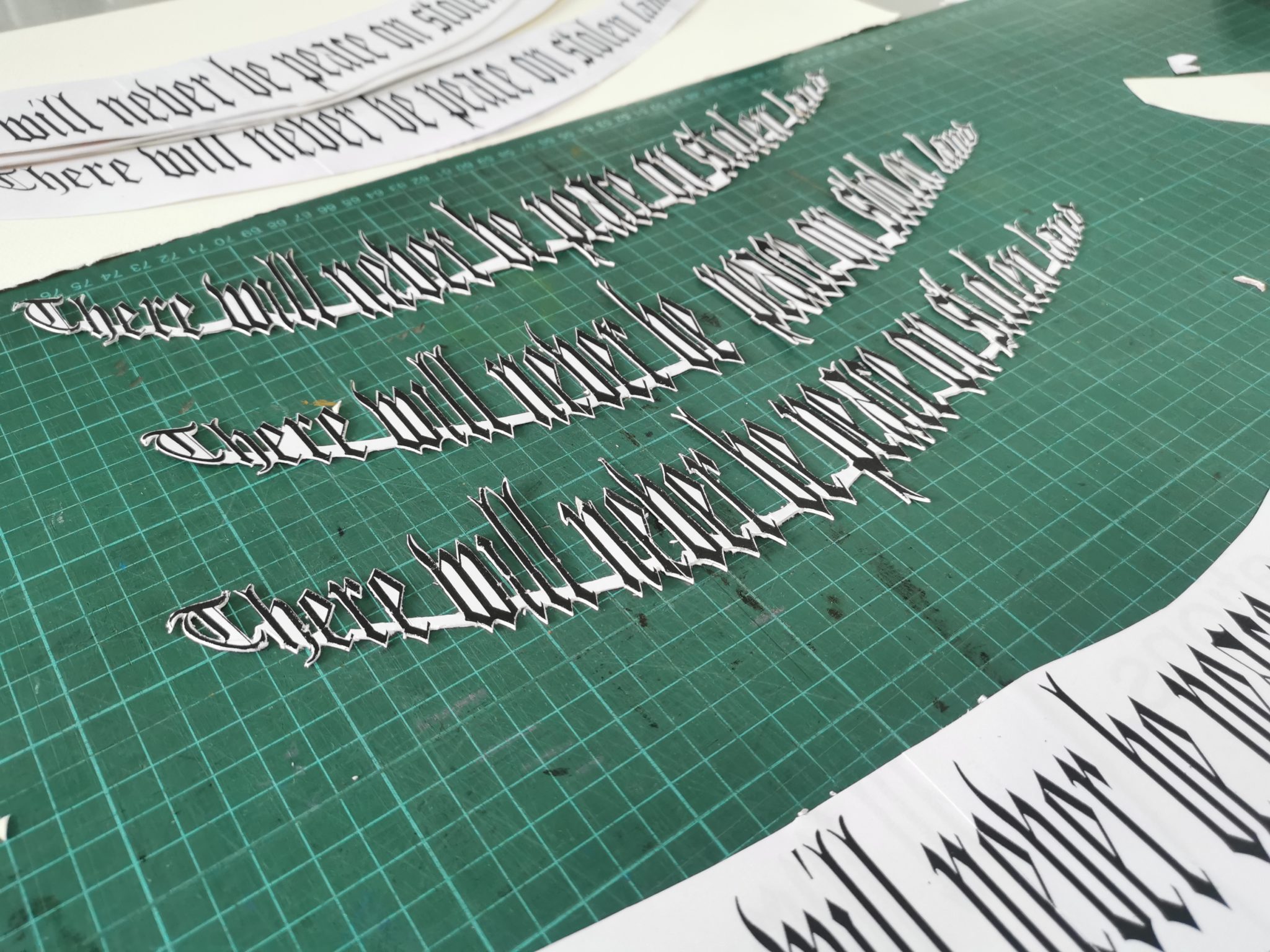 This phrase struck her as a poignant commentary on historical and contemporary issues, both in Johannesburg and around the world, including her native Colombia. This prompted her to delve into research on insurance companies and the unusual items they offer coverage for, from family members to pets and even the contents of one's refrigerator. As she drove around the city, she couldn't help but notice the ever-increasing height of walls and the size of fences, which had expanded since her first visits to South Africa in 2014-2015. This led her to question what motivated this need for protection and what kinds of individuals resided behind these imposing barriers. The items people chose to insure offered a revealing glimpse into their materialistic tendencies. It begged the question: How affluent must one be to insure items like wine or cameras? Van Haver found it ironic that amidst numerous pressing issues, people fretted about protecting such possessions. The text in her artwork establishes a connection between the fear people feel when insuring these items and the physical barriers they erect. 
 Although critical, the text can also be seen to empower the voice of communities as she amplifies the messages left by the people of Johannesburg through each image. In doing so the artist applauds the call for change from marginalised peoples and encourages the actualisation of this change.  
Conversations between David Krut and van Haver also touched upon the transformations that neighbourhoods like Maboneng in Johannesburg had undergone over the years; initially gentrifying and then regressing, with companies and hospitals retreating and infrastructure reverting to its former near decrepit state. Rising Phoenix thus becomes a symbol of something on the brink of explosive change, a rebirth waiting to occur after upheaval. 
Her residency at DKW was brief, having less than two weeks to complete the project. She took the concept of razor and barbed wire fencing, a familiar sight in Johannesburg known for its dual nature of protection and restriction and used this as her point of departure. Repetition plays a significant role in these prints, it underscores the dual nature of razor-sharp fences, representing both protection and potential harm. 
Each print within the series is associated with one of the seven deadly sins, bearing Latin titles such as "Superbia" (pride), "Avaritia" (greed), and "Luxuria" (lust). These titles emphasize the various aspects and modes of human behavior. Through this approach, the prints not only captivate viewers with their visual aesthetics but also serve as didactic pieces, encouraging contemplation of societal transgressions.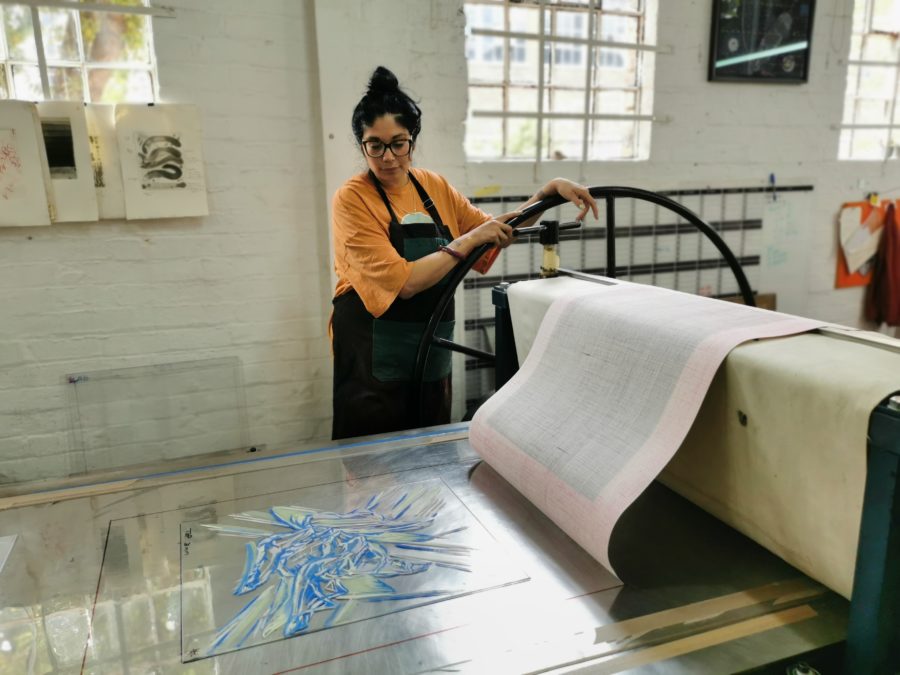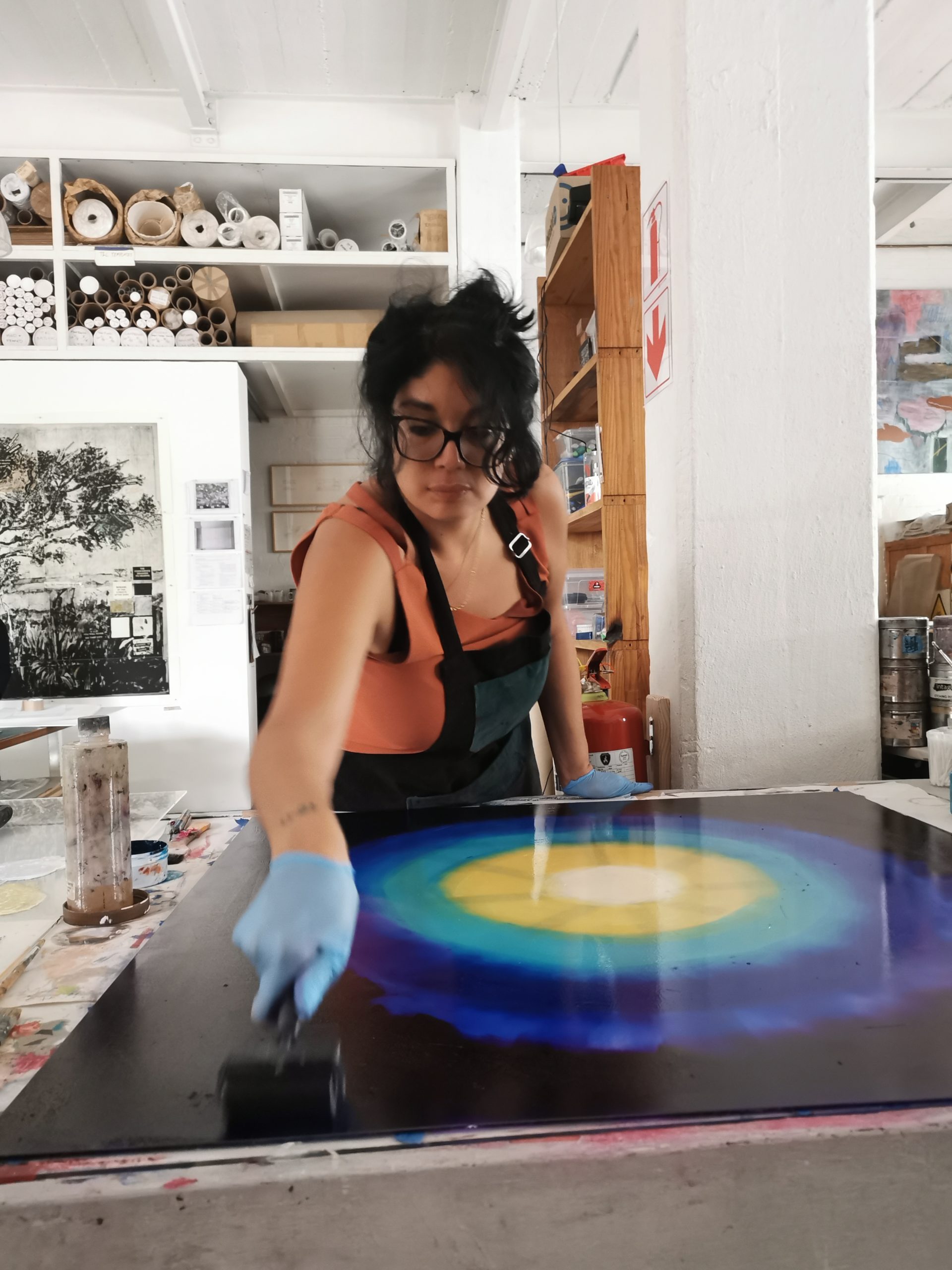 The two paintings featured in the exhibition, namely Untitled (Green) and Untitled (Purple) expand on the painterly process of the monotype while they also serve to delve into further considerations around land, luxury and the metaphor of the Phoenix. The paintings are grounded by figurative representations of the Phoenix that Van Haver has morphed into a hybrid of the opulent Peacock.  
The paintings in themselves are a visual feast. Thick layers of oil paint sculpt the birds and golden vessels out of the canvas, the motif of the barbed wires returns, collaged onto the burlap surface. The choice to paint on burlap is yet another reference to van Haver's personal history in her native land of Colombia. It holds a deep significance to the functions of migration, the misuse of land and her own sense of identity. This personal insight is what van Haver draws on when uncovering connections to the places she travels to, as she has done whilst observing Johannesburg.  
A prominent element within the paintings is the framing of artificial flowers around the perimeter of the canvas. When asked about the motivation for this, van Haver recalled a memory when land in Colombia began being invaded by illegal mining operations. The land that once produces fields of blossoming flowers was now barren and abused. She remembers passing by stalls selling fresh flowers. Due to the irresponsible use of land, the vendors were forced to replace their bouquets with artificial flowers.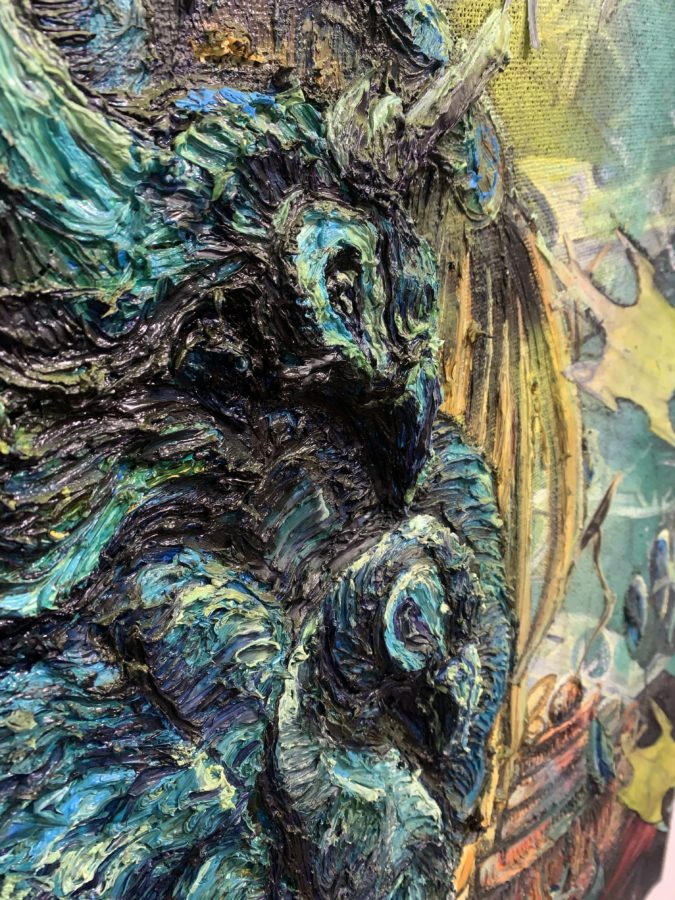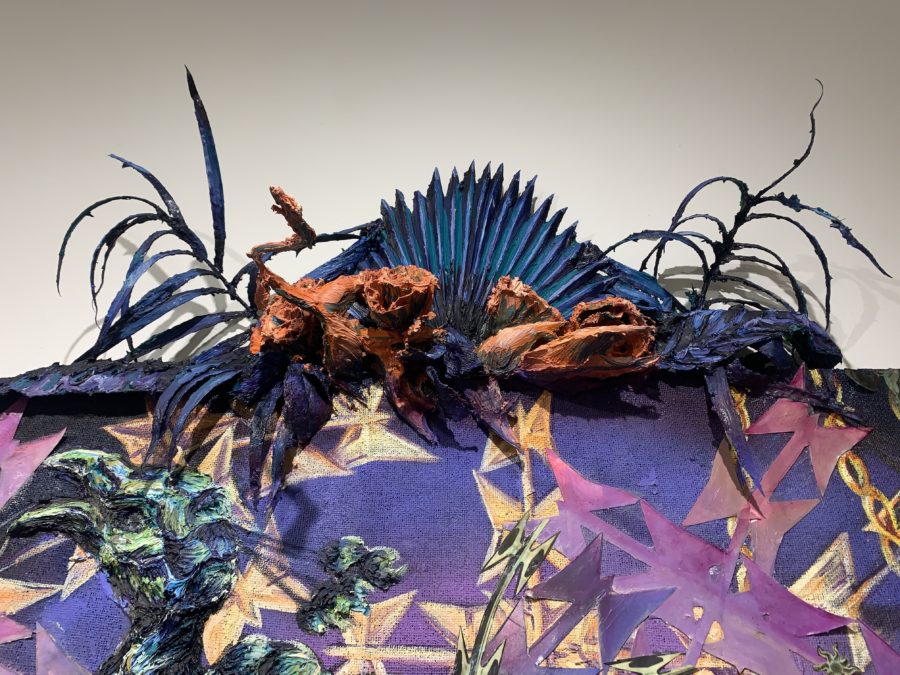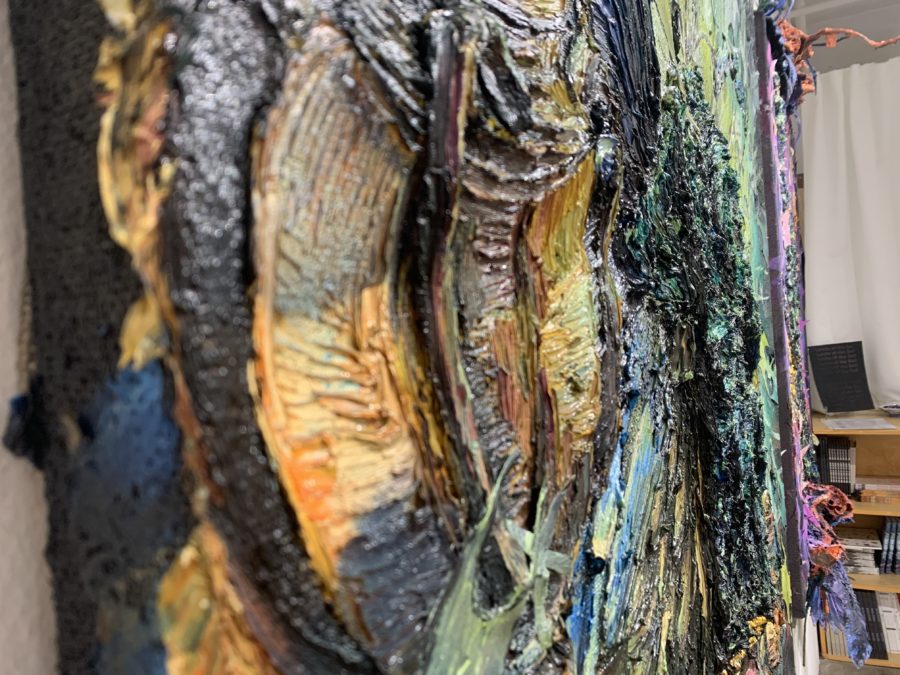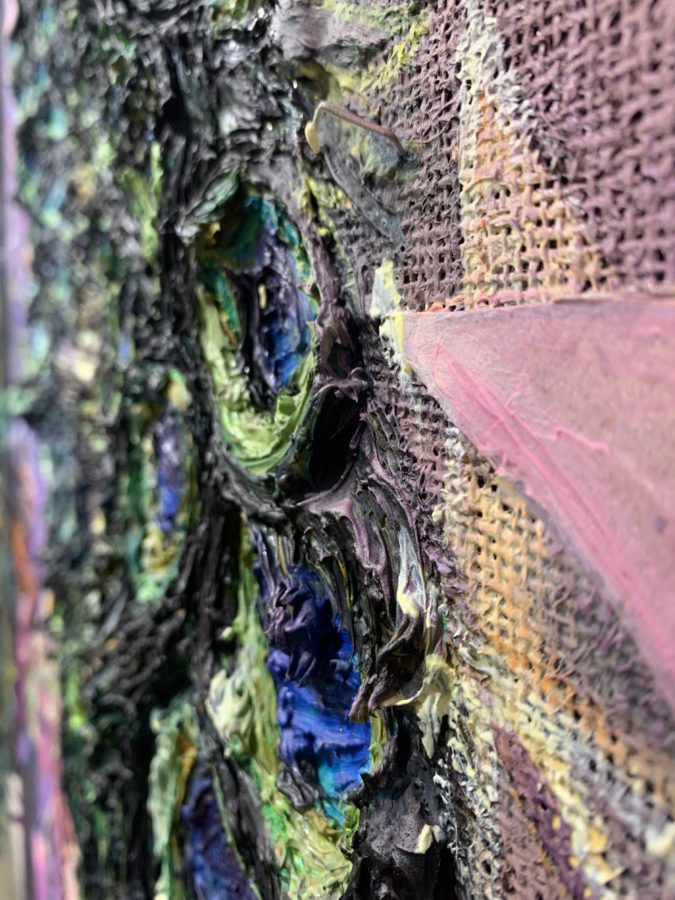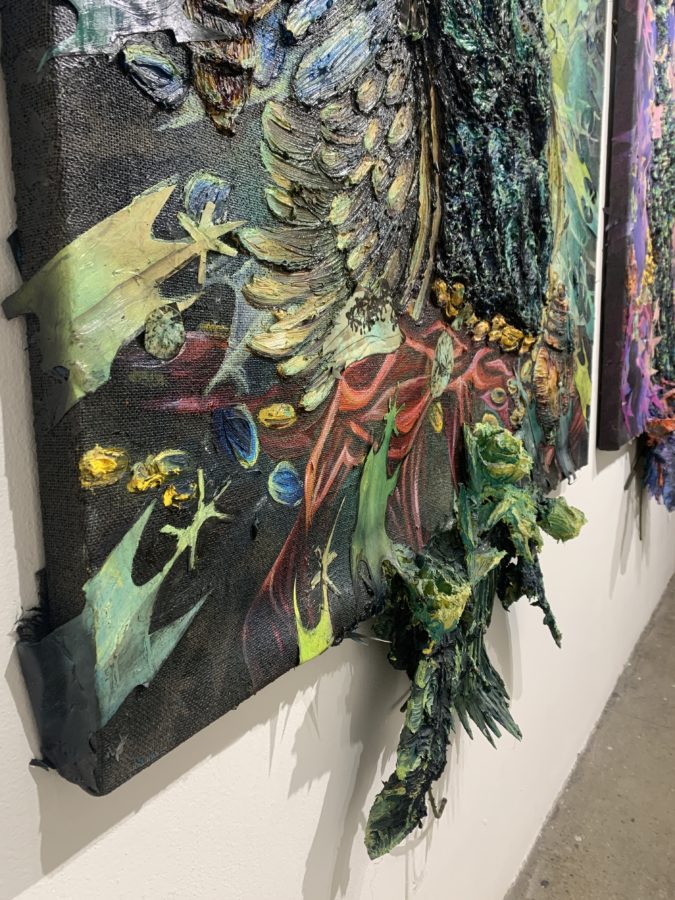 It was believed in both ancient Egyptian and Greek societies that the Phoenix would live for 500 years with only one creature existing at a time. When the end of days drew near, the Phoenix would build a nest which would be ignited – burying the Phoenix in the ashes – the same ashes would be from where the next Phoenix in the cycle would be born. Van Haver uses the metaphor of the Phoenix, specifically the Phoenix that arises from the ashes to encourage what might grow out of a disconcerting time for society, both cautioning us about our current societal transgressions as well as reminding us that change will come – cities might fall but it is certain that again they will rise, as humanity has proven time and time again in our history.