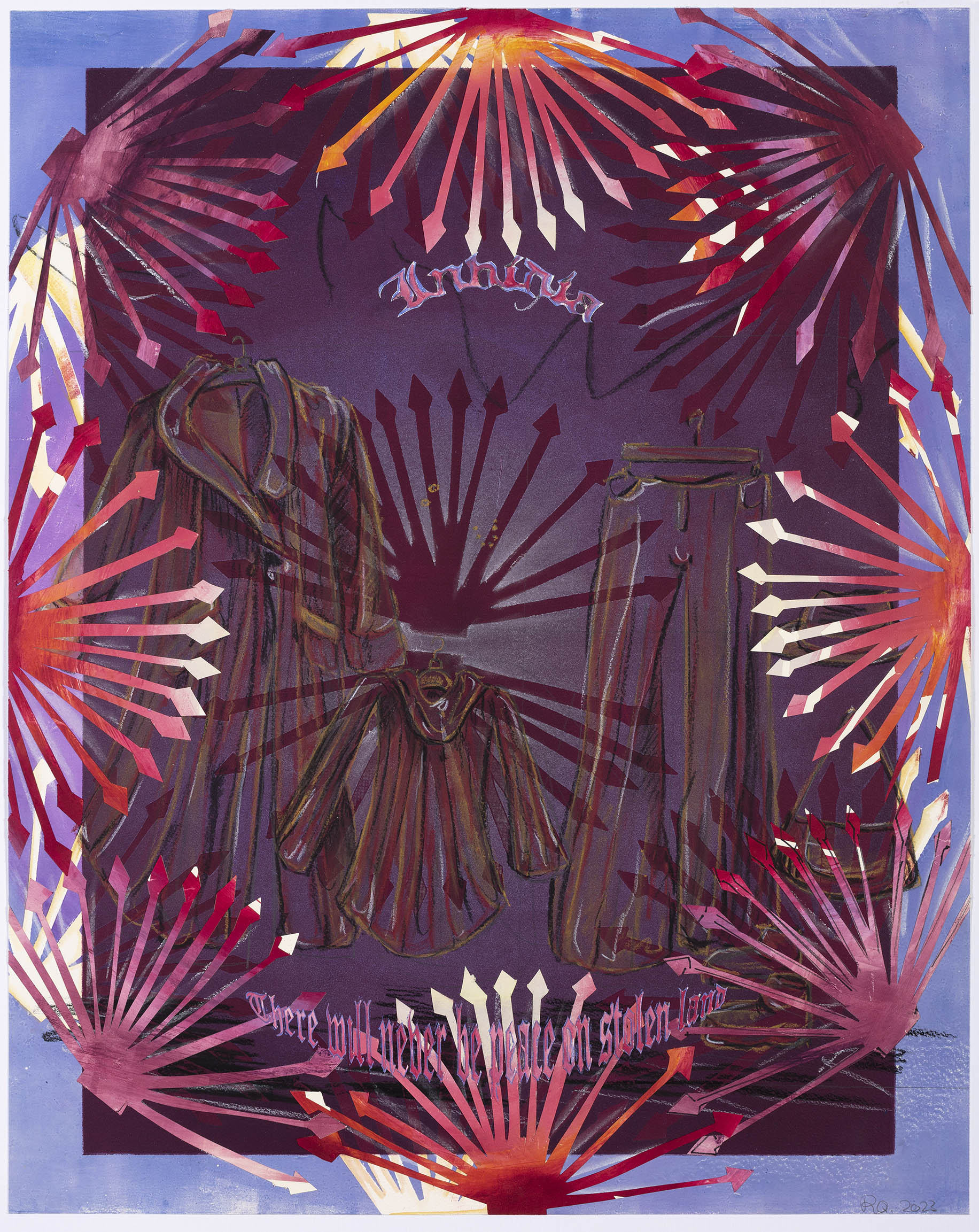 Collaboration History
In 2016, Raquel van Haver travelled to South Africa. She was invited to make prints at David Krut Workshop (DKW) for a long week. These works became the starting point for a new body of work: the definition of a system, where she depicts topics about migration, oppression of the system, military forces, refugees and politics on a globalized level.
Van Haver has been part of both the Treasure Trove and the Almost Sold Out & Rarities group exhibitions.
In early 2023, Van Haver collaborated with the David Krut Workshop to create a new series of unique prints. These works were visually inspired the way light fragments through glass, and deal with issues relating to crime, insurance and ownership in the city of Johannesburg. Van Haver was intrigued by the measures taken by local to protect their assets, measures which sometimes seem over-the-top and somewhat ridiculous. Many reoccurring iconological elements in this series are motifs resembling electric fencing and security fence spikes, a common sight in Joburg, playfully haloed around a central image. The central images are colourful and playful, marked with text indicative of the theme of that image. The text is reminiscent of graffiti as well as the style of illuminated script characteristic of the Catholic aesthetic.
Biography
Raquel van Haver was born in 1989 in Bogota, Colombia. She now lives and works in Amsterdam, The Netherlands.
In 2012 she graduated from the HKU Fine Arts, Utrecht. In 2012, 2013 and 2016 she was nominated for the prestigious Dutch Royal Award for Painting and was on the long list for the Prix de Rome. 2017 was the year she participated at the Culture Summit in Abu Dhabi.
She was granted the Mondriaan funds for Jong talent in 2016).
Since 2014, she is a member of the artist collective the State of L3 and draw me nearer.
The State of L3 and draw me nearer are an international network of artists blending different artistic media and disciplines.
Solo exhibitions include Spirits of the Soil at Stedelijk Museum Amsterdam, November 2018 – April 2019. Van Haver's work has also been exhibited at the Dordrechts Museum, Netherlands; Lagos photo festival, Nigeria and BOZAR Centre for Fine Art, Brussels, Belgium.
Winning the prestigious Dutch Royal Prize for Painting in 2018, Van Haver has gone on to win the Amsterdam award in 2019, both prestigious accomplishments in the Netherlands.
In 2020 she presented her new project Amo a la Reina – a solo presentation within the group show Say It Loud at the
Bonnefanten Museum in Maastricht. She also exhibited works from the series at Breda Photo in Breda and in Museo Bolivariano in Colombia. A documentary made by Bibi Fadlalla was broadcasted on Dutch television in 2020, called The Women of My Country.
Amo a la Reina is an extensive research into van Haver's own heritage and the status of female social leaders in the Colombian regions, forming an in-depth investigation of womanhood more broadly. In her penchant for communication van Havers commented 'connecting with people in daily life is really important. Something so small can move mountains
Van Haver works on burlap, often combining oil paint, charcoal, plaster, paper, human hair, coal, chalk and ash in heavily textured compositions. Her paintings, drawings and installations offer snapshots of daily life in and out a metropolitan and urban society, giving a voice to those who live between the borders of society. Talking about the youth, street life, femininity, masculinity, politics, and status she interweaves these subjects together in her works. She is interested in race, identity and identification drawing from African, Western, Caribbean and Latin American cultures within her direct neighbourhood. Negotiations between 'self' and 'other' within migration and globalization appear as recurring themes.