Text by Hagen Gersie
In the German language there is a saying that, roughly translated, says: to dance on someone's nose. It means that a person is doing whatever they want, disobeying any tasks and orders. In that spirit, the Print of the Month in October is Nose 15 by William Kentridge, a figure dressed up as a ballerina dancing elegantly.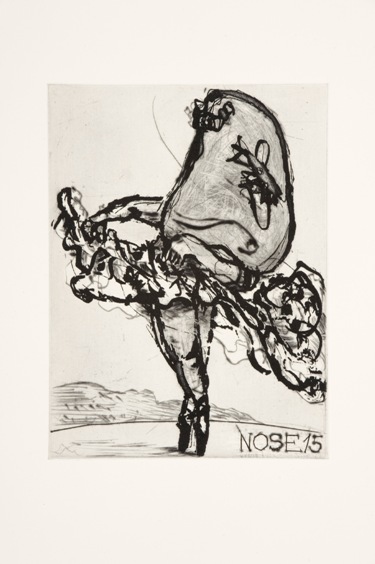 It is part of a series of thirty prints, logically titled Nose, as they all contain or show an anthropomorphic nose – a nose that is drinking, dancing, saluting and generally doing whatever it wants. Work on the series began in 2006, when Kentridge was commissioned by the Metropolitan Opera in New York to adapt Dmitri Shostakovich's 1928 opera The Nose, which itself was based on the famous short story with the same name, written by Nikolai Gogol in 1837.
The story follows the adventures of the pompous government official, Kovalyov, who wakes up one day to find that his nose has left his face and gone galivanting around St Petersburg. Kentridge made numerous drawings imagining what the nose was up to without its master. They were conceived as the journey of the Nose not only with Kovalyov, but through Russian history. They reflect on music, ballet, the history of Western art (Russian and otherwise) and the various fortunes of the Communist party in its Soviet and South African incarnations. Kentridge then collaborated with Master Printer Jillian Ross at David Krut Workshop (DKW) on creating etchings adapted from these drawings, drawing from one project to inform another, which is a continuing a theme in his practice.
Nose 15 is not only dancing ballet, it is also in a sense a play on the German saying, as it is the nose itself that is dancing and disobeying its master's commands (i.e. coming back to him).
Nose is a suite of thirty etchings, each measuring roughly 15 x 20 cm (5 x 8 in), and each produced in an edition of 50. The prints explore a number of techniques but rely primarily on Kentridge's distinctive drypoint marks, complemented by sugarlift aquatint and punctuated in several plates by elements in a strong Constructivist red. Each plate is numbered to signal its place in the series.