In this episode, Nadia Myburgh is in conversation with multidisciplinary artist Jared Aufrichtig at the David Krut Projects Bookstore in Parkwood, Johannesburg.
Be Sure to have a look at the exhibition at the 151 GALLERY called POST THIS which will be up until the 20th of October 2018, Located at 151 Jan Smuts Ave, Parkwood.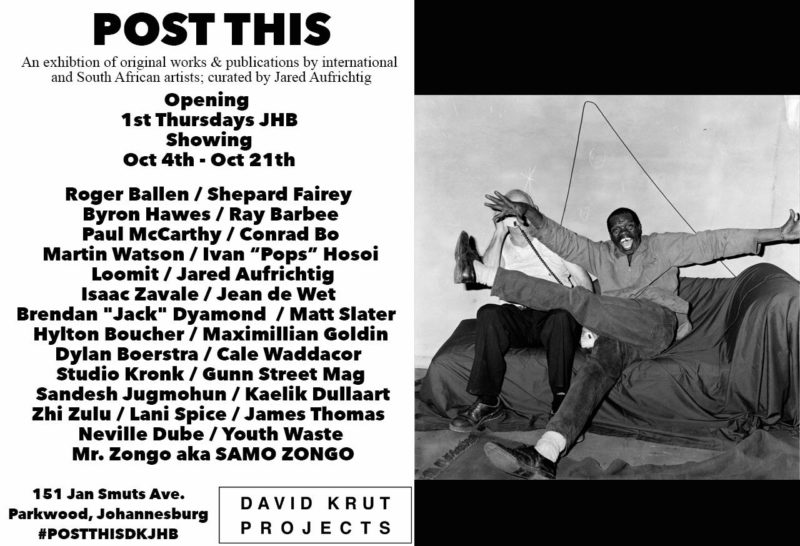 Chapters
00:00 – 01:20: Introduction
01:20 – 02:18: Who is Jared? Jared on creativity
02:18 – 08:27: Jared on his craft (photography, graffiti, printmaking, creative outreach programmes)
08:27 – 13:41: On channels and structures in the art world and blurring the lines through his own work
13:41- 15:03: On his multi-layered thinking and multidisciplinary practice 15:03 – 19:05: On his creative process and the relationship between all the mediums he uses – how one medium informs the next.
19:05- 20:20: Old mediums / media vs new
20:20 – 22:50: The process within the last zine workshop which he lead at 151 and Approach and value in the youth development projects
22:50- 25:50 On collaboration and the importance and value of it within his work and creative process
25:50 – 29:00 – Scope of involvement in NGOs and projects in creative outreach programmes
29:00 – 33:40 On the murals he's created in both Cape Town (on water conservation) and Johannesburg (bringing awareness to the plight of elephants)
33:40 – 38:20: The importance of spreading awareness through art and the responsibility of the artist
38:20 – 43:37: Finding meaning within his art and the importance of open-mindedness
43:37- 45:42: Social media platforms to find Jared's work on
45:42 – 49:40: What to expect at the upcoming zine exhibition for First Thursdays 4 October and the artists involved.