Activities (and weather conditions) are heating up at AOM before we shut our doors for 2015. The team multi-task in order to complete their projects for the year. They start by working individually to tie up loose ends.
Kim-Lee Loggenberg finishes editioning two small prints by Mischa Fritsch. She uses Chine-collé and backing paper. Here is a sneak preview:
Small print 1 is titled Amarunthine: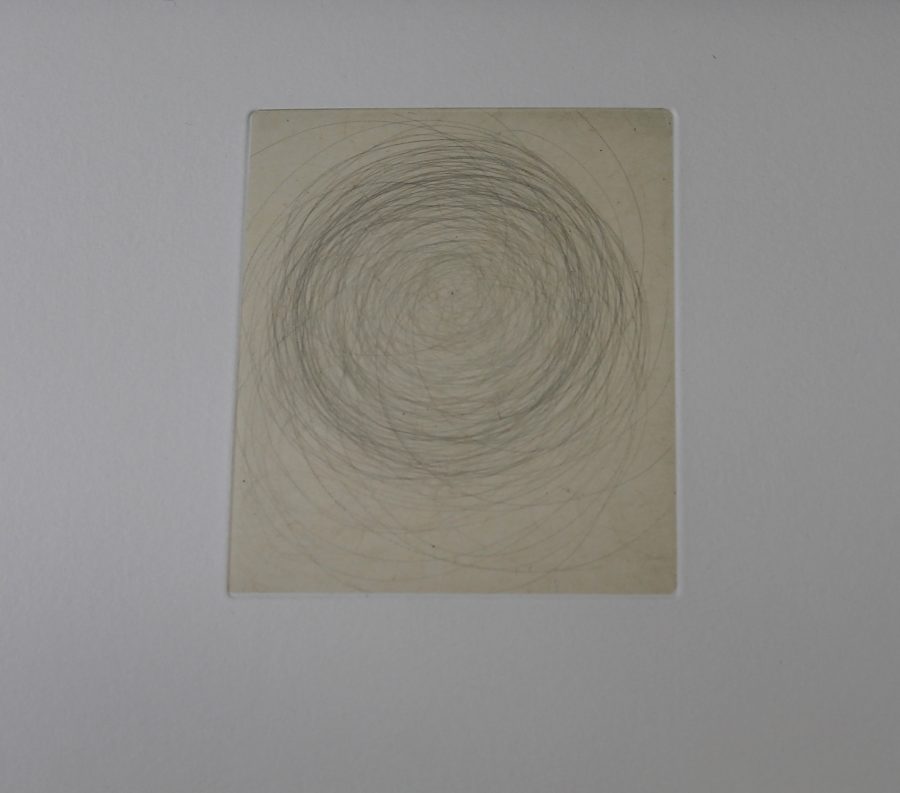 Small print 2 is titled Amarunthine + Constellation:
Martin Motha staples Robyn Penn's clouds duo, also untitled at this point: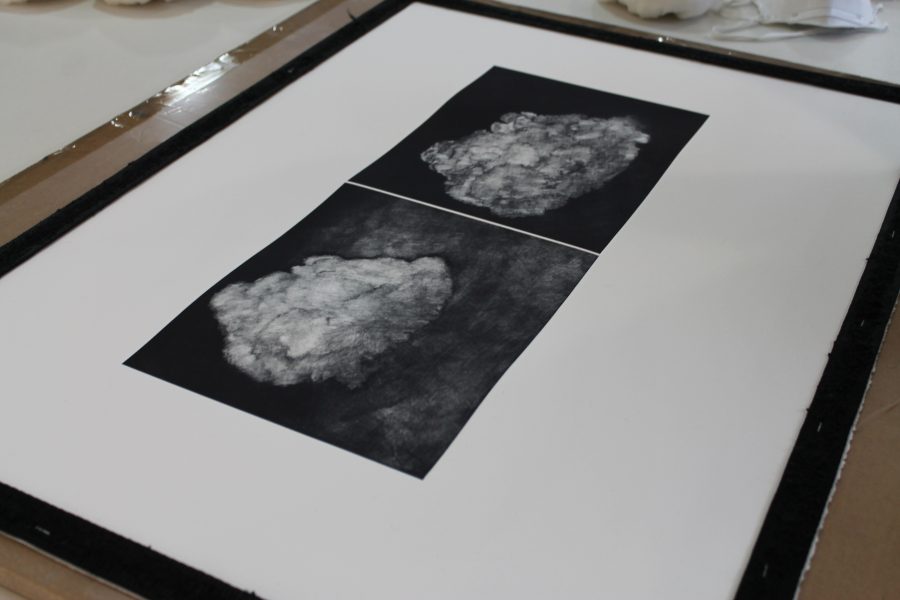 Sbongiseni Khulu tears the margins for Stephen Hobbs' etching series, Buildings, bombs, bunkers and clouds:
Loose ends tied up, there's no time to waste. The printers move onto new projects…
Apron on, Sbongiseni inks-up Luis Alonzo-Barkigia's linocuts:
Sbongiseni must find the perfect balance of ink coverage to achieve solidly blacked-out areas without eliminating the finer grooves and scratches in the plate.
For Sbongiseni's first attempt, he heavily inks one plate and lightly inks the other to test which approach will have the best results.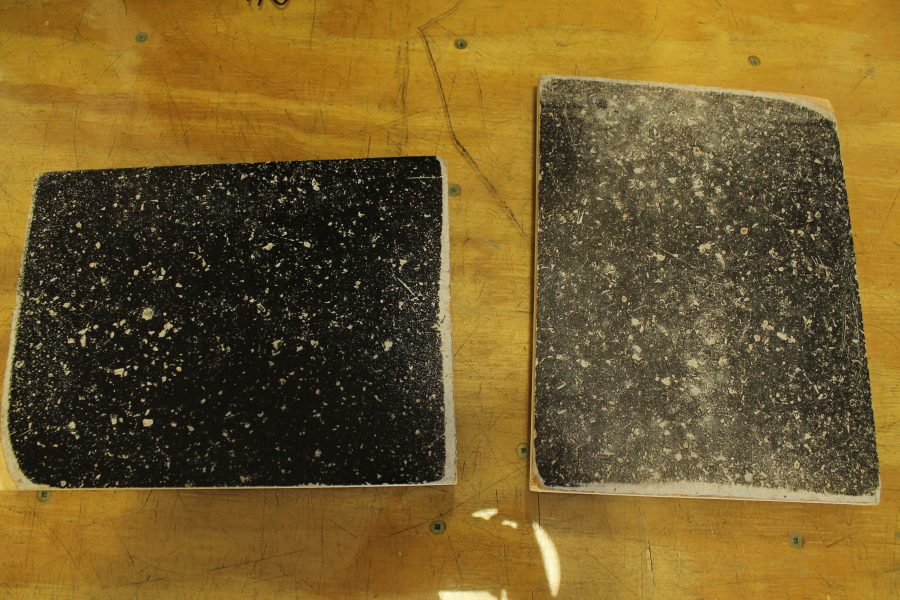 He runs them through the press. This is the result: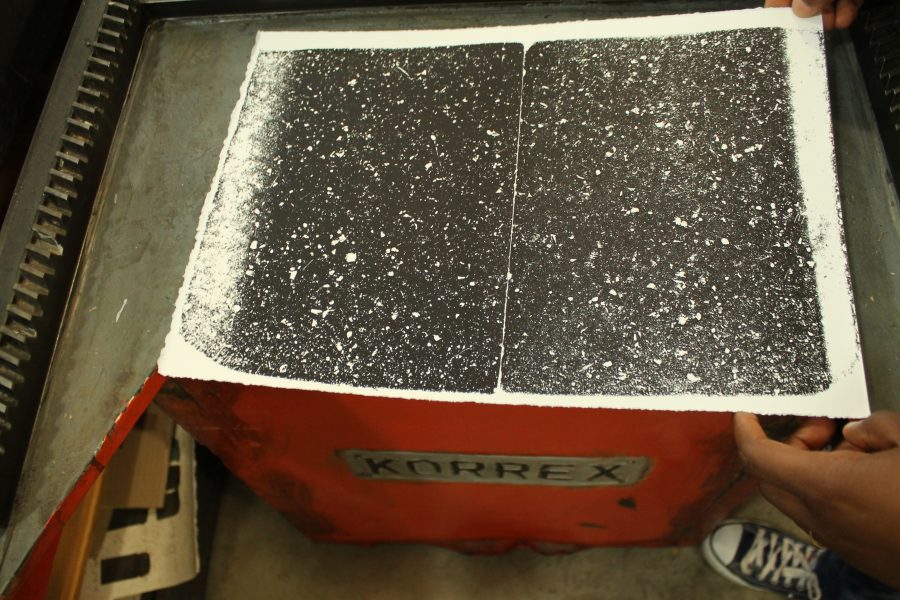 For Sbongiseni, the darker print (left) is "a truer, richer print" as the lighter print (right) has murky, grey tones. The problem with the darker print, however, is that so many of the finer marks are lost.
Is there a way to reconcile the two approaches to achieve the rich blacked-out areas with the finer lines still coming through?
"Yes", Sbongiseni says with a smile and a sigh, "it will require a gradual process of applying the ink in layers so it thickens but doesn't fill the smaller details. It'll take patience."
To get the print just right, Sbongiseni must manage a number of variables, not least the loosening affect of the sweltering heat on the ink. "The heat makes the ink very runny," he explains, "which creates problems because it is more likely to leak into the lines of the linocut, which I want to avoid."
Sbongiseni's challenge is to control his variables – pressure, heat, layering technique – to the best of his ability. Working slowly and meticulously, he cleans the plates and adds magnesium powder to the ink bit by bit in order to gradually thicken the mixture: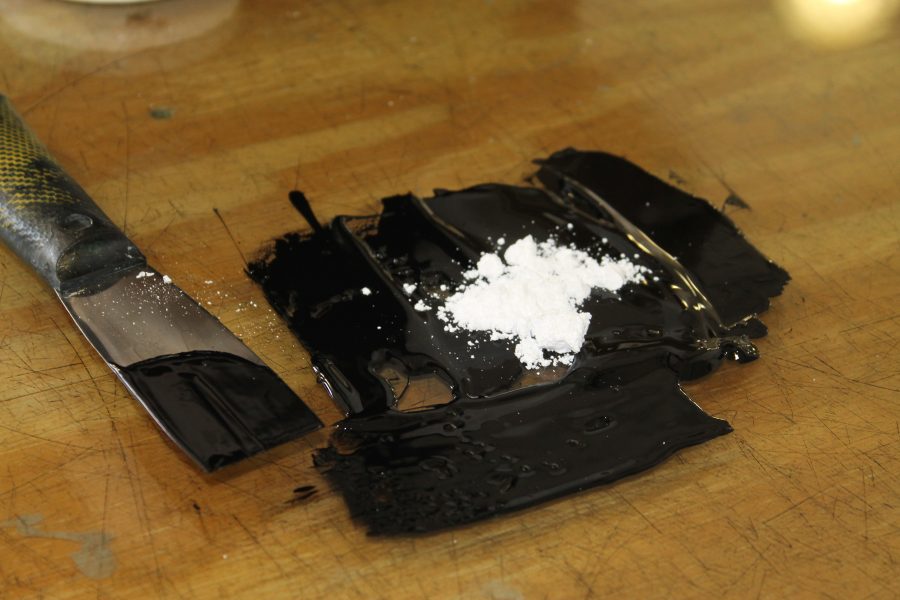 Why not add the magnesium in one go? "If I were to do that", Sbongiseni says, "I would be more likely to lose control as the mix could over-thicken and then I'm in for a longer process". He wipes his brow and soldiers on.
Later on, Alonzo-Barkigia comes in to see the results. 

Meanwhile, up-and-coming artist Keneilwe Mokoena comes into the workshop to try her hand at printmaking. Mokoena is the most recent winner of the annual Reinhold Cassirer Award, resulting in a ten-week residency at the Bag Factory artist studios.
She begins by etching a copper test plate – experimenting with delicate mark-making techniques.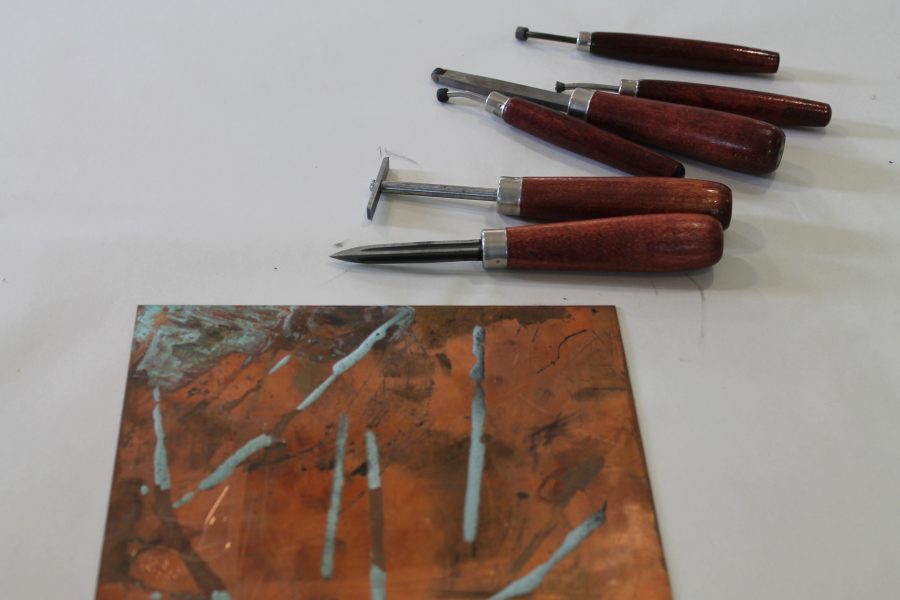 Master printer, Jill Ross notices that Mokoena likes to work with maximum control of her implements. "My line work is very fine and detailed", Mokoena explains, "I typically draw with fine fabric tip pens to depict microscopic images of nature".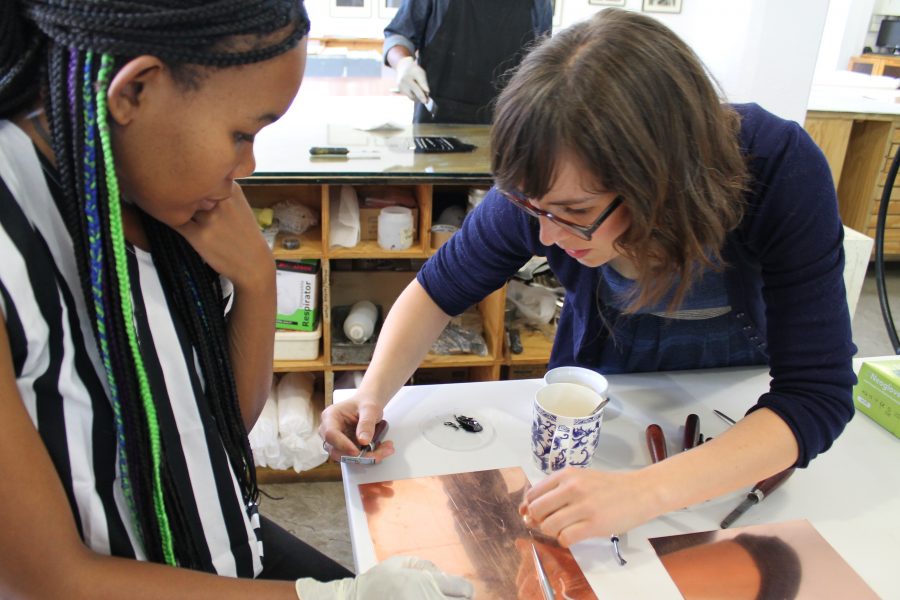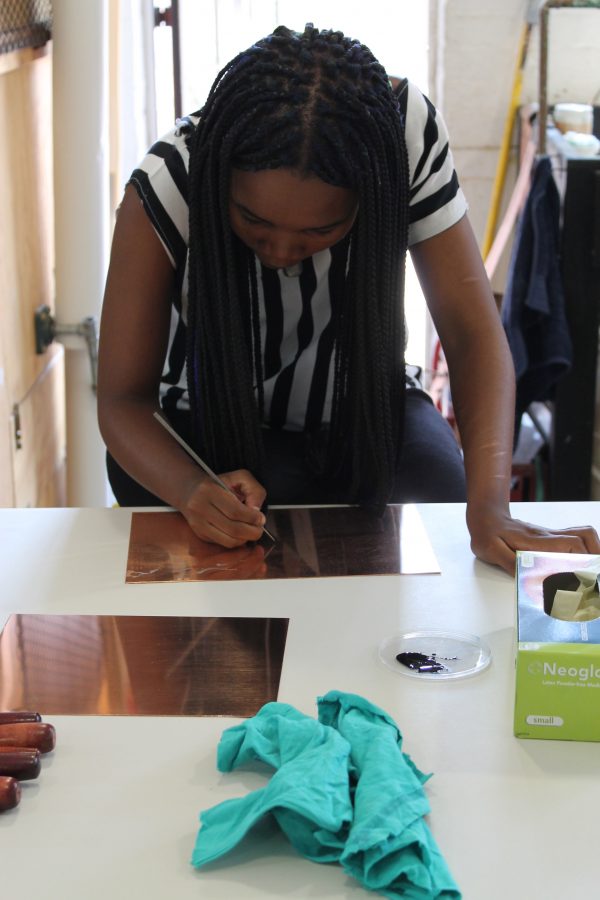 Click to view Keneilwe Mokoena's work on her tumbr and flickr pages:
https://www.flickr.com/photos/keneilwe
Watch the Print Workshop Blog page for an upcoming post on Mokoena and her productive visit to AOM in which the results of her hard work are revealed.
Also in the workshop is Capetonian architect-turned-fine-artist Lorenzo Nassimbeni. The artist is making two large prints alongside a series of six small prints in which he maps the physical degradation of Hillbrow from the 1970s to today.
Nassimbeni spent a number of days at our workshop, working closely with the printers to decide on a final proof for each print. Watch this space for a detailed upcoming post on Nassimbeni's concept and process for this exciting new body of work.
Adding to the bustle, Robyn Penn comes in to continue etching a very large plate as part of her clouds series of prints.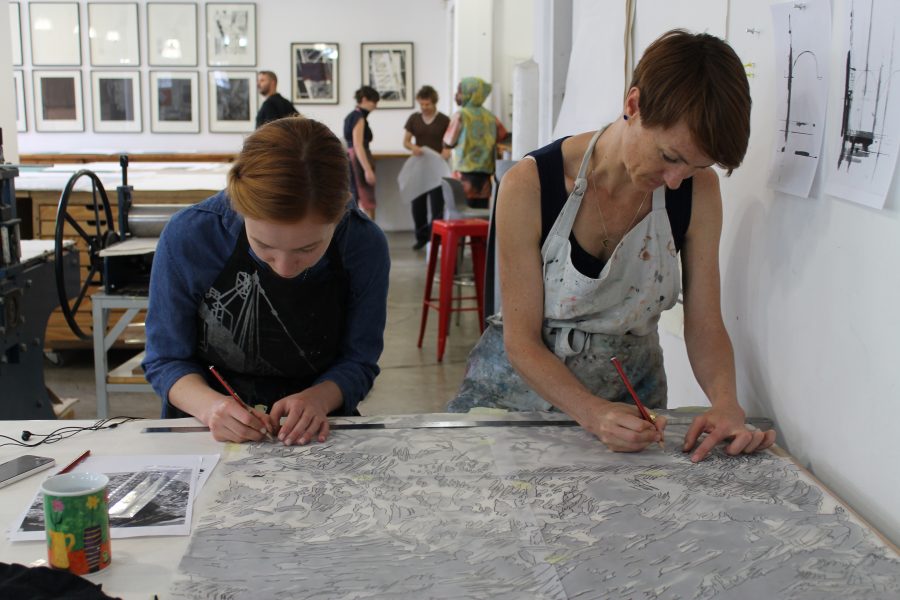 Stay tuned and all will be revealed in due course.