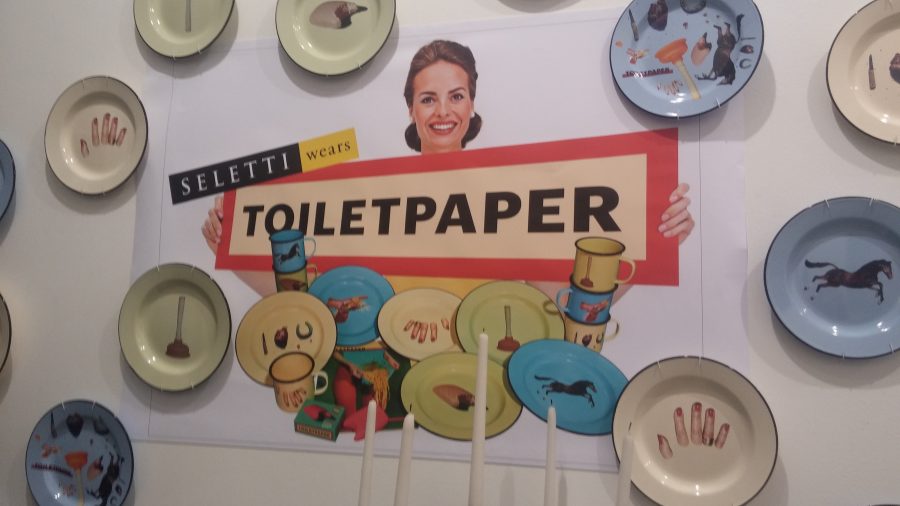 The David Krut Projects gallery space at Arts on Main (attached to the David Krut Print Workshop) was last night transformed into a macabre, retro dinner party as Italian design company Seletti, known for their peculiar designs, launched their new range of crockery.
The Seletti-Toiletpaper press release had the following to say about the collection, launched in Milan earlier this year, and making its first appearance in South Africa last night at David Krut Projects:
Black humour dipped in pastel colours: born out of the meeting between Seletti, Italian design company, and Toiletpaper, Maurizio Cattelan's and Pierpaolo Ferrari's image-only magazine.  The result is an unusual and exceptional collection of plates, mugs and tablecloths using a selection of    images from the magazine, including a kitchen plunger, a rampant horse and severed fingers. Tin and oilcloth are the materials used in the collection, and they are perfectly aligned with the pop   spirit of the magazine: cheap and widespread, never sectional.   
"Right from the start we liked the idea that Toiletpaper was a label that could be applied to a broad series of objects: magazines, books, plates, mugs and tablecloths.  Pierpaolo and I are like sadistic scientists: everything that's around us can be infected by the TP virus… Just like Toiletpaper's images, the collection designed with Seletti has a vintage charm; the tin mugs and plates look like they were just taken out from a Fifties' kitchen pantry, the oilcloths from the drawers of a suburban inn".   
Thanks to all who attended last night's opening and a big thank you to all the partners involved -Generation Store, Elle Decoration South Africa & Bombay Sapphire. Visit David Krut Projects (Arts on Main) to see this exceptional collection of plates, mugs and tablecloths, on view until the Thursday 4th December AOM Night Market.