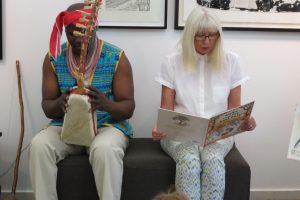 David Krut Projects Cape Town, was pleased to host Fiona Moodie, talented Author and Illustrator, for the reading of her latest children's' book 'Noko and The Kool Kats'.
Joining her at the event was talented musician and Lecturer of Ethnomusicology in African Music Dizu Plaatjies, who played various traditional African musical instruments depicted in the book.
'Noko and The Kool Kats' tells the story of a band of wild animals that dream of becoming a Big City Rock Band, and exploring the life of famous musicians. They follow their dreams when a bus rolls into town and hitch a ride to The Big City. They experiment with making music in the city, but decide they prefer the unique sounds that they are able to make on their traditional homegrown instruments in their natural bush environment. Together Moodie and Plaatjies brought the story of this humble band of animal musicians to life in a story of adventure, courage and African rhythm. Moodie read, sang and animated the characters of the story whilst Plaatjies put the story to music with his collection of traditional Xhosa instruments. Children and adults alike where trans-fixated by these two wonderful narrators, and the atmosphere of the room was one of anticipation, energetic pulse and exotic rhythm.
Fiona was born in Cape Town and obtained a BA degree and a teaching qualification from the University of Cape Town, subsequently leaving for Europe where she was able to attend the École Nationale Superieure des Arts Decoratifs in Paris. Through working with many talent artists and illustrators she meet at the Bologna Children's Book Fair, she has established a successful career as an illustrator and writer. In 2000 she was awarded the SAPPI Prize for Atlantis Rises and has written and illustrated  12 children's books to date.
Dizu Plaatjies, grew up in the Pondo/Xhosa Tradition , which informs the passion he has for traditional African music and established his desire to explore the important contribution of customary Xhosa music and traditional instruments in contemporary South African musical performance. He is the founder and lead performer of the South African group, Amampondo and since leaving Amampondo he has started a new ensemble called Ibuyambo.[3] Plaatjies and the new group have presented numerous shows in a number of European countries, and perform regularly in South Africa.