Tourism Month National Launch
Arts on Main recently hosted the national launch of Tourism Month. Guests included the Honourable MEC for Finance, Economic Development and Tourism Northern Cape, MEC John Block, SA Tourism CEO Mr. Thulani Nzima, and the Honourable Minister of Tourism, Mr. Derek Hanekom along with representatives of various media houses.
Tourism Month focuses on domestic tourism, with the Northern Cape as this year's host for World Tourism Day celebrations on the 27th September.  MEC John Block highlighted some of the Northern Cape's tourist attractions and initiatives in promoting the province, after which SA Tourism CEO Mr. Thulani Nzima, announced a change of approach to next year's World Tourism Day host province. Minister of Tourism, Mr. Derek Hanekom then gave his inaugural Tourism Month launch address touching on domestic tourism performance and contribution to the economy. To conclude with, the Nothing's More Fun Than a Sho't Left marketingcampaign was displayed to highlight the importance of domestic tourism.
Tourism is not just about exploring but also about engaging with a culture. The significance of this event being held at Arts on Main emphasised the importance of institutions such as David Krut Projects in promoting contemporary culture, and the potential of South African art as means of experiencing our society. Nzima noted that "we can only protect and promote heritage if our own people understand and explore it". David Krut Projects proudly dedicates itself to being fellow communicators in these efforts.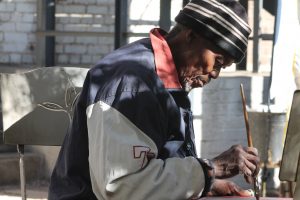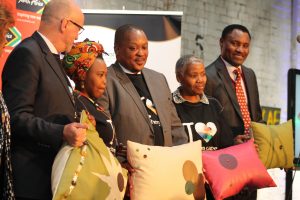 Guests of honour being gifted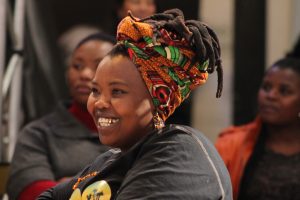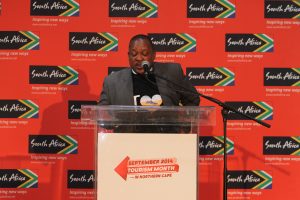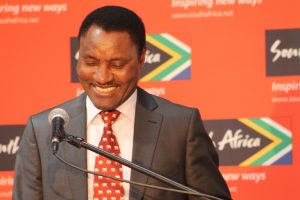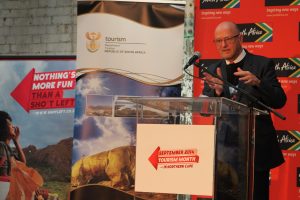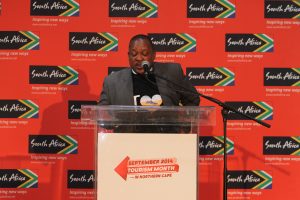 Guest Speakers during welcome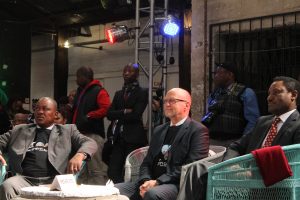 Guest Speakers during welcome