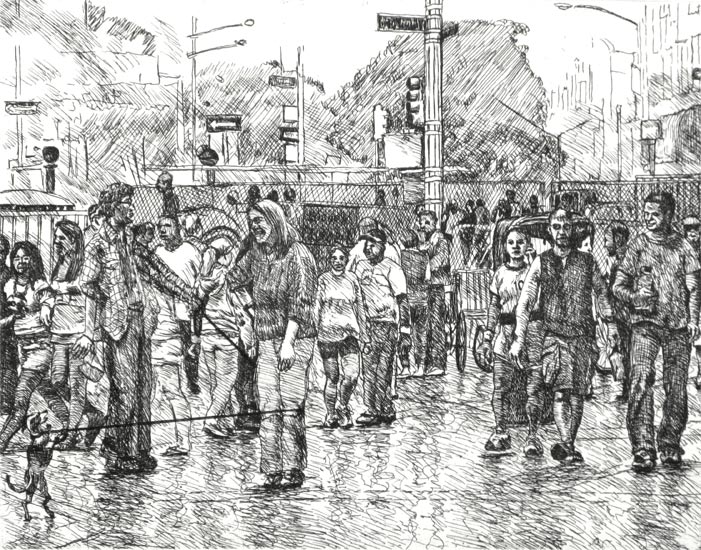 Mechanic's Gate Suite, Hardground etching, 5 ½" x 7" image on 15" x 11 ¼" Arches 88 paper, 2010, edition of 20
Brian Shure is a painter and printmaker working with representations of the city as an actor in the human dramas of everyday life. He received a BA from Antioch College, apprenticed with Ernest DeSoto at Collectors Press in San Francisco and worked as a professional lithographer for 15 years. With his wife, art historian Evelyn Lincoln, he published and printed editions under their imprint, Smalltree Press, and he was a Master Printer and Coordinator of the China Woodblock Program at Crown Point Press from 1987 to 1994. His etchings of Ise-Jingu were printed in 2000 when he was a resident artist at Tokugenji Press in Nara, Japan. In 2004 he completed a group of murals for the Pittsburgh Federal Courthouse.
He has taught as a visiting artist at Brown and Cornell Universities, has given workshops in the U.S., Japan, and Mexico, and has been teaching in the Printmaking Department at the Rhode Island School of Design since 1996. He is a member of the advisory board of Highpoint Press in Minneapolis, MN. He is the author of two books on the technique of chine collé: Magical Secrets about Chine Collé, and Chine Collé, A Printer's Handbook.
He is currently represented by Katharina Rich Perlow Gallery in New York and Lenore Gray Gallery in Providence, RI.
Shure will be in South Africa at the beginning of 2013 to extend his research into cities as actors in human lives to Johannesburg, with a particular focus on the inner city. He will be working out of David Krut Print Workshop (DKW) at Arts on Main.
For more information please visit http://www.brianshure.com/