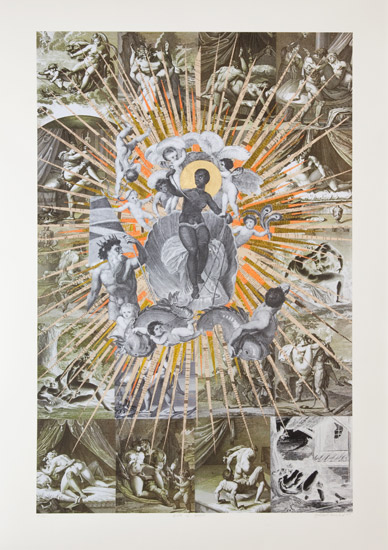 As an artist traversing two continents and cultures, Godfried Donkor is interested in historical and sociological issues, with a particular heed to the shared history of Africa and Europe. In this context, he reflects on the commercialisation of people (slavery, that is, both ancient and modern) amongst a network of other themes that run through his individual work cycles.
Godfried Donkor frequently uses newspaper print such as the stock market figures from the Financial Times as seemingly incongruous backgrounds for his collages. On these sheets, with their endless columns of data, Donkor's People of Utopia, often depicted as saints, occupy a central position. Mostly the illustrated figures are shown arising from cross-sections of old sailing ships — an analogy in reference to the transportation of slaves from West Africa into the New World. Whether a boxer, a football player or a pin-up girl, each figure remains the same in human 'goods' trade, starting from its most extreme form of slavery, to subtler variations in sport and the entertainment industry.
Following David Krut Projects' participation at Multiplied 2013 David Krut, Jacqueline Nurse and Luke Crossley visit Donkor in his studio in Brixton, London.
Publication:
Godfried Donkor – People of Utopia is now available from David Krut Bookstores at 151 Jan Smuts Avenue, Parkwood, and at Arts on Main, Johannesburg. Orders can be placed with [email protected]
Artwork and book image are courtesy the artist and Artco Gallery, Germany (http://www.artco-art.com/index.php)