EMMA STIBBON RA
TERRA INFIRMA: A landscape in flux, drawings of Iceland
18 November – 20 December 2013, Rabley Contemporary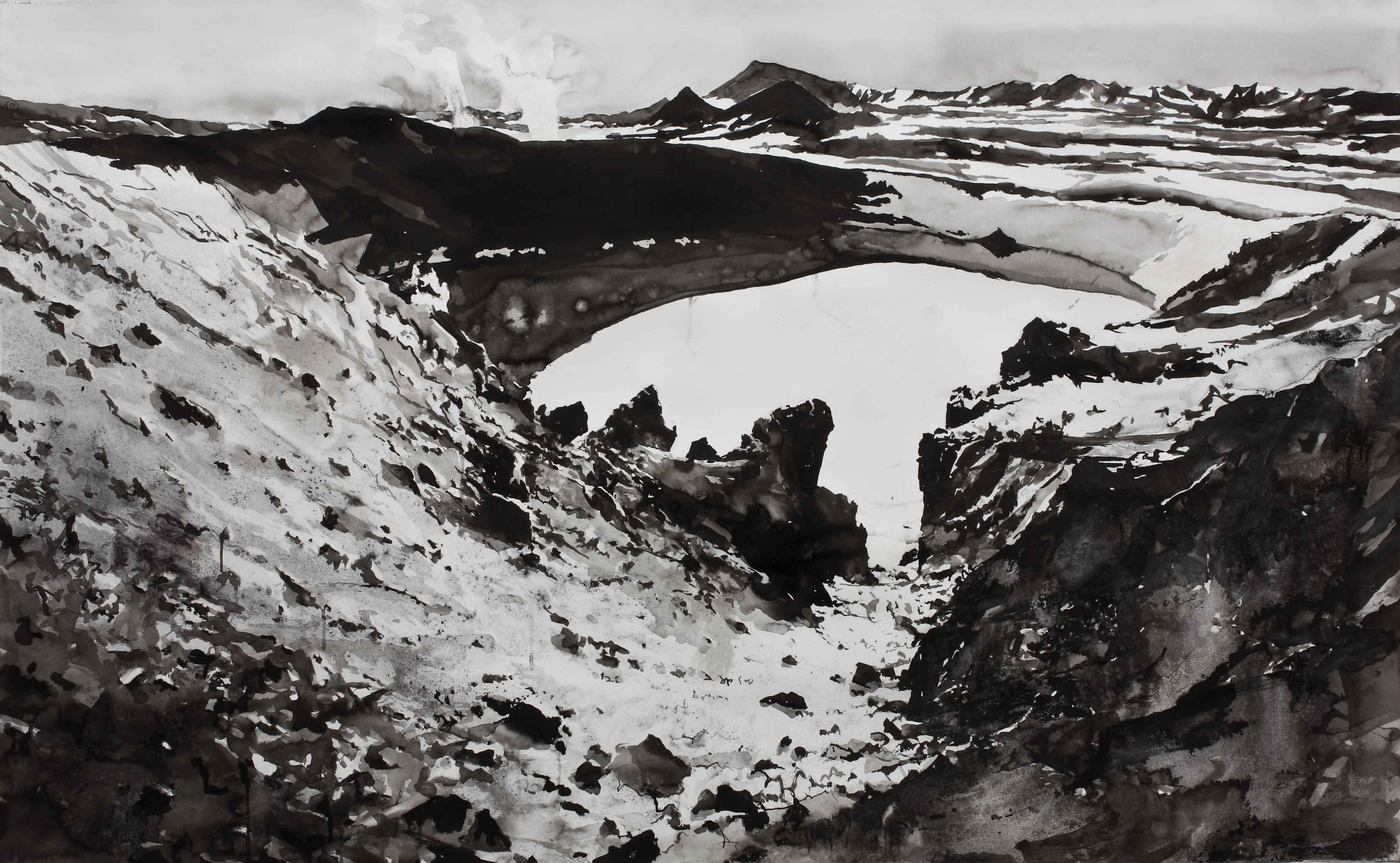 Viti crater, 2013, Ink, carbon and volcanic ash on paper, 100 x 162 cm

Emma Stibbon makes us aware of time; the time she takes in making and constructing her monumental landscape drawings and the time she spends immersed in her primary experience of terrain. Many of her explored locations move across a geological time frame and are closely linked to human experience, often treading a simultaneous timeline. Through recent projects she has explored the fragile nature of our changing planet, placing the built and natural landscape at the centre of her concerns.
The Terra Infirma project follows a period of 6 weeks travelling around the south coast and a residency in Ólafsfjördur, north Iceland in 2012. Located on the Mid-Atlantic Ridge, volcanoes, geothermal springs and internal deserts characterise Iceland's landscape. Through walking, drawing and photography the artist has viewed the impact of both human habitat and natural forces on environment.
She witnessed the unstable geological dynamics and current economic crisis, noting the seismic shift of both the natural and cultural environment. This in depth research, including the artist's dialogue with scientists and notably her conversation with volcanologist Katharine Cashman bring a profundity and significance to this new body of work.
Stibbon's focus on the tactile qualities of drawing combined with her concerns for composition and scale invites the viewer into a physical experience of place. In these new drawings her assembly of drawing media, thin and dense, fragile and strong, draw our attention to the time lines of strata, created by the blanketing of layers in the constantly shifting landscape of Iceland. Incorporating found volcanic ash into her media, Stibbon explores the physical and metaphorical relationship between process and place. Layers of translucence and dense black are flecked with low glistening crystals of volcanic ash. The visceral state of this place is held within the black pigment and the tiny fragments of rock
used to make the drawings and printing plates.
Her images have found their voice from places of particular resonance; on the island of Heimaey, the town sits below the Eldfell cone, purveyor of natural and psychological uncertainty. In 'Gerðisbraut 10, Heimaey' buildings are semi-submerged like wrecked ships in a sea of ash. Conversely in 'Eldfell, Heimaey (White House) the building takes a symbolically square stance, defiant against the backdrop of the volcano. On open terrain 'Lava field, Leirhnjukur' undulates and hisses across the surface of the paper, and we are reminded of the isolation of Iceland and its islanders as we look to the sea under the looming sky of Jökulsárlón bergs towards other places of uncertainty.
Terra Infirma confounds expectations we may have about our surroundings as solid and immutable. Stibbon confirms the potential of drawing as a means of undestanding and reflecting on our fragile relationship with landscape.
Meryl Ainslie, 2013
Director, Rabley Drawing Centre
Text and images courtesy the artist and Rabley Contemporary, 2013
For more information please visit http://rableydrawingcentre.com/# or email [email protected]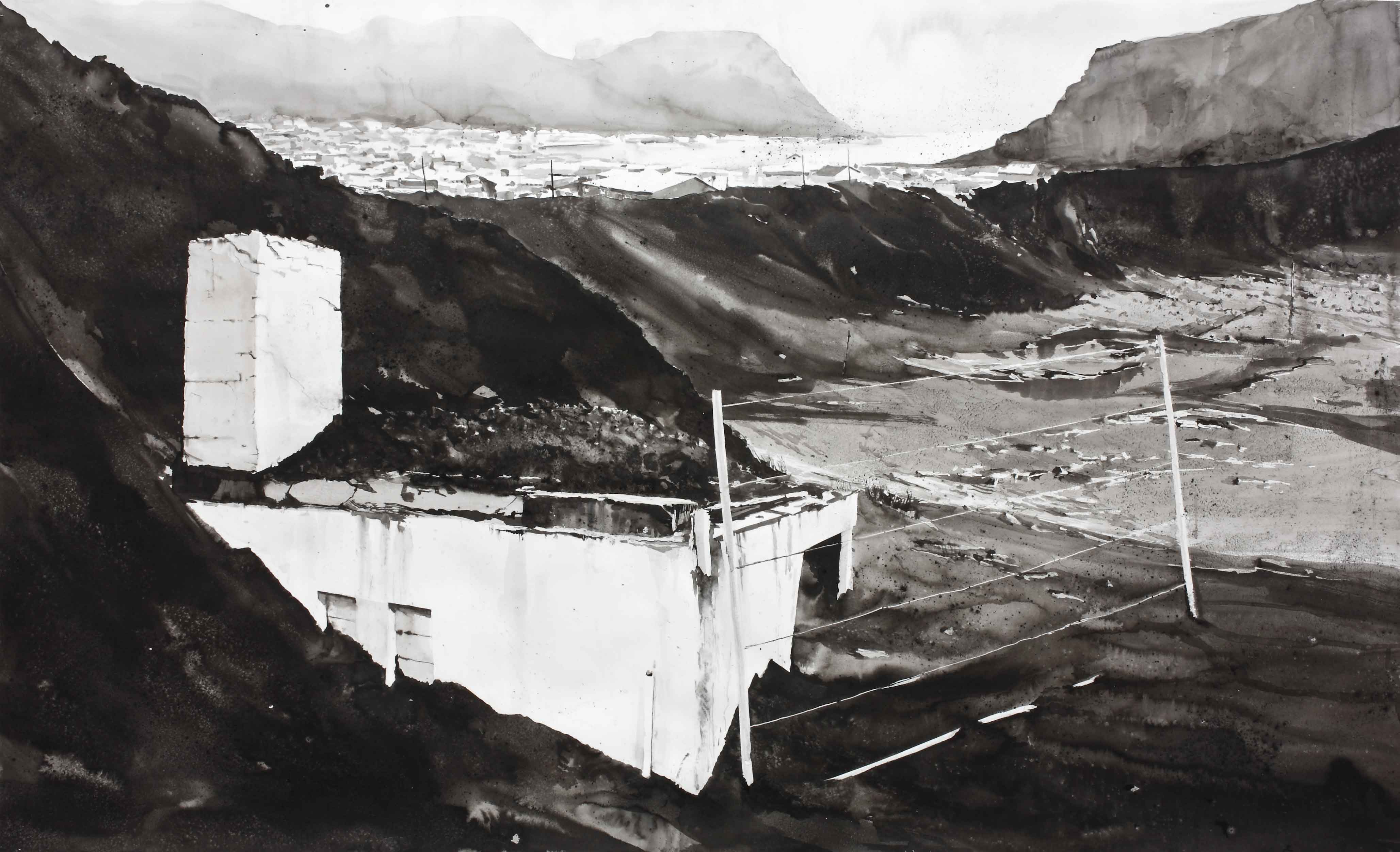 Gerðisbraut 10, Heimaey, 2013, Ink, carbon and volcanic ash on paper, 115 x 182 cm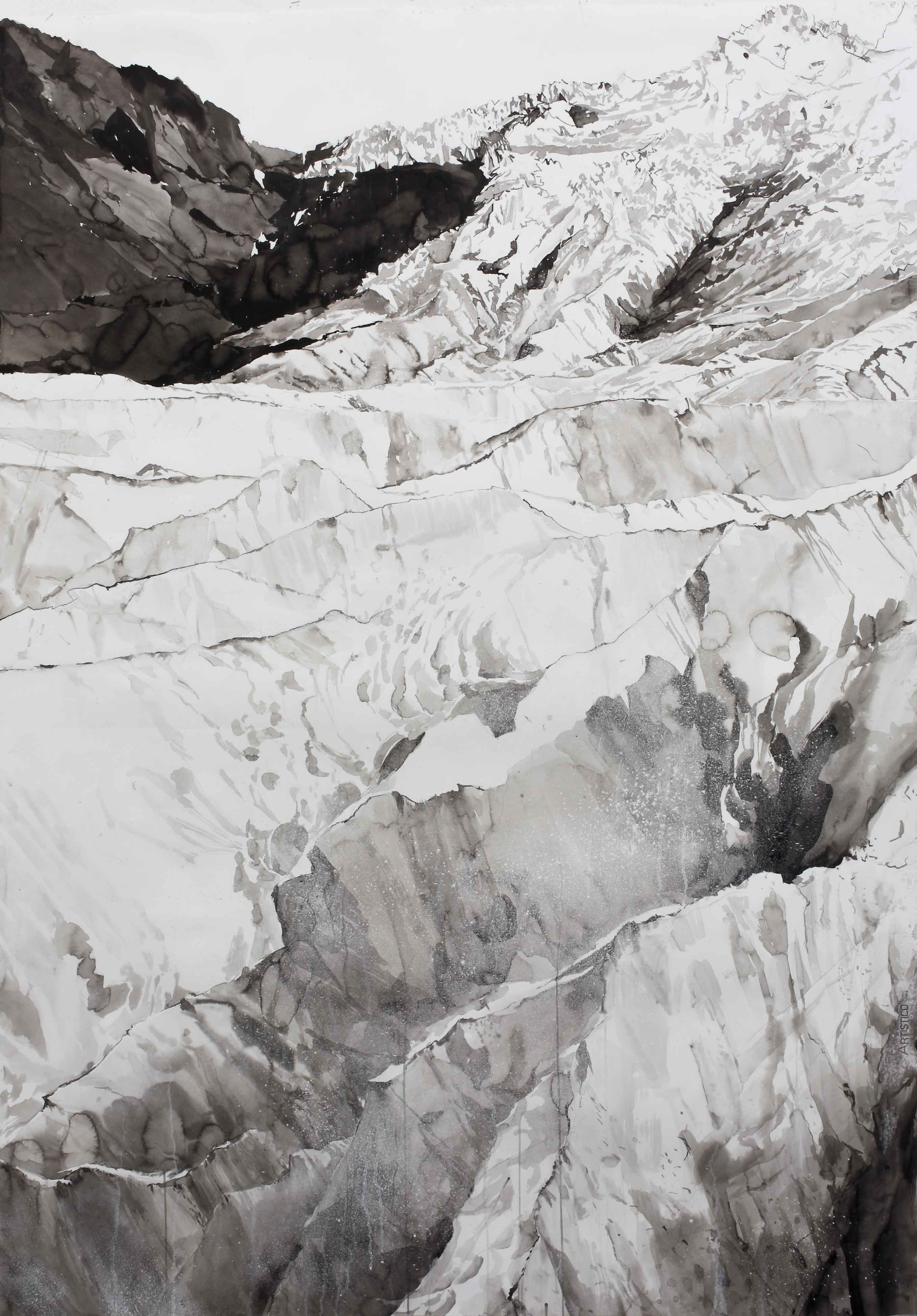 Falljðkull glacier (Vatnajðkull) 2013, Ink and mica on paper, 196 x 130 cm