Vaughn Sadie has begun working on monotypes at David Krut Print Workshop (DKW), collaborating with printmakers Kim-Lee Loggenberg and Neo Hlasko.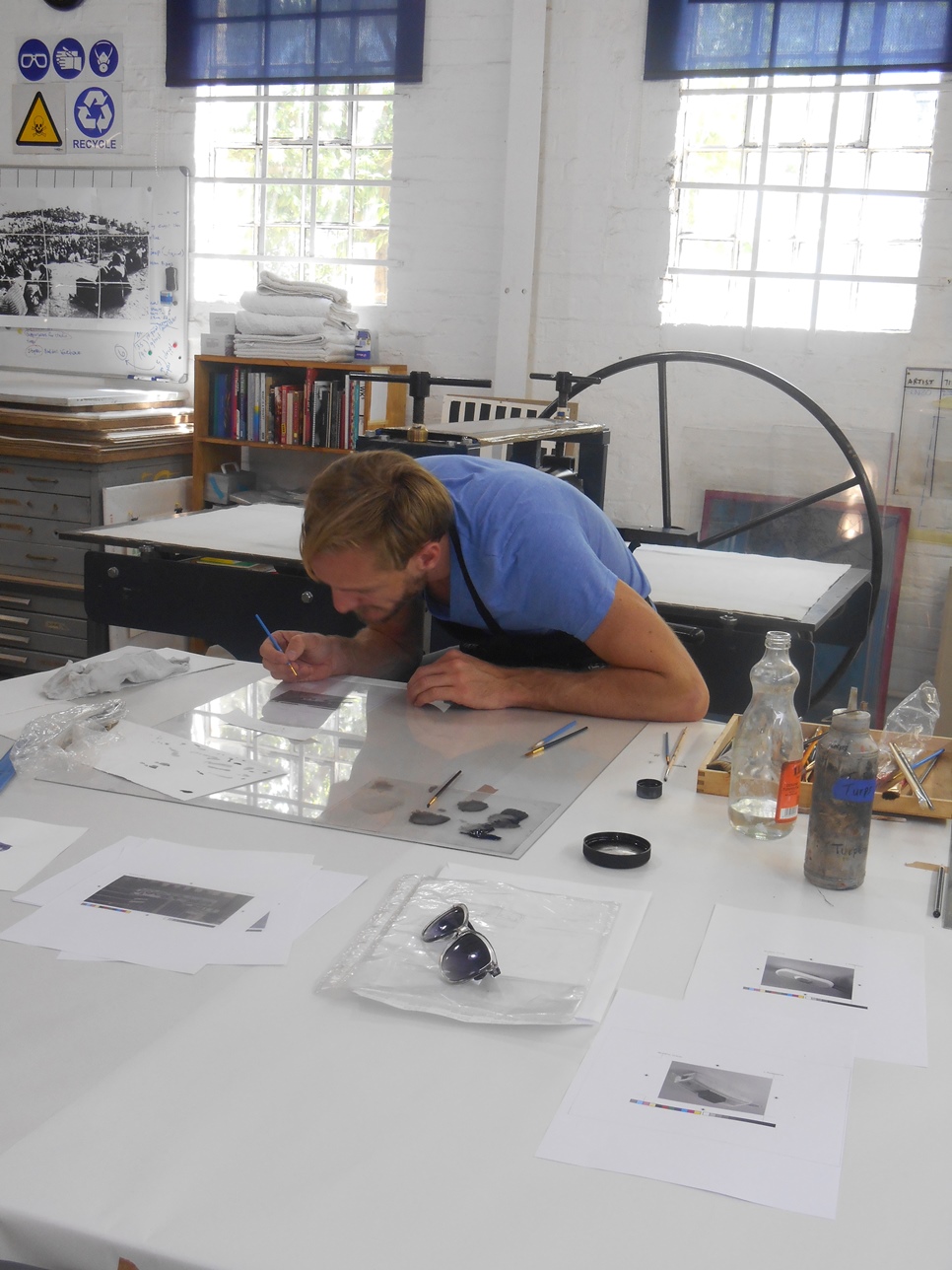 Vaughn Sadie is a conceptual artist and educator, living and working in Johannesburg, South Africa. He has participated in several group shows nationally (Being Here 2005, SAartsEMERGING 2007, Light Show 2008, Social Patterns 2009 and Collaborations/Articulations 2011). Following his 2005 show Spill Light – presented as part of the KZNSA Gallery's Young Artists Project and curated by Storm Janse van Rensberg – his first solo exhibition, situation, was held at Bank Gallery, Durban in 2009 and travelled to the AVA in Cape Town in 2010.
Sadie completed his MFA in 2009 at the Durban University of Technology Sadie's interest in the role and function of artificial light has seen him facilitate light workshops with Jay Pather for the Spier Contemporary Performance Workshops in 2007/9. In 2010 Sadie traveled to Holland with Jay Pather's, Body of Evidence. Sadie has been awarded two residencies: one at the Bag Factory Artist Studios, Johannesburg (2010); and the second with Twenty Ten Reasons to Live In a Small Town, in Dundee, KwaZulu-Natal (2010-2011).
Since 2010, Sadie has become increasingly interested in the role that artificial light has on our perception of the spaces we occupy. In response Sadie has developed several ongoing projects: a website VAUGHN SADIE| STREETLIGHTS that maps the streetlights of the city of Johannesburg as a means of developing an alternative way of perceiving and engaging with a city. Inhabitant, a collaboration with performer Sello Pesa, which explores the impact of artificial light on the body as it moves through urban spaces. Inhabitant was awarded iDANS Critical Endeavour Award for 2011 at the annual festival held in Istanbul. In 2012, Sadie facilitated an International Artist Residency PERMEABILITY in Belo Horizonte, Brazil and was a finalist in the MTN New Contemporaries in collaboration with Ntsoana Contemporary Dance Theatre.
For more information, please visit http://vaughnsadie.net