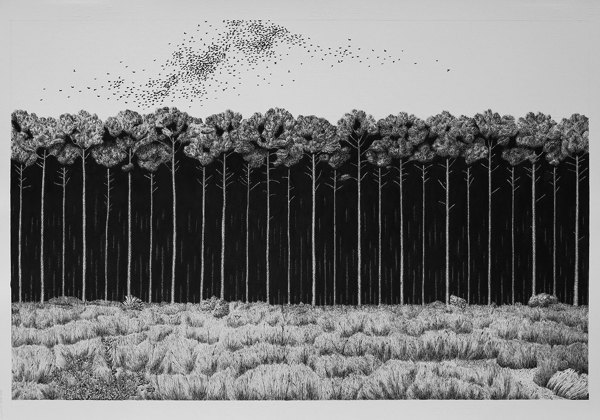 Michael Amery is a Cape Town based artist born in 1984. Having come out of a graphic design background (with a degree in Applied Design from the Stellenbosch Academy of Design and Photography) he is interested in consumerism and advertising, the impact of this machine on the environment, and on the way we live. His current works portray shaded forests and woodland areas, as an exploration of mankind's relentless organisation and manipulation of nature. Amery's first body of work,
Trees by Man,
man-made forests, often planted as commercial crops, using trees that do not naturally occur in their locales, seem lifeless and imbalanced, although put together with mathematical precision. Comprising a series of 10 charcoal and ink drawings, the series resembles a geometric assemblage of shapes – triangles, rectangles and squares – very methodically arranged in an enigmatic grid-like pattern. Sometimes the grids are visible behind the forests as traces, and sometimes they are superimposed in glossy black ink. His photo-realistic rendering of these ghostly scenes are cause for the viewer to move in close and scrutinize the subject matter. The work also taps into a sense of the individual, powerless against a greater force, lost in repetition. Amery's drawings were first presented at David Krut Projects in 2014
in two group exhibitions,
The Benediction of Shade II: Joburg City of Trees in
Johannesburg and
Do Nothing
in Cape Town. Amery presented
Trees by Man
, his first solo show of drawings, at our Cape Town gallery from 16 April - 28 May 2016.