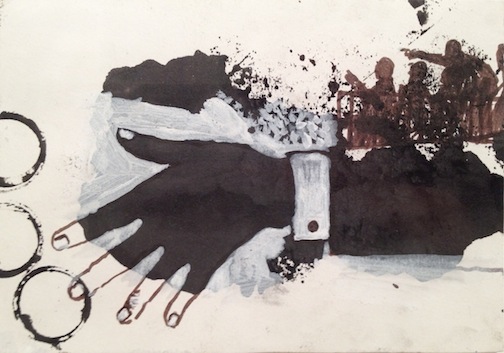 Christopher Cozier is an artist, curator, and writer living and working in Trinidad. As a visual artist, he works in a variety of media, including drawing, printmaking, sound, and installation. Through his series of ink-wash sketchbook drawings, Cozier has developed a collection of visual vignettes of contemporary Caribbean moments along with memory-scapes of the Caribbean's colonial past and observations from his travels abroad. By translating images from his sketchbook to prints and sculptures, Cozier places his visual vocabulary in new settings and configurations, revealing alternative narratives and seeking a multitude of interpretations. Cozier's 
Tropical Night
 series was included in exhibitions at the Brooklyn Museum (2007), Tate Liverpool and the Centro Galego de Arte Contemporánea in Spain (2010). This installation of hundreds of sketchbook drawings, with the last arrangement including 210 works on paper, was the inspiration for his recent edition of silkscreen prints, 
All That's Left
 (2011), published by David Krut Projects and printed at Axelle Fine Arts in Brooklyn, NY. In October 2011, artists Christopher Cozier and Luis Jacobs were invited into the Substation studio space to work on projects and interact with the students and wider art community at the Wits School of Arts on East Campus. Cozier was also invited to make an edition of prints at David Krut Workshop at Arts on Main during his occupation of the studio space. He created a series of monotypes and linocuts, called 
After All That Talk
, featuring an antiquated table cleaner that Cozier inherited after his great aunt passed away.