19 May – 18 June 2022
At David Krut Gallery, 142 Jan Smuts Avenue, Parkwood.
Opening: 6pm on Thursday 19 May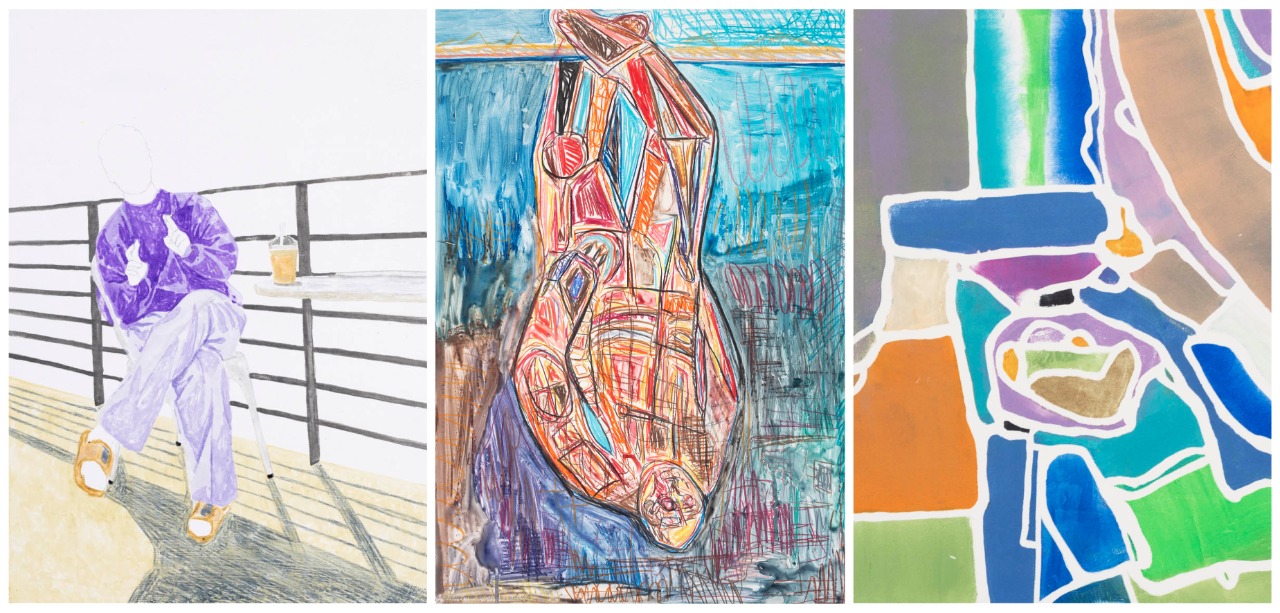 David Krut Gallery and FORMS Gallery are pleased to present Parallel Process, an exhibition of new unique works on paper and paintings by Matty Monethi, Khotso Motsoeneng and Adrian Fortuin.
Parallel Process emerged out of a collaboration between the two organisations centred around the activities and skills transfer opportunities presented by the David Krut Workshop (DKW) in downtown Johannesburg.
This collaboration began in early 2022, when FORMS Gallery founder Anthea Buys reached out to the David Krut Team to establish a connection between the artists she works with and the DKARTS Collaboration Programme activities. The three artists selected for this project, Monethi, Fortuin and Motsoeneng, were invited to make unique works on paper under the guidance of DKW's team of expert facilitators and printers.
The opportunity of putting work through a press creates imagery and marks which the artist would ordinarily be unable to achieve in their own studios. The artists worked using the presses with a combination of oil and watercolour pigments to create unique paintings on paper, incorporating other processes like cyanotype, drypoint and collage elements. Making art in a workshop allows the artist to create images in a unique manner. Working in a public space is also unique and a confidence-building experience. While each artist addresses variable themes in their individual practices, lines can be drawn between the works created. Following these trajectories, one can take note of the passage of time, the weight or lightness of individual moments, and the marks and meaning of place – visually mapping stories of people, conversations, and processes both organic and societal, intentional and fortuitous.
The short residencies have led to exploratory works being created by all three artists, who have since created paintings in their own studios for the exhibition.

About the Artists
Matty Monethi (b. 1996) uses painting, printmaking and text to explore the personal dimensions of migration and memory. With a keen sense of her own place in broader historical contexts in Africa – having lived in different parts of the continent during her childhood – she scrutinises her connections with her adopted countries, cultures and close relationships. Monethi draws on memories of her own experiences, as well as family photographs from her childhood, to create emblematic pictorial scenes punctuated by empty space and text. Her evocative representational works address evolving selfhood, the depiction of the past, and the relationship between personal archives and nostalgia.
Adrian Fortuin's (b. 1994) practice explores the relationship between intuition, intersubjectivity, identity, image-making and abstraction. Working in a range of media, the scope of which is informed by a primarily conceptual approach, Fortuin is interested in the limits of representation and the legacies of identity and experience connected to family, ancestry, community, and society more broadly. His current work explores the emancipatory potential of abstraction in varying degrees. Over time his practice has shifted from a performative and lens-based approach to a prolific study of painting and drawing. These works are characterised by an obsessive process of revision, in which paintings are sedimented under newer paintings, so that the surface becomes an archive of thought and gestures and a metaphor for the endurance of personal historical traces in the present. 
Khotso Motsoeneng (b. 1993) is a self-taught painter and printmaker whose training in photography developed his keen eye for colour and form. Motsoeneng's practice seeks out an abstract formal language which brings together his keen observation of nature and intuitive perspectives on the relationship between different colours and emotions. He is particularly inspired by woodgrain as a trace of natural processes, and looks to plant life as a metaphor for human experience. Motsoeneng's brightly coloured canvases are also sites of emotional exploration, and participate in a complex symbolic system in which colour and emotion are intertwined. 
About the Organisations
FORMS Gallery is a dynamic structure for working with artists. Based in South Africa, FORMS draws on gallery, institutional and independent curatorial models, presenting a programme that takes shape through a combination of online and in-real-life manifestations. At the heart of this programme are ongoing collaborations with artists who make work that is critically, aesthetically and politically important. Also central to the FORMS ecosystem are connections with like-minded spaces, people and organisations.
DKARTS Collaboration Programme brings together various art practitioners to facilitate the making of art, technical exposure, educating, and collaborating. DKARTS includes the David Krut Workshop in Maboneng and the David Krut Gallery spaces in Parkwood.