Homegrown: Curated by Renee Riccardo
June 7 – July 28, 2007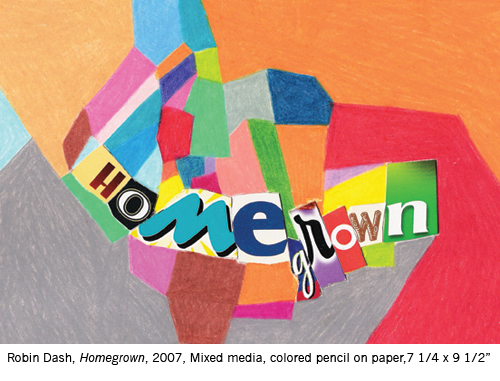 Scott Andresen
Karen Azoulay
Bethany Bristow
Orly Cogan
Robin Dash
Misaki Kawai
Kuhl & Leyton
Greg Lamarche
Cristina Lei Rodriguez
Margaret Lee
LoVid
Adia Millett
Doug Morris
Anne-Francoise Potterat
Jon Rosenbaum
Erika Somogyi
Lee Tusman
Jasmine Zimmerman
David Krut Projects is pleased to present HOMEGROWN, an exhibition curated by Renee Riccardo. The show features 18 emerging artists and art collectives from Boston, Los Angeles, Miami, New York and Seattle. Taking cues from such homegrown practices as collage, quilting, crochet, embroidery, needlepoint and assemblage, these artists create new and innovative forms – twisting tradition while transforming these practices into powerful, unique works of art.
Scott Andresen's shaped quilts subvert traditional quilt making by stitching together subject matter drawn from street plans for housing developments/
Karen Azoulay constructs sculptures that resemble elements of nature made from everyday objects such as an artichoke formed from plastic spoons.
Bethany Bristow's sculptures merge with the architecture of the space. Utilizing a mix of hard and soft materials, Bristow's installations combine both precious elements and detritus from the urban landscape.
Orly Cogan's embroideries create a personal autobiography blending history, tradition, mythology, nature, relationships and intimacy on vintage fabrics, some with pre-existing patterns that Cogan incorporates into a new tableau.
Robin Dash creates unique collage works that incorporate found letters and words from advertisements, packaging and other sources creating her own beat poetry surrounded by colorful abstract landscapes.
Misaki Kawai presents colorful collage paintings drawn from her personal lexicon of mythologized Americana and mixed with a playful sense of humor.
Greg Lamarche collages draw from his fascination with street culture and language creating his own architectural forms with appropriated letters from old publications.
Kuhl and Leyton's collaborative works made with large colored tape depict crime scenes, emergencies, and crisis situations. The works draw upon mass media's conventional mode of documenting states of emergency.
Margaret Lee's installation of a shelf and objects made out of faux wood and her drawing, Good, Great describe what culture purveyors perceive as valuable.
LoVid, the collective composed of Tali Hinkus and Kyle Lapidus, transform audio information into printed material that they then make into shaped sculptures – weaving audio and visual information together.
Adia Millett's needlepoint constructs a space where craft, concept, and form create a dialogue for memories to resurface. Utilizing symbolic imagery, Millett's iconic works stir the imagination.
Doug Morris creates elaborate and colorful wall sculptures using foam, paper, ribbon and markers. Pulling imagery from many sources – ranging from Mexican folk art to a vacuum cover made by his grandmother. The resulting objects are delicate in form with a strong visual presence.
Anne-Francoise Potterat's floor sculptures feature cascading, obsessively crocheted systems of joyful color creating humanistic whirling dervish forms.
Cristina Lei Rodriquez explores the tension between natural and urban environments by constructing imaginary landscapes from layers of plastic, foam, resin, chain, Day-Glo paint and glitter.
Jon Rosenbaum's intricate, miniature paper sculptures depict mutant elements of nature and colliding machines.
Erika Somogyi's sculptures combine drawing and familiar personal themes.
Lee Tusman's quilts combine recycled t-shirts to create a cross pollination of pop culture.
Jasmine Zimmerman creates a site-specific giant web installation made entirely out of rubber bands covering the gallery windows. Working within the confines of the space, Zimmerman creates a social sculpture that integrates the architecture and spectator.
Renee Riccardo is an independent curator whose recent projects include Paper Chase (2004) at Axel Raben Gallery; Orchard (2004), a fine art exhibition in an abandoned midtown space for the Big Apple Fest, a citywide public art project; Word (2004) at the Bronx River Arts Center, Me, Myself & I (2004) at Florida Atlantic University Gallery, Boca Raton; Co-dependent: Construction and Deconstruction (2005), Living Room, Miami; It's a Beautiful Day (2006) at the Ise Cultural Foundation, New York; Emotional Landscape (2006) at the Rotunda Gallery, Brooklyn; and Intrigue (2007), a project for Ogilvy PR Worldwide, New York.
For more information, please email [email protected].