Chakaia Booker
Print Me
February 23 – April 14, 2012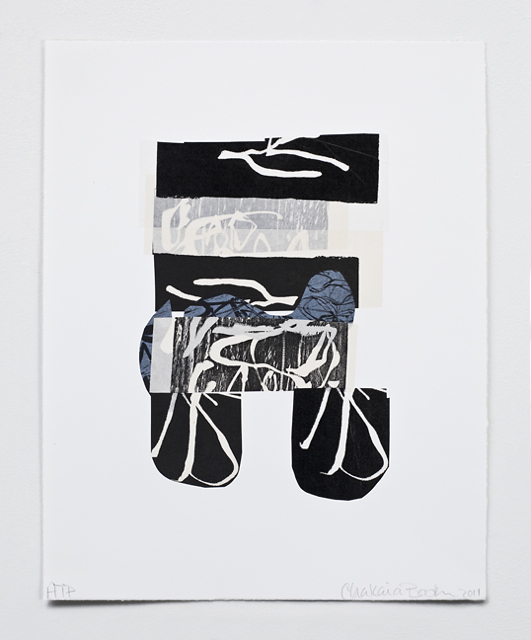 PRESS RELEASE: David Krut Projects is pleased to present Print Me, the first exhibition dedicated to Chakaia Booker's prints. Booker began collaborating with Master Printer, Phil Sanders, of Robert Blackburn Printmaking Workshop in 2009, and has created over 100 unique prints to date. The title of the exhibition, Print Me, refers to the collaborative dialogue between Booker and Sanders, in which Booker would leave hand written notes for Sanders once her compositions were finished and ready to print. This exhibition features a selection of these collaborative prints, which highlight Booker's investigation of the two-dimensional framework through experimental print media.
Best known for her large sculptural works made from discarded tires which are cut, looped, layered and reassembled, Booker's prints explore similar ideas of recombination and transformation through analogous printmaking processes. Just as Booker cuts and recombines materials in her sculptures, her prints are created by tearing, layering and recomposing paper into dynamic new forms, some patterned and abstract and others quietly figurative and playful.
A full-color, 64 page catalogue will be released in conjunction with this exhibition, featuring an essay by Phil Sanders and quotes from Chakaia Booker.

Chakaia Booker received a B.A. in Sociology from Rutgers University (1976) and a MFA from the City College of New York (1993). She was selected for the Whitney Biennial in 2000, awarded the Pollock-Krasner Grant in 2002 and received a Guggenheim Fellowship in 2005 Booker's work has been exhibited widely both nationally and internationally. Select solo exhibitions include: The National Museum of Women in the Arts; Milwaukee Art Museum; The Kemper Museum of Contemporary Art; Queens Museum of Art; Katonah Museum of Art and Storm King Arts Center. She has been included in group exhibitions at the Metropolitan Museum of Art, The Museum of Art and Design, Bronx Museum of the Arts, The Studio Museum in Harlem and the Corcoran Gallery of Art, among others. Her work is the collections of the following selected institutions: the Bronx Museum of Art; The Metropolitan Museum of Art; New Orleans Museum of Art; Newark Museum and The Snite Museum of Art. Booker lives in New York City and her studio is located in Allentown, Pennsylvania. She is represented by Marlborough Gallery in New York.
Image: Chakaia Booker, Untitled, 2012, Chine collé with woodcut, 16.25 x 12.75 inches, Edition 25
For further information, or to order the book please contact [email protected]