Maja Maljević – Polytekton
Opening August 23 running until October 13 2018
Polytekton: Artist Interrogation with Maja Maljević Podcast: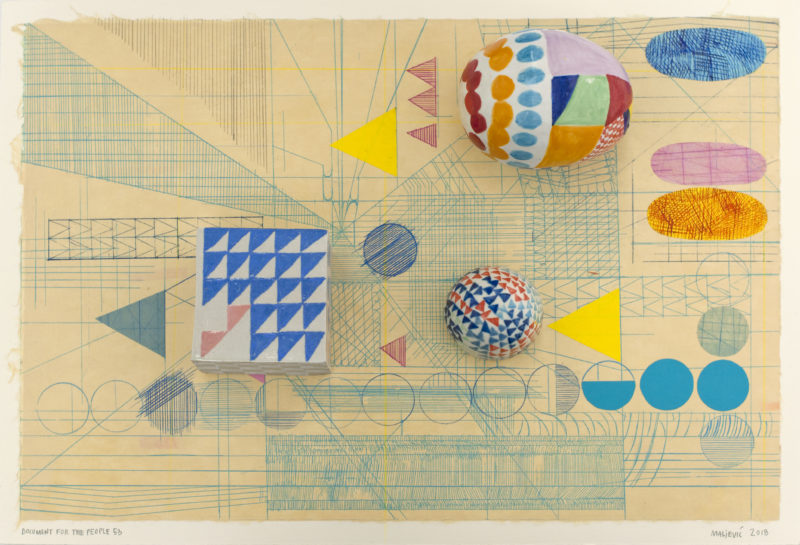 'Polytekton' from the Greek word poly–, meaning 'many,' and tekton, a common term used for artisan, craftsman or maker.
David Krut Projects is pleased to present Polytekton a solo exhibition by Maja Maljević.  Maljević considers herself first and foremost a painter, a formalist who explores combinations of figurative, abstract, organic and geometric shapes in eclectic compositions which bring to life hidden unique worlds, narratives or experiences for each individual viewer. Two new paintings are featured titled Soap Box and Trouglovi.
In Polytekton, the artist introduces ceramics into her practice. Through her explorations with this new medium, she persues a liberation from the constraints of the traditional two dimensional canvas, and extrudes many small subjects which she calls her Petit Fours. The series consists of 28 such sculptures, made with the technical expertise of ceramist Caroline Vieira, and are the first in the artist's ongoing interest in making non-functioning objects.
Maljević  further integrates materials and processes in her latest print collaboration with Master Printer Jillian Ross and her team at David Krut Workshop, resulting in 61 unique print collages all titled Documents for the people. Using multiple media of silkscreen, etching, monotype, collage and hand work (pencils, markers, ink etc) the artist plays with things like the old school blue from BIC ball-point pens from her childhood in some of the the etched lines and then repeats and repeats and repeats repetitive patterns of shapes, colors and layers reminiscent of her lined school notebooks.
Through each of these techniques Maljević places forms of opposing authority into her quirky but linear and symmetrical compositions, giving the viewer the feeling that something is a little "off".  The final composition however, results in visual stability.  The narratives portrayed in the images are not obvious at first, but rather allows an opportunity for the viewer to delve into the imagination, interpret and compose images of unique meaning, becoming documents or reflections of personal interpretation.
Join us for the opening on 23rd of August 2018 at 6pm at 142A Jan Smuts Avenue Parkwood
"The centerpiece of her exhibition "Polytekton" is a group of sixty-one unique and individually numbered prints, "Documents for the People" (all works 2018). Nested in the democratic title of the print series, which shows off eight different techniques (including silk screen, etching, and monotype) using nine paper types, is a reference to two albums by rock band R.E.M.—Maljević, once a cadet in Tito's Union of Pioneers of Yugoslavia, was a regular concertgoer in the former nonaligned state." – Sean O'Toole
Read the full review on Artforum International here.
Upcoming exhibition related events at 142A Jan Smuts Avenue Parkwood:
4th of September – Audience invited to participate.  Torches and headphones required. Maja Maljevic in the spotlight at 6PM.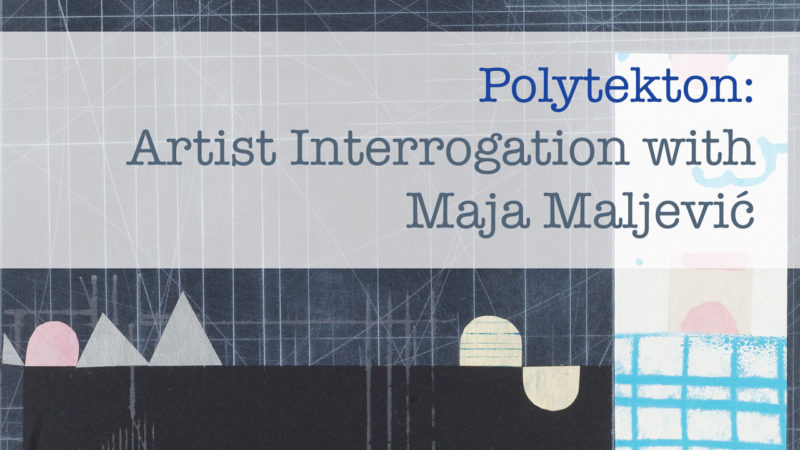 On Tuesday 4 September during #Artweek, we hosted an experimental audio walkabout for Maja Maljević's current exhibition, 'Polytekton.' Guests experienced art in the dark, navigating through the gallery using torches and glow sticks. The accompanying podcast, not only guided viewers through the exhibition, but also through the artists personal history and her artistic practice in a 'true crime' style interrogation by Jillian Ross. Take a listen to the podcast to decipher Maljevic's combination of paintings, non-functional ceramic sculptures and print collages on display for Polytekton.
Photos courtesy of Richard Buckingham.
22nd of September– Children's print workshop, Make your own Maja, from 11 – 2 pm hosted by DKW at a cost of R30 per print RSVP required
To view available works by the artist, click on the link below:
To find out more about the artistic process and Maja Maljević's time at DKW, follow the link below:
Maja Maljević – Polytekton (poly=many tekton=artisan, maker or craftsman)