David Krut Bookstore Gallery is pleased to present A Tale of Quests, a body of mixed media artworks by Indian-born, Johannesburg based artist Purnaa Deb.
By employing the full versatility of multiple techniques of drawing, printmaking, appliqué (ornamental needlework in which pieces of fabric in different patterns are sewn or stuck onto a larger piece to form a picture or pattern), embroidery, text and visual vernacular Purnaa creates her own interpretation of traditional Indian art forms.
Informed by research into the function, social and personal significance of everyday objects, Purnaa creates a dialogue between the present day and memory; an important theme in her work.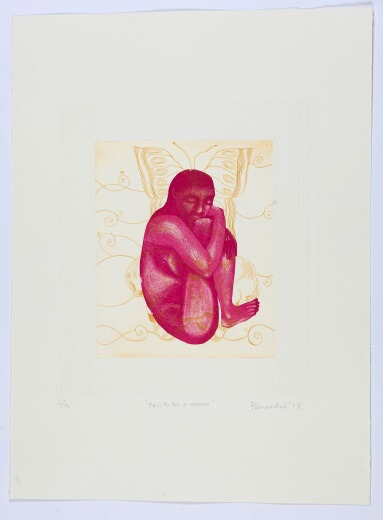 This body of work celebrates womanhood and the identities inherent in it; daughter, wife, artist. The artist states that she draws on thoughts and images that populate her mind as she goes about daily life, living into these identities and discovering the components that act to define identity.
In her personal expression, it tells the story of a modern woman hailing from middle-class India before relocating to Johannesburg. Amongst others, this autobiographical element becomes part of greater phenomena; globalization, tradition, grief and memory. Inspired by traditional art forms and her own ornate culture, the artist articulates ideas about culture, gender and notions of identity in a multicultural society.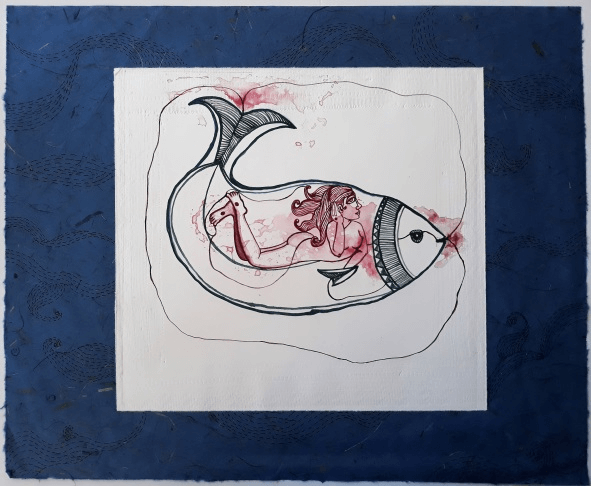 She states: "I would like the viewers to transcend this apparent exoticness and absorb the story within, scattered fragments, forgotten moments, precious memories…tales from inside."
David Krut Projects Podcast :Artist Series E14: Purnaa Deb's "A Tale of Quests"
Artist Biography
Born and raised in Kolkata, India, now Johannesburg-based artist Puurna Deb received her Master of Fine Arts in 2012 with a specialty in Printmaking from Rabindra Bharati University, India. She was awarded a fellowship in 2014 and spent a year in the Printmaking department of National Lalit Kala Academy (by Government of India) whilst participating in several group exhibitions and community-based art activities. In addition, the artist spent time as an arts educator within different educational arenas to teach alternative methods of mark-making and creative practice.
The artist relocated to Johannesburg in 2015 and gained an internship with David Krut Workshop (DKW), where an opportunity arose to expand and refine her printmaking practice. Whilst honing her skills in the collaborative studio environment, Purnaa also teaches Printmaking techniques to students at the Artist Proof Studio (APS).
Purnaa continues to create work and exhibit throughout Johannesburg and India in multiple exhibitions and art fairs.
Exhibitions and Awards
A Piece of Work group exhibition, David Krut Projects, Johannesburg, 2017
She: Impressions group exhibition celebrating Female Artists, Artist Proof Studio, Johannesburg, 2017
FNB Art Fair, Artist Proof Studio, Johannesburg, 2016
Here Be the Dragons group-exhibition, The Art Room, Johannesburg, 2016
Turbine Art Fair, The Art Room, Johannesburg, 2016
Hot off the press group-exhibition, Artists Proof Studio and ABSA Art Gallery, Johannesburg, 2015
Chitpur Revisited community art project, Hamdasti and Studio 21 Kolkata, India, 2014
47th Birla Annual exhibition, 2014
46th Birla Annual exhibition, 2013
Group exhibition, Academy of Fine Arts, Kolkata, 2011
Gold Medal Student Award, Bachelors of Fine Arts