OUTLAND BY ROGER BALLEN
Exhibition opening and book launch: Thursday 21 May 2015, 18:30 for 19 :00
David Krut Bookstore, 151 Jan Smuts Avenue, Parkwood Johannesburg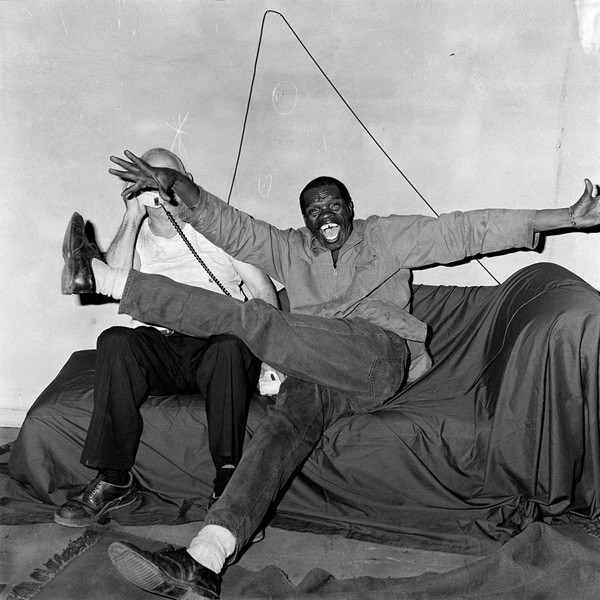 Like Beckett's dialogue, Ballen's photographs are starkly minimal with anecdotal exposition and narrative detail reduced. In this way reality is trimmed down, exaggerated and heightened to the degree that it becomes surreal – sometimes dreamlike, sometimes nightmarish.' – Elisabeth Sussman.
Outland is the culmination of almost twenty years work for artist-photographer Roger Ballen and amounts to one of the most extraordinary photographic documents ever published to date. Ballen's black and white photographs are powerful psychological portraits which peer deeply into the human condition and in the margins of the modern world. Heavy with symbolism, the resulting images are simultaneously strange, disturbing and unforgettable. This second edition is an opportunity to view and assess the work of one of the most prominent photographic artists of the twenty-first century, in its entirety, for the first time.
Originally published in 2001 and named Best Photographic Book of the Year at PhotoEspaña 2001, Madrid, Spain, this second edition is a new and expanded version featuring 45 previously unpublished pictures from Ballen's archive and a new essay by Elisabeth Sussman, Curator and Sondra Gilman Curator of Photography at the Whitney Museum of American Art, New York. The book is introduced by Peter Weiermair, former Director of the Rupertinum Museum in Salzburg, Austria and the Galleria d'Arte Moderna in Bologna, Italy.
Ballen has established himself as one of the most influential and famous photographic artists of the twenty-first century. He has won numerous awards including Photographer of the Year at the Recontres d'Arles (2002) and produced the award-winning music video I Fink You Freeky for South African rap-rave group, Die Antwoord. Outland is an eminent photographic document depicting individuals on the fringes of Johannesburg. It's a series of tableaux vivants portraying the grey spaces in which the subjects of these photographs interact and exist.

ABOUT ROGER BALLEN
Roger Ballen has lived and worked in Johannesburg, South Africa, for 30 years. Born in New York, he worked as a geologist and mining consultant before starting his own photographic career by documenting the small villages of rural South Africa and their isolated inhabitants. Outland was first published by Phaidon in 2001, followed by critically acclaimed Shadow Chamber and Boarding House. Ballen is represented by Gagosian Gallery.
Link to video: Roger Ballen's Outland
Exhibition opening and book launch: Thursday 21 May 2015, 18:30 for 19 :00
David Krut Bookstore, 151 Jan Smuts Avenue, Parkwood Johannesburg
For enquiries contact: Elzette de Beer at [email protected] or +27 (0)11 447 0627 / +27  (0) 11 880 4242