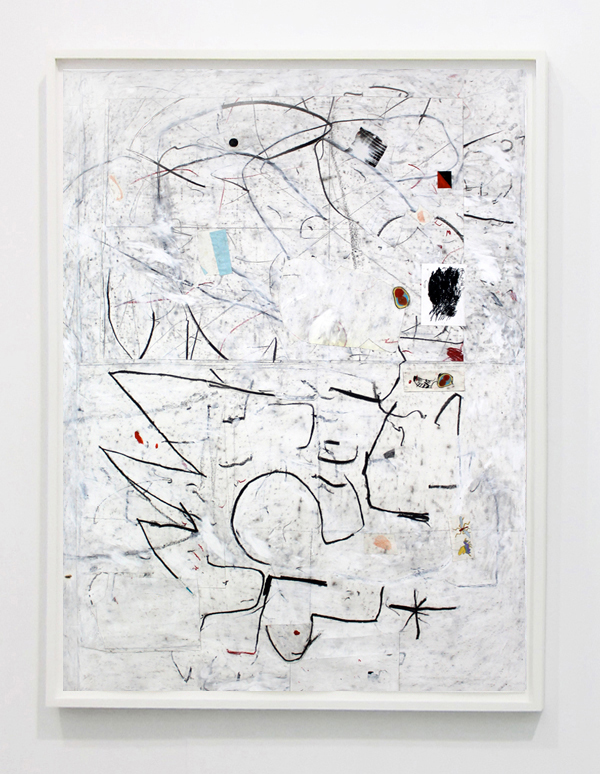 David Krut Projects is pleased to present Dread Blush, Joseph Hart's second solo exhibition with the gallery.
Hart's work is a collision of choreographed and happenstance mark-making, brutal editing and reinvention. Utilizing drawing, painting and cut-paper collage, Hart's process is structured around cursory gestures: errant dashes, ticks, quick lines, scrawls, swoops and zigzags. This set of preliminary and exploratory maneuvers are then built upon, reconfigured or impulsively edited out until a composition begins to emerge. In his paper pieces, smaller scale drawings are often grafted directly into larger works, interrupting the initial picture plane while also reactivating it. The results are abrupt but retain a compelling and provocative elegance.
Dread Blush emphasizes Hart's interest in the boundaries presented by scale and context, compositional management, and the paradoxical relationship between strategy and chance. Through the physical limits of his reach, the edges of over-sized works are hastily (and sometimes literally) pointed out with slashes in graphite or oil stick. These gestures, or reaches, function as an armature for his next set of marks and are balanced by carefully placed items such as insect decals, rubber elastics and miscellaneous studio detritus. These collaged components introduce bursts of shape and hue, ultimately assisting in subsequent formal decisions. When in process, Hart frantically moves the work multiple times from table, to floor, to wall and back, providing evidence of action, adjustment and touch.
Hart sites "over-thinking things" as both destructive and critical to his practice. Works often deemed too tight, contrived, disastrous, or other, are disassembled and recycled into newer pieces, transforming the ghosts of failure into important moments of discovery and intrigue. Hart relies heavily on this act of revitalization. This system of working capitalizes on the unscripted, can simplify the complex, and champions micro exchanges between intentions and actualities, blemish and beauty, vice and virtue.
Originally from New Hampshire, Joseph Hart is a Brooklyn, New York-based artist. His work has been exhibited at Galerie Vidal Saint Phalle in Paris, Galleri Tom Christofferson in Copenhagen, Alexander & Bonin, CRG Gallery, Klaus Von Nichtssangend Gallery, and Halsey Mckay Gallery in New York, among others. Hart's work has also been included in notable shows at the Bronx Museum of the Arts, Santa Monica Museum of Art and The Elizabeth Foundation for The Arts. He has been featured in periodicals such as FlashArt, Modern Painters, and The New York Times. He is currently a resident artist at the Dieu Donné Workspace Program, in New York. Hart holds a BFA from the Rhode Island School of Design. 
Please contact [email protected] or [email protected] for further information.
Image: Dread Blush, 2014, Collaged paper, acrylic, enamel, oil crayon and graphite on paper, 182.88 x 132.08 cm
For more details about the artworks below please click here.