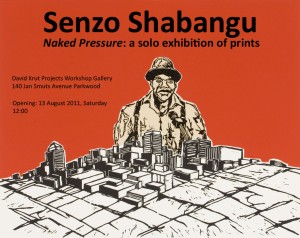 Pressure is an effect which occurs when a force is applied in a direction perpendicular to the surface of an object. A printing press is a device for applying pressure to an inked surface resting on a print medium, such as paper, thereby transferring the ink. Printmaker and artist Senzo Shabangu is no stranger to the concept of pressure in printmaking and takes the idea a step further in his exhibition Naked Pressure to also talk about the pressure of living and working in the city of Johannesburg.
A solo exhibition of prints by artist and printmaker Senzo Shabangu
A few years ago, Shabangu left his home in Driefontein, Mpumalanga to pursue a career as a pilot in Johannesburg. His experiences of living in the city, surrounded by people of all walks of life, experiencing the hardships of being forced out of his space and trying to survive as an artist inform much of the work that he has created. He says we're all under pressure, we are all struggling to stay afloat and even people who can manage are surrounded by the city and the pressure it constantly forces down on us. Despite this Shabangu has never shown any resentment for the city and what he has been through. His work is something that comes from within and in some way maintains a kind of innocence when dealing with heavy issues such as sex workers and forced removals.
The very thing that gives Johannesburg its appeal, is in many ways, is what makes it difficult to accept: its naked honesty. The city does not hide its problems or weaknesses from view. It exposes them openly, from the potholes and beggars in the streets to the opulence of the high-rise buildings that tower over its inhabitants. He sees the possibility of people being larger than that and being able to rise above it. Shabangu's work looks at the pressure that drives people into the ground as being the same stress and tension that motivates people to persevere in a place that is wrought with potential. This body of prints produced at DKW bares the souls of the people and places that Shabangu encounters in his day to day life. The art works are his way of understanding himself within the chaos and infinite prospects of Joburg city.
Please note the images below are an archive of the exhibition. For available works by Shabangu please click here.
Where: DK Workshop Gallery, 140 Jan Smuts Avenue, Parkwood
When: 13 August – 10 September 2011
For more information please contact Siphiwe or Noma at the Workshop Gallery. Email:
[email protected]
/
[email protected]
Phone: 011 880 5648