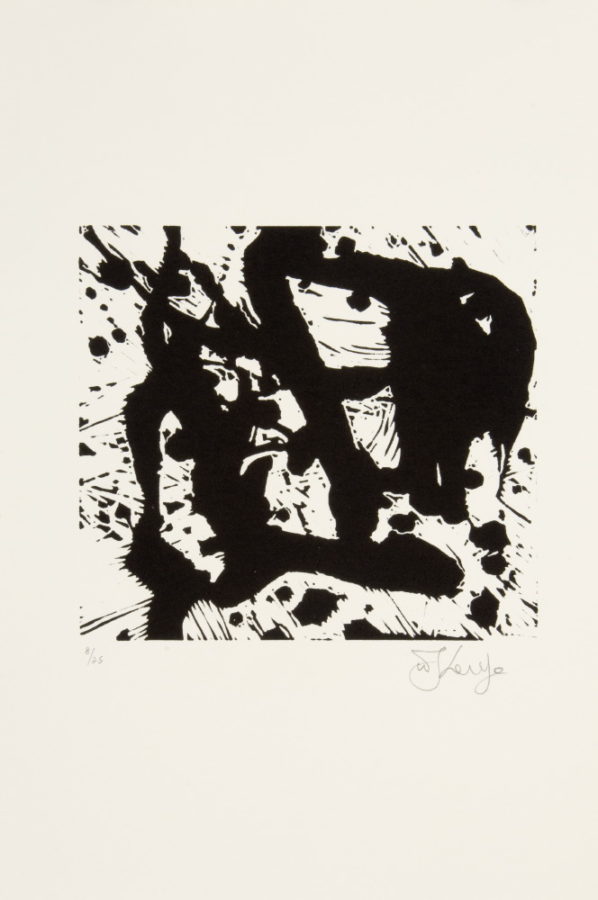 Splash is one of a small series of six linocuts – the others being Portrait, Floral Dress, Rumours, Solo for Bicycle and Hadeda – created at the David Krut Workshop in 2010. Despite the scarcity of linocuts in Kentridge's oeuvre up until this point, one of the first prints he made in 1976 after finishing high school was a linocut: an image of his grandfather in a deck chair wearing a three-piece suit while on holiday in Muizenberg, just outside Cape Town. Although the extent of the facilities available to Kentridge at the time was limited to "lino, cartridge paper and the back of a spoon", he has cited the image as one of the sources for the character, Soho Eckstein, who first appeared in Kentridge's 1989 film, Johannesburg: 2nd Greatest City After Paris and is the main protagonist in the Drawings for Projection cycle of nine films made between 1989 and 2003.
Kentridge returned to linocut in 2000, for the creation of the monumental pair of linocuts, Walking Man and Telephone Lady, and comes back briefly to the medium in this group of prints, perhaps as groundwork for the large-scale linocut project, the Universal Archive series of linocuts that he embarked on with the David Krut Workshop in 2012.
The polymathic nature of Kentridge's practice allows any selection of work to always contain traces of projects past or yet to come, as well as a particular sensitivity to medium. This cluster of six linocuts were all created during the course of 2010 and reference Kentridge's production of The Nose in March 2010; his 2010 exhibition in the Egyptian Collection wing of the Louvre; work towards The Refusal of Time, a collaborative video installation realised at Documenta 13; and, perhaps most significantly, the return of Soho Eckstein in an animated film, Other Faces, premiered in May 2011 at Kentridge's exhibition at Marian Goodman Gallery in New York.
Splash is based on the complexities of mark-making and the importance of the process in the studio. Although the process of linocut printmaking is often time-consuming and laborious, Kentridge has captured the spontaneity of ink splattered onto a piece of paper in this work. Kentridge looks carefully at how a mark is made and how loose and seemingly effortless one can make a mark appear, even if this is at odds with its means of creation. In other ways, the image also seems to reference the art of traditional Japanese ink painting which undoubtedly inspired the artist during his time spent in Japan earlier in 2010, where he was awarded the illustrious Kyoto Prize in Arts.
Artist:
---
Title:
Splash
---
More about:
---
Year:
---
Artwork Category::
---
Media & Techniques:
---
Edition Size:
25
---
Sheet Height:
47.5 cm
---
Sheet Width:
32 cm
---
Framing:
Unframed
---
Artwork Reference:
1583
---