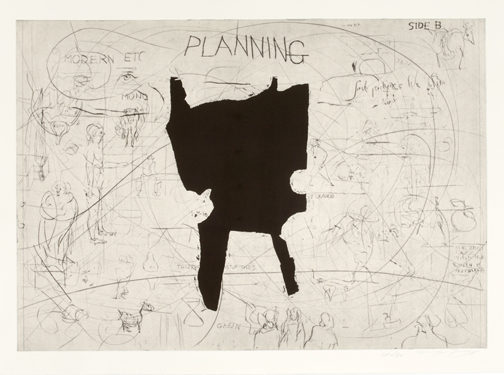 This print, History of Art, is a collaboration between William Kentridge, Rose Shakinovsky and Claire Gavronsky (also known collectively as the artist duo, Rosenclaire). The print references a conversation between the three artists about important works from the history of modern art and the key images that stood out for each of them.
The three figures sitting in the foreground of the image represent the three artists, and there are notes and drawings that depict parts of their ongoing conversation, such as Picasso's bull, Magritte's apple, and references to Cézanne and Rauschenberg, among others.
The black image in the centre of the plate was etched in afterwards, on Kentridge's recommendation, to complete the work. The shape references the huge chalkboard Kentridge has in his studio, and opens the work up to other interpretations of what works should be present.
Complement this with Expectant Fluid, another print created in collaboration between Kentridge and Rosenclaire.
Artist:
---
Title:
History of Art (Collaboration with Rosenclaire)
---
More about:
---
Year:
---
Artwork Category::
---
Media & Techniques:
---
Edition Size:
20
---
Sheet Height:
77 cm
---
Sheet Width:
104 cm
---
Framing:
Unframed
---
Artwork Reference:
541
---