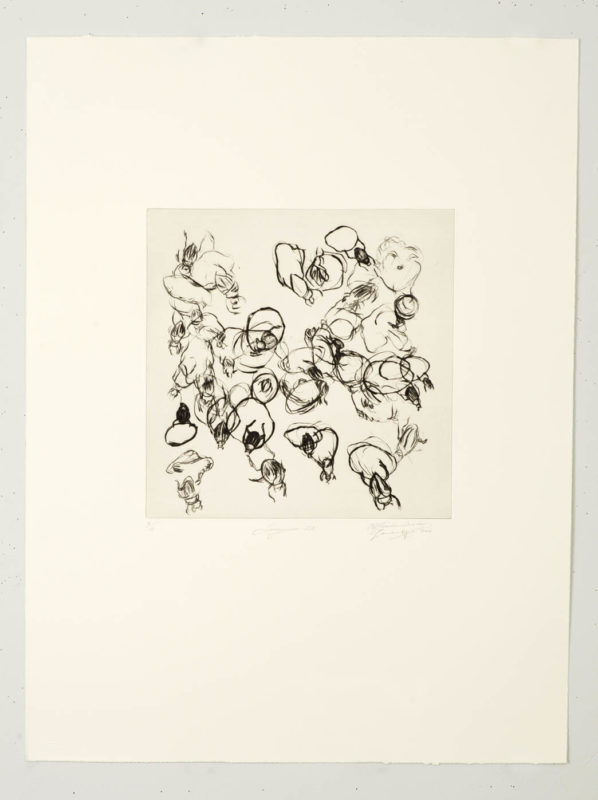 Claire Gavronsky received a Master of Fine Art in painting in 1981. She moved to Italy in 1985 and has since lived between Johannesburg, Cape Town and Florence. In Florence, Gavronsky established, with fellow artist Rosemarie Shakinovsky, an international artist's residency workshop in Tuscany. After the success of these workshops she founded workshops in Cape Town, Johannesburg, Venda and Botswana. Gavronsky and Shakinovsky often collaborate under the name Rosenclaire. They also collaborate on occasion with William Kentridge.
Gavronsky addresses topics such as racism, memory, violence against woman and children and economic injustice in her artworks. Considering these themes she bridges the past and present. Gavronsky enjoys the contradictory nature that is inherent in overlaid images. "The fact that there are clear lines, but that they cannot easily be read; lines, saying something, yet inaudible – too many people speaking at once – unless you trace a single outline before it slips into an interchange of place or limb. This is a complex narrative that defies linearity, although made of line and one that refutes hierarchy." (Gavronsky 2006)
Her recent prints were editioned at DKW, by printer Jillian Ross, in early 2011. In keeping with her style of linear, overlaid images, she deals with evolution through the relationships between human and animal as well as the choice of computers over traditional drawing and writing tools in the print Monkeys (2011).